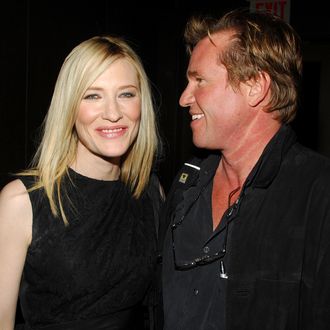 Cate Blanchett and Val, a fan.
Photo: Patrick McMullan/Getty Images
Over the weekend, Val Kilmer posted nearly a dozen tweets about Cate Blanchett, an actress he really, really admires. Kilmer and Blanchett appeared together in 2003's The Missing, and more recently, both survived the Terrence Malick cutting room for small roles in Song to Song. But Kilmer's Twitter spree seems to be borne of nothing but whimsy and pure, um, admiration for the two-time Oscar winner.
On Friday, he told a story about flying to Blanchett's native Australia to meet her, but ended up seeing her husband instead.
He also retweeted an old Woman Crush Wednesday post about her.
On Saturday, he explained that Blanchett is "just as amazing in person" and is very good at picking up shovels.
Then he simply made it about her looks …
… and brought up another one of his favorite actresses, Jessica Chastain.
Then, perhaps after getting some flack over the fairly creepy tone of his tweet-spree, defended himself.
Val, we all love Cate Blanchett, but maybe it's time to take a step back from Twitter and keep your thoughts about Cate Blanchett to yourself for a bit — that or start a secret Cate Blanchett fan Tumblr, which is how most of us deal with things.