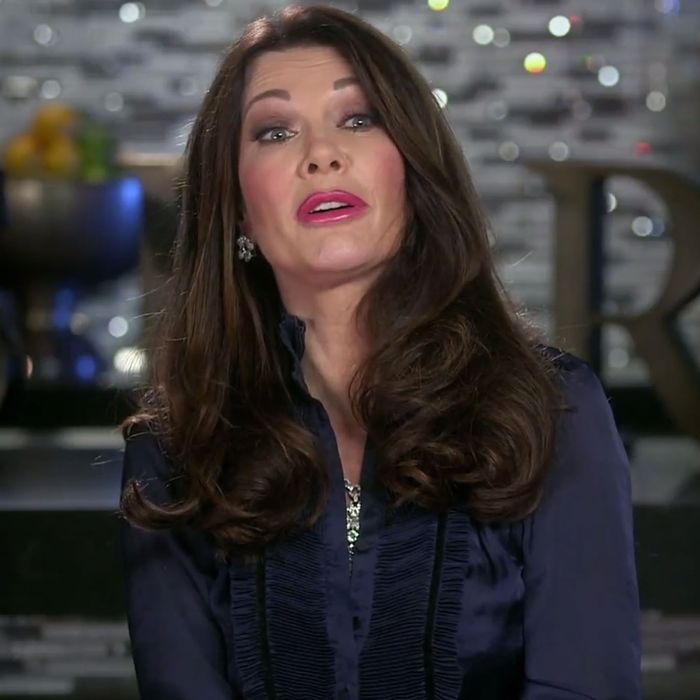 Lisa Vanderpump.
Photo: Bravo
I would like a reality-television program about the Brothers Schwartz because they sound like the most insanely entertaining triplets since Huey, Dewey, and Louie or Lisa, Lisa, and Cult Jam. Here is what we know about them: They live at home with their parents, they all sleep in the same room, they seem to be employed at the same business, they share a single pay-as-you-go cell phone, they are broke as a joke, they are really dumb, they have no idea what a "surprise" entails, and they can't get it together enough to make a flight for their brother's wedding after two strangers purchased their plane tickets from Florida to Lake Tahoe.
Here is what I imagine is true about the Brothers Schwartz. They must be devastatingly handsome in a really fratty way. Their first names all start with the same consonant. They play a lot of video games and they bet money on the outcome. They are all currently millions of dollars in debt to each other. Their employer, who is probably a swamp feller who owns an alligator farm and has a name like Cletus, is constantly firing them. They don't show up for their shifts because they passed out in the feed room after a long night of drinking Four Loko and huffing whip-its, but after getting the ax, they use their insurmountable charm to get their jobs back. Their romantic interests are twin sisters and their younger brother, because this was the closest they could come to triplets in Ulee, Florida, and the one who has to sleep with the brother rotates each week and nobody really minds because they're all bisexual and none of the siblings can really tell the difference between them anyway.
Seriously, I am absolutely obsessed with the Brothers Schwartz and I can't wait until next week to finally meet them … if they ever actually show up at this rustic-elegance wedding. I just think it's really amusing that Tom Schwartz, who has no job, no ambition, and is employed only as a practitioner of the reality television arts and sciences, is the successful member of the Schwartz clan. They all look up to Tom and all he ever manages to do is let his girlfriend drive him places and barely manage to not drop their wedding cake while carrying it out to the car.
Still, no matter how obsessed I am with the Brothers Schwartz, I am equally obsessed — nay, more obsessed — with Kate, the sister of DJ James Kennedy's girlfriend, Raquelle. There is no one who loves a Miranda Sings makeup tutorial as much as I do, but Kate seems to be the only human being on the planet who actually follows them. Her lips are so big, bright, and red that they look like the phone that D.J. Tanner had in her room in Full House: Original Recipe. And the expressions she makes! Oh my God. Looking at Kate is like scrolling through the litany of emoji in the back of a cab when you're drunk at 3 a.m. and trying to find the perfect tiny electronic head to express all of your conflicting emotions. She looks like comedic genius Amy Phillips doing her impersonation of Real Housewife of Orange County Kelly Dodd.
We know precious little about Kate, but on the reality show I imagine for her, she lives at home with her mother while working in the one last remaining CD shop in Pasadena. She's a rocker chick who fronts a cover band called Katie's Klash that plays Friday nights at Bleachers, a sports bar in a strip mall, and she's hoping that one day she will get a record contract or at least an audition on America's Got Talent. She would try moving to L.A., but that would be selling out. And who would host Tuesday night karaoke at Cacti, the third-best Tex-Mex restaurant in town? No one. That's who.
Yes, this episode is all about the secondary characters. DJ James Kennedy makes a little cameo appearance and it just seems, well, really out of place. It's like when you get fries at Burger King and one onion ring just rattles around in the bottom of the grease-dappled carton. It's a pleasant surprise, but it's not what you ordered and you don't have the right condiments to really bring it to life.
Then Lala skulks through the back alley at SUR, which is the most Lala way for her to enter. She tells Ariana that she's there to officially tell Lisa that she's not going to work at SUR anymore. Um, not showing up for any of your shifts already and not telling anyone had announced that, no? Lisa tells Lala all the things that the rest of us think about her, like that she's not going to be young and pretty forever so she won't always be able to get away with this shit, and that just because she owns her behavior doesn't mean that it isn't detestable. What Lisa doesn't tell her is that with her makeup and nails she looks like Greta, the Lady Gremlin, but I guess that has to be my job. Well, I'm happy that we got closure on Lala, and now we never have to talk to her again.
As bad as Lala looks when talking to Lisa, Stassi looks absolutely amazing at her dirty photo shoot. I'm pretty sure that Stassi is 28, and I will tell every 28-year-old out there that they should have some naked-slash-dirty photos taken, because 28 is the best you are ever going to look in your life. You've matured physically enough that you don't look like a youngster anymore and you're hopefully doing well enough that you can afford something a bit better than getting your hair done at Supercuts and shopping exclusively at Buffalo Exchange.
Your body is still tight in all of the right places and — trust me — it's just a steady decline as you are beat down by the forces of gravity and capitalism: by preferring a night on the couch with some pinot to an hour run at the gym, by not being able to put away a whole bucket of KFC like you used to without fitting into any of your clothing (including your shoes?) for the next four days so you have to lie around the house in a bathrobe and claim that you have pink eye but you're really just a fat, gross mess. So, yes, do what Stassi did and video-ho-it-out for the camera. You will look back fondly on those pictures for the rest of your life. (Or use them on your Grindr profile for another decade like I have.)
All of the stuff with Katie and Tom's wedding, from the dress fittings (at, I kid you not, Alternations Express) to the drive out to Lake Tahoe was uneventful. They're cueing everything up for the big shebang next week. As Tom and Katie cuddled into the honeymoon suite the night before everyone was set to arrive, Tom woke up in the middle of the night and took a stroll around the building. He could smell the pine forest and the acrid stench of soot from something far off that could either be a chimney or a wildfire, but he had no idea which. As he leaned against a tree, a shape moved toward him, outlined in the faint scribblings of the moonlight.
"Tom," I said, approaching him. "Are you sure you want to do this?"
The dry needles littering the ground sighed as I stopped in front of him and put my right hand on his flank as he stood there, staring up into the stars as if they could beam him away. "Yes, I'm going to. And even if it means we can't be together like, married, it means we'll always be together in my heart."
I wasn't sure what that meant, or if I even cared. All I knew is that if this wedding happened this was my last chance, the one intoxicating night, with the huge trees and the limbs swaying in the breeze and the cut of the bark across my bare chest as he slammed me into a tree and I held onto the smoothed nubs of old branches snapped off near the base. I braced myself for each thrust as Tom tried to prove over and over and over that this would never happen again while we both knew that under this sap-scented crescent glowing in the sky was the real honeymoon.