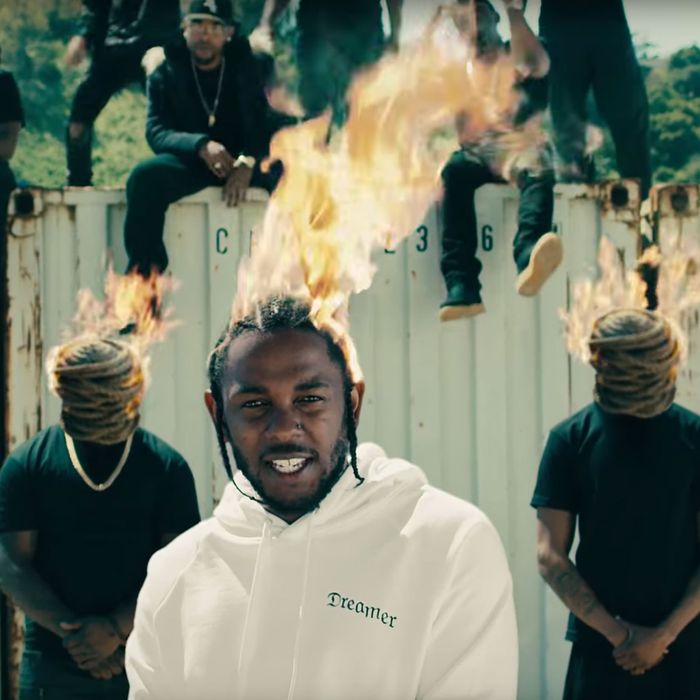 A fact of language often lost on critics who write, is that anything worth saying is worth repeating soon after. Read enough reviews and you'll notice that they often seem composed under some strange constraint, as if there were dire penalties for repeating any remotely interesting word within a two-paragraph radius, minimum. Being properly critical, it's assumed, means spreading your words thin.
Kendrick Lamar knows words better. He's hardly the only rapper who knows how to condense his verses into a skull-driving hook, but since his verses are knottier than any other rapper in pop, his hooks have to be that much more memorable to compensate. Still, even by Kendrick's standards the hook on "Humble," the song and music video he released last night, feels like something of an all-timer. "Sit down, be humble," Kendrick orders, over and over again, his voice suspended above a mass of "hol' up" and "lil' bitch" ad-libs. The Mike Will Made It production beneath it all only makes matters meaner: simple and menacing, its key elements an aggressive bass piano, punchy drums, and a low screeching synth sample, it sounds like an adult grizzly hopping with surprising agility while it slaps a small child silly. The whole song is playful as only an experienced disciplinarian can be. It's not that the consequences could be dire if you don't sit down and be humble, but that they are definitely going to be.
If the power of Kendrick compels you by repetition, it does so in more than one way. Most listeners can rest assured (perhaps not safely) that Kendrick is not really addressing them, personally, but Big Sean will not be one of them: "hol' up" and "lil' bitch" are two ad-libs he popularized, and Kendrick's appropriation of them in the hook, given its primary content, is hard to describe as friendly. Kendrick can't have enjoyed the swipe Sean took at him earlier this year on his album I Decided; just in case the message didn't get through the first time on last week's "The Heart, Part IV," Kendrick has decided to make things extra clear. The same applies for Drake: Already targeted on "Part IV" for daring to attack Jay Z, Toronto's biggest star is receiving the same injunction to "sit [your punk-ass] down" in duplicate and triplicate on the "Humble" chorus.
A member of the first generation of rappers to be younger than rap itself, Kendrick has always viewed himself as the recipient of an institutional legacy, the inheritor of everything that hip-hop has come to represent since (at least) the days of NWA. Keenly aware that heritage is impossible to maintain without repetition, he's also skilled at finding the best ways to show off his role as one who maintains tradition with a minimum of corniness. If carrying on an extremely male-dominated tradition while infusing it with religious rhetoric means that Kendrick often seems a bit patronizing — to women, but also to secular listeners and competitors — Kendrick wearing the clothes of that ultimate figure of sacred patriarchal authority, the pope, as he does on the "Humble" video, is pretty amusing. (And, of course, defending Jay Z falls into the same category of declaring oneself worthy to don the Father's mantle in a dutiful yet stylish way.)
All repetition aside, "Humble" is signaling a new direction for Kendrick. He's created a portrait of the artist as a Compton youth in Good Kid, M.A.A.D City and as a political prophet on To Pimp a Butterfly and untitled unmastered, but he's never made an entire album in the persona of the rap monarch, nor songs to which you can cave in your enemies' craniums remorselessly. The sound and content on "Humble," released a week before Kendrick's fourth album, suggests that King Kendrick, having earned enough divinity and social-justice credits to graduate three times over, is prepared to suppress all opposition to his reign by delivering a carefully timed series of vulgar beatdowns. He's spent enough time being cerebral in church; now he's coming for the clubs (Drake's stronghold, not coincidentally). If some foes end up getting clubbed on the head in the process, that's exactly the point — so long as it sounds like fun.