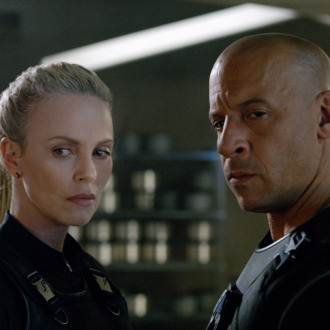 Charlize Theron, Vin Diesel.
Photo: Universal Pictures
The Fast and the Furious franchise has metastasized into something no one really could have imagined when it debuted back in 2001. Sixteen years later and eight movies into the series, Vin Diesel is here to tell us that The Fate of the Furious is … a trilogy? "As the world sees this movie, they'll see how its the beginning of a new trilogy," he said at CinemaCon today. Indeed, the ninth and tenth movies in America's fastest film series have already been announced, but based on Diesel's comments, it sounds like fans can expect a narrative through line connecting the next three in an especially furious way. If Dom has turned on the family for Fate and sided with evil Charlize, does that mean we won't see a reunion between him and Letty by the end of the forthcoming film? Will villainous Dom descend into the criminal underworld even further and completely betray the legacy of his fallen brother, Brian O'Conner? Has the franchise revival that started with Fast Five just been about sending Dom out in a blaze of glory (or dishonor) to make room for ever-expanding role of the Rock this whole time? And most importantly: How many trilogies will ultimately fit into the Fast universe? The answer better be at least four.