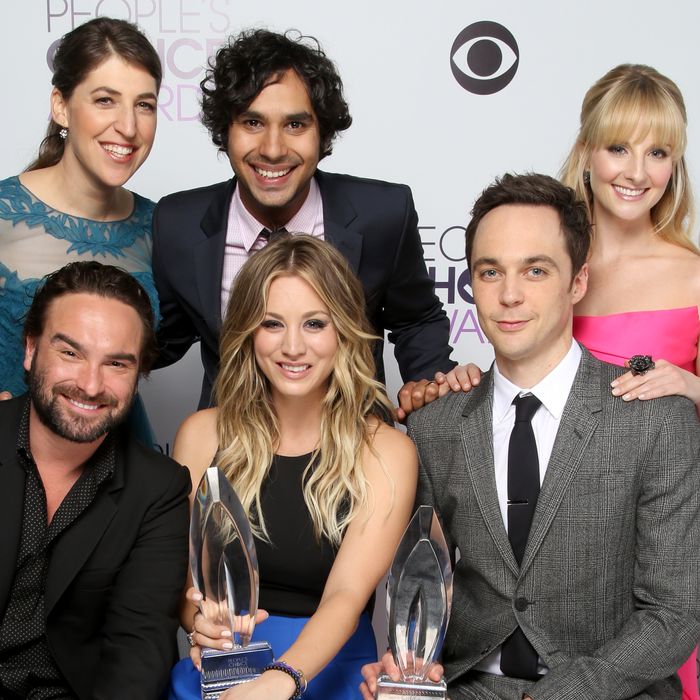 The gang's all here … and they're making bank.
Photo: CBS Photo Archive/CBS
In an interview last year with Jimmy Kimmel, Big Bang Theory star Kaley Cuoco told the late-night host that the possibility of doing an 11th season was "a very expensive question." But according to Deadline, CBS was willing to give the cast of its crown-jewel series the very expensive answer it needed, because The Big Bang Theory will be returning for seasons 11 and 12. With the current contract terms in place, TBBT reportedly costs the network about $10 million per episode to produce, but apparently it's worth that cost. In the age of delayed viewing, it still pulls a live audience of more than 19 million people each week, and syndication revenue has brought in more than $1 billion for Warner Bros. TV, making it an ever-worthwhile investment.
It's pretty clear that TBBT is a cash cow for CBS. But what, exactly, does that mean for the people who star in it? The five cast members who've been with TBBT since it premiered — Jim Parsons, Kaley Cuoco, Johnny Galecki, Simon Helberg, and Kunal Nayyar — have each been earning about $1 million per episode since season eight, and thanks to continuing negotiations and their generosity, later additions Melissa Rauch and Mayim Bialik will be approaching the half-million dollar mark per episode for their 48-episode deal over the next two seasons. Those are all very big numbers à la carte, but they combine to staggering amounts over the life of the show. So we had to wonder: If The Big Bang Theory ultimately concludes after 12 seasons, how much cash will its stars have raked in in total? We're hardly mathematicians, but we made some estimates based off of rough salary figures that have been given to reputable news sources over the years.
(A few caveats: The figures for Helberg and Nayyar have been less reported over the years, so this analysis is limited to salaries for the big three stars — Cuoco, Galecki, and Parsons — along with the guests-turned-regulars, Bialik and Rauch. These calculations also don't include any money the stars may make if they are part of syndication deals.)
Mayim Bialik (Amy) and Melissa Rauch (Bernadette)
Seasons: 3-12
Episodes: 153 (Bialik), 159 (Rauch)

Rauch and Bialik joined TBBT in season three as guest stars, making an estimated $30,000 per episode. For Bialik, 94 episodes at that rate (with breakdowns of 6, 20, 21, 23, and 24 episodes for seasons three through seven) came out to $2.82 million. The number is a little higher for Rauch, who appeared in 100 episodes during that same stretch (10, 19, 23, 24, and 24), putting her at a round $3 million. In season eight, that rate was negotiated to $60,000. As series regulars for 48 episodes (24 each for seasons eight and nine), they each made $2.88 million in two seasons. For season ten, reports put their paychecks up around $175,000 per episode, making each woman's payout that season $3.85 million. Based on a Variety update about the deal for seasons 11 and 12, the original five — Cuoco, Parsons, Galecki, Helberg, and Nayyar — agreed to donate $100,000 per episode to free up $500,000 to be divided between Rauch and Bialik. If the two split the pot evenly, their new salaries for the next two seasons, which is a 48-episode deal, are projected to land around $450,000 per episode. That's $21.6 million each.
Grand total: $27.7 million (Bialik), $31.3 million (Rausch).
That is a lot of money, but it's not even half of what the show's big three stars will have put in the bank.
Kaley Cuoco (Penny), Johnny Galecki (Leonard), and Jim Parsons (Sheldon)
Seasons: 1-12
Episodes: 229 (Cuoco), 230 (Parsons and Galecki)

In Cuoco's 2016 interview with Kimmel, she kept saying "ten years!" over and over again, looking exasperated about all the hair styles and denim sizes she's cycled through over the years. But when the money's this good, it's hard to walk away. The main three cast members started out earning $60,000 per episode. In their next three-year deal, that figure was negotiated up to $200,000. For season seven, the trio briefly stopped at $350,000 before negotiating a Friends-sized deal for season eight. Since that time, Cuoco, Galecki, Parsons, and their co-stars Helberg and Nayyar have been earning a cool $1 million per episode.
So let's break that down. The Big Three took in a total of $3.78 million each in their first three years with the show, comprising a 17-episode first season and 23-episode second and third seasons. After contract negotiations raised their rate to $200,000 per episode for consecutive 24-episode seasons, their second three-year deal made each of them $14.4 million richer. That quick pause at $350,000 per episode in season seven resulted in $8.4 million for each person, and, in the most recent three-year deal, which included seasons eight through ten (made up of 24, 24, and 22 episodes, respectively), Cuoco, Galecki, and Parsons earned $70 million for 70 episodes of television. Assuming they really have shifted $100,000 per episode to Bialik and Rauch to help close the pay gap as planned, that drops the trio to $900,000 per episode, which would still result in a two-season take of $43.2 million each for seasons 11 and 12, both of which are slated to have 24 episodes.
Grand total: $139.8 million each.
Keep in mind, that number is just salary. Those three also receive money on the back end, meaning that they get a piece of the $1 billion Warner Bros. has made off its big fish. Even if The Big Bang Theory really does end after this latest re-up, these actors will be backstroking through cash well after the series finale.
Update, April 28, 2017, at 2 p.m.: According to The Hollywood Reporter, Rauch and Bialik, who were previously holding off from renewing their contracts until a higher salary deal was reached, have settled negotiations with CBS. For seasons 11 and 12, the pair will receive north of $425,000 each, thanks in part to each of the original five stars donating $100,000 per paycheck, which freed up half a million dollars per episode for Bialik and Rauch to split. The official figure is in line with the numbers previously reported here by Vulture.