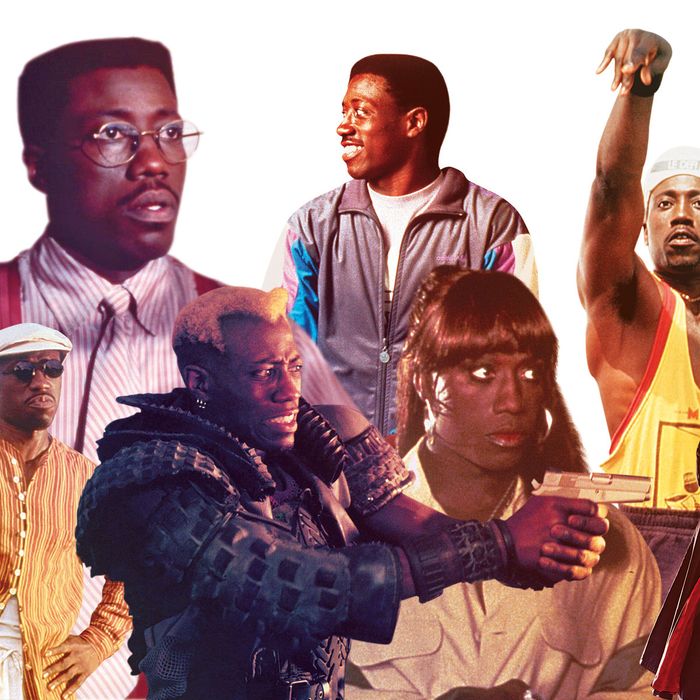 Imagine a world in which Wesley Snipes was never jailed for tax evasion. The contemplation of this alternative reality has been newly invited by BAM, which, on the occasion of the 25th anniversary of White Men Can't Jump, is staging a retrospective of 11 of his films. The event asks us to consider the actor's place in film history and not just his significance to the IRS. If you do that, you soon realize that the question isn't whether Snipes deserves a retrospective. It's how we ever got to a point where we might think he doesn't.
In our reality, of course, Snipes has been defined largely by his eccentricities, most notably a failure to file federal income-tax returns, which sent him to prison for over two years in 2010. The criminal case cast him in a very different light than he'd enjoyed circa 1998, when Snipes was starring in the first Blade film and was at the tail end of a decade-long hot streak. It was the type of run enjoyed by few actors — a succession of films, ranging from comedies to dramas to action flicks to even more outlandish action flicks, that showcased a singular versatility, charisma, and charm. It was, in hindsight, peak Snipes.
Twenty years removed from that work, it's easy to overlook the breadth of what Snipes was doing. It started in 1989, with his standout comedic role in Major League as Willie Mays Hayes, then continued with Mario Van Peebles's ferocious New Jack City; Mike Figgis's One Night Stand (which won Snipes the Volpi Cup for acting at the Venice Film Festival), and To Wong Foo, Thanks for Everything! Julie Newmar, in which he, Patrick Swayze, and John Leguizamo play, believe it or not, a trio of drag queens. At the time, he emerged as the leading mainstream black action star, serving as a kind of bridge from the blaxploitation years of Shaft to the suburban multiplex. Meanwhile, he was also the go-to leading man for New York's cinematic poet laureate, Spike Lee, as well as a favorite of filmmakers from Tony Scott (The Fan) to Abel Ferrara (King of New York). He co-starred with Robert De Niro, Sean Connery, Dennis Hopper, and Tommy Lee Jones. And while he headlined plenty of action movies like Passenger 57 (with its immortal tagline "Always bet on black") that aren't exactly getting a Criterion release anytime soon, he showed a singular ability to move seamlessly between the action genre and serious dramatic fare. Jean-Claude Van Damme (or Bruce Willis, for that matter) has rarely been in danger of winning a Volpi Cup.
"To look at the depth of feeling that he brings to something like Jungle Fever, which was released shortly before White Men Can't Jump, where he's playing this fleet-footed, sharp-tongued character, you see the gears that he's able to shift, and how he's able to be completely convincing in them," says Ashley Clark, who curated the BAM retrospective. "There's a lightness of touch to Wesley Snipes."
And then there's Blade, a superhero trilogy that anticipated, and even ushered in, the comic-book boom — films that Snipes also produced and whose fights he helped choreograph. Snipes was that rare star who's as comfortable playing a martial-artist vampire as he is a philandering black yuppie or a road-tripping drag queen. He was like Sylvester Stallone, Woody Harrelson, and Robert Downey Jr. rolled into one — plus, of course, he's black. For a major Hollywood star, all of that was unprecedented, and somewhat astonishing.
And all of that may also help explain why his legacy now seems diminished. Consider Denzel Washington, Snipes's co-star in Lee's Mo' Better Blues. Washington, who's since become one of the most decorated actors in the history of cinema, also brings an undeniable sense of himself — his essential Denzel-ness — to every role; it's a huge part of what makes him iconic. He has, of course, made action movies and dramatic films, but they're all inarguably Denzel films. The same is true of another black superstar, Will Smith, who's proved far less versatile than Snipes but far more enduring, in part because he transforms every film he stars in into a Will Smith vehicle, for better or worse.
Snipes, on the other hand, has always been a character actor first and foremost. His versatility means his individual performances now seem more memorable than does his overall career. "Snipes showed that there was space for a black performer who could operate in many registers," Clark says, likening him to Michael B. Jordan. "I've seen Jordan be intensely physical in Creed; he's been very thoughtful in Fruitvale Station; and in That Awkward Moment, there's a lightness to him as well. That idea of being a triple, quadruple threat is something that Snipes leaves as a legacy."
Being called the next Wesley Snipes might seem like a slight at best, a curse at worst. But, as it turns out, it's the highest of compliments.
Major League: Wesley Snipes in Focus is at BAM from March 31 to April 9.
*This article appears in the March 20, 2017, issue of New York Magazine.