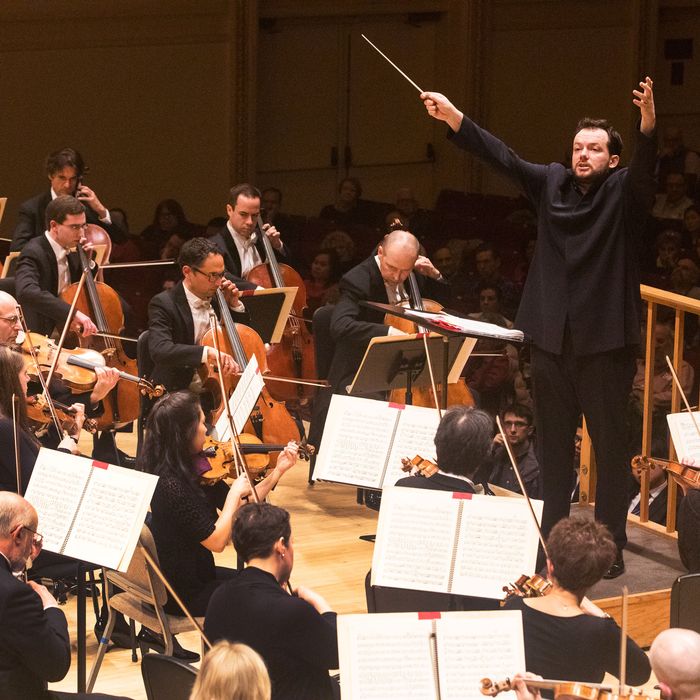 The Boston Symphony Orchestra performs Sofia Gubaidulina's Triple Concerto at Carnegie Hall.
Photo: Richard Termine
A few decades ago, I would not have put money on the survival of the concerto, except as an antiquarian curiosity. Celebrity soloists continued milking the classics, but the rest of the music world seemed to have moved on from all that gladiatorial bravura, the individual versus the collective story line that made the genre such a Romantic-era staple. And yet composers have kept returning to the sturdy drama of a lone virtuoso (or a few) fronting a thronging orchestra, and new works by Sofia Gubaidulina, Lera Auerbach, Esa-Pekka Salonen, and Timo Andres suggest that the genre is having a new heyday. Different as they are, these composers all revisit conventions but shun cliché, merging formal boldness with expressive flair. During one intermission, a concertgoer I had never met came up to me and remarked: "Have I changed or has new music changed? It feels warmer than it used to be. That piece left me wanting to hear it again." Me too.
This is the time of year when orchestras announce their coming seasons, and the rat-tat-tat of press releases has triggered the evergreen objections to the clubby lists of composers, virtually all male, the vast majority deceased. These complaints are fair and apt, just as they were last year and ten years ago. But at least some soloists and a few orchestras have a record of embracing sentient composers, some of them even women, though still hardly any nonwhite. Composers converge where they are wanted. If the establishment freezes them out, they'll start their own clubs and ensembles and compose electric chamber pieces for their friends. If it welcomes them, they'll write symphonies and concertos and explore the infinite elasticity of genres that once seemed to have grown brittle with age.
A few weeks ago, Andris Nelsons conducted the Boston Symphony Orchestra in Gubaidulina's Triple Concerto, a sublimely restive meditation for violin (played by Baiba Skride), cello (Harriet Krijgh), and bayan, a Russian button accordion played by Elsbeth Moser. At 85, the composer remains a gentle renegade. Gubaidulina spent much of her life as the quiet custodian of an ecstatically religious sensibility and folk traditions that had no place in the Soviet Union's official musical life. She enjoyed the encouragement of the nation's preeminent composer, Dmitri Shostakovich, and the enthusiasm of the celebrated violinist Gidon Kremer, but she remained stubbornly out of step until the world woke up to her visions. The Triple Concerto opens with the bayan's quiet sighs, massed basses stirring in the depths, and a slow solo cello trying to haul itself out of the rumbling mire. It's the violin that finally achieves flight, lifting laboriously into its high sunlit range, as the orchestra fans out from clotted clusters to widely spaced tolling chords. The tread is heavy and the harmonies dark, as if every flicker of enlightenment were achieved against crushing odds. She dispenses not airy reveries or blissful trances but a tough, physical spirituality that put me in mind of a Bach Passion, full of terror and abjection as well as piercing joy.
Nor is all the drama celestial. About halfway through, a snare drum raps out a martial rhythm, like a shard of Shostakovich that has shot into her score. A jangle of brass calls from the back of the orchestra, like a military band trying to ennoble itself into a host of angels. But at the lip of the stage, the bayan cuts it off with one wheezing blast. Gubaidulina commands the depth of physical space, and in her concerto, the soloists fill the foreground then step aside to let the ear zoom, drone-like over the sonic landscape, picking out distant burbles and seismic clangs.
A new concerto needs a lot of infrastructure: a commission, an orchestra, a willing conductor, and a soloist with a risk-taking spirit and the clout to command a spot downstage. Lera Auerbach lucked out with the violinist Leonidas Kavakos — who didn't so much play her concerto, NYx, as emit it like a stream of high-energy protons — and the New York Philharmonic, conducted by Alan Gilbert. At its premiere, the score sounded at once confident and extreme — a swerving, vaulting, skittering parkour through a city of dreams. The 43-year-old Auerbach, too, was born in the Soviet heartland, and she fled to New York in 1991, the year before Gubaidulina moved to Germany. Though the two émigré women are separated by 40 years, they share a seriousness and inner intensity that their country of origin both fomented and deflected. Gubaidulina retreated into the vast timeless spaces of her inner life; Auerbach has embraced the hectic dissonances of her generation.
NYx is named for the Greek goddess of night — the typographical eccentricity is an homage to New York — and the piece is suite of dreamlike vignettes. The violin is a classic protagonist, navigating a world of nocturnal dangers. It opens in mid-thought, a high, fragile thread of a tune gliding through the silence. But nothing in this basket of fragments last long enough to grasp, except perhaps as an afterglow. My mind keeps drifting back to fleeting moments, like a sparkling Stravinskian dance, or the bowed saw whistling woozily through a fuzzy blooms of winds, and tries to stretch them into full-blown events. Music is like that: a few powerful seconds — the shrieking Psycho violins, the guitar lick that kicks of Aerosmith's "Walk This Way" — can stand in for a whole experience. In NYx, the fleetingness is all. It's the way we experience oversaturated reality, the real and the virtual, wakefulness and dreams flitting together in a ceaseless discontinuities.
Two weeks after Gilbert and the Philharmonic had waved Kavakos and Auerbach good-bye, Yo-Yo Ma showed up with another extravagantly beguiling new showpiece, this one by the orchestra's resident composer, Esa-Pekka Salonen. As it happens, Salonen also wrote a work called Nyx in 2011, but this freshly inked concerto is a wide-awake, even overcaffeinated whirl through the cosmos. Salonen can tease out of the orchestra such a spectacular array of sonorities that I kept sitting up with how'd-he-do-that? astonishment. He assembled rigorous chaos out of its component parts, engineering sonic clouds with such precision that he seemed to have specified each suspended drop of moisture. The Philharmonic loves this stuff, and so does Gilbert, who conducted his friend's concerto with nonchalant control. And then there was Ma, who delivered quick but passionate soliloquies, blistering passagework, and high siren songs up in the stratospheric fiddle range — all with such aplomb and good cheer that he must almost have made Salonen wish he had made the part just a little bit harder.
Concerto season hasn't passed: On April 20, Jonathan Biss arrives to perform Timo Andres's piano concerto The Blind Bannister, which has made its way slowly, but triumphantly, to New York. In his final weeks as music director, Gilbert seems intent on reminding audiences what he's wrought: an orchestra that treats the music of our time as a boon instead of a duty. Fortunately, on the day of the Salonen premiere, the Philharmonic announced that it had snagged Deborah Borda, the longtime president of the Los Angeles Philharmonic, to run it. She may well be the one manager who can keep such a fiscally insecure organization focused on the pleasures of music rather than on its financial fears.