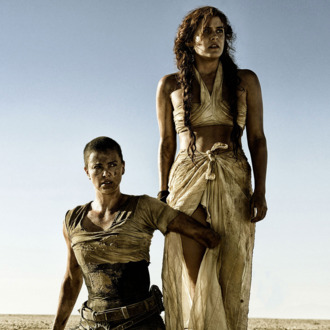 Each month, several films and TV shows leave HBO's catalogue. We provide a list of departing titles so you can watch them before they're gone forever (or are just available on a different site). For more comprehensive coverage of the best titles available on HBO and elsewhere, check out Vulture's What to Stream Now hub, which is updated throughout the month.
Good-bye, blood bag: Mad Max: Fury Road
You've had a good run, Fury Road. For more than a year, George Miller's endlessly entertaining post-apocalyptic masterpiece was watched and rewatched, witnessed over and over again as it sprayed its beautiful celluloid face in silver and dove with wild abandon to slay every mediocre excuse for an action movie the studios have thrust upon us since. But now that it's outlived its usefulness to HBO, hopefully "Mad" Max Rockatansky and Imperator Furiosa can be reborn in Valhalla, shiny and chrome. Leaving April 7.
One band, one sound: Drumline
Nick Cannon's career high point as a freshman snare on an HBCU marching band is catnip for that strange species of human known as the band geek. The film is an exemplar of the right way to capture a subculture: pack the margins with specific details (in this case, the training regimens of the drumline and the stubbornness of Orlando Jones's classically trained band director), while inserting just enough Hollywood embellishments to keep things lively (you can't really improvise this much during halftime shows, guys). Anyway, marching bands are great and high-school plume crews everywhere are grateful that Drumline exists. Leaving April 30.
Follow the money: All the President's Men
Democracy dies in darkness, as the saying goes these days. For further proof, please consult this 1976 love letter to the investigative journalism that brought down Richard Nixon. At the time, a pair of journalists who exposed presidential misdeeds could be portrayed as heroes by Robert Redford and Dustin Hoffman in a universally beloved motion picture. Are those days gone for good? Find out in the inevitable All the President's Men sequel, to be released just as soon as somebody figures out what the hell is going on right now. Leaving April 30.

Noteworthy selections in bold.
Leaving April 7
Mad Max: Fury Road
Leaving April 30
28 Days Later
All the President's Men
The Aviator
By the Sea
Carlito's Way
Cocktail
Cop Car
Coyote Ugly
Demolition Man
Dr. Seuss' How the Grinch Stole Christmas (2000)
Drumline
The Forest (2016)
Heartbreakers
The Hitcher (2007)
Hitman
Hitman: Agent 47
I Am Legend (2007)
The Jewel of the Nile
Paper Moon
Planet of the Apes (2001)
The Poseidon Adventure
The Revenant
The Road Warrior
Romancing the Stone
Sisters (2015)
Spider-Man (2002)
Spider-Man 2
Steve Jobs (2015)
The Wedding Singer