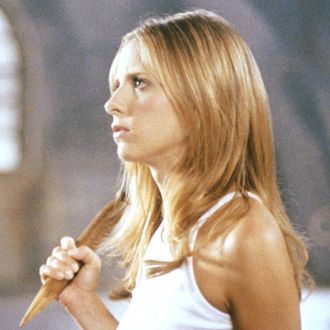 Each month, several films and TV shows leave Netflix's catalogue. We provide a list of departing titles so you can watch them before they're gone forever (or are just available on a different site). For more comprehensive coverage of the best titles available on Netflix and elsewhere, check out Vulture's What to Stream Now hub, which is updated throughout the month.
She saved the world … a lot: Buffy the Vampire Slayer
The Whedonocalypse is upon us, as the TV auteur's four most iconic series (also including Angel, Dollhouse, and Firefly) will be exiting Netflix on the first of April. But of the bunch, it's Buffy that has long generated the strongest emotions, as evidenced by the outpouring of appreciation the show enjoyed this month on the occasion of its premiere's 20th anniversary. Newbie Slayers pressed for time can do a little unconventional sampler platter to get a feel for the show's improbable range and ambition: Move from the excellent introduction of season one's "Welcome to the Hellmouth" and "The Harvest" to season four's silent-horror bottle episode "Hush," season five's era-spanning Spike centerpiece "Fool for Love," and season seven's self-contained art film "Conversations With Dead People." Save the emotional heft of the "Once More With Feeling" musical until you've driven a stake into the undead, angsty heart of all that has come before. Which, y'know, you should probably do soon. Leaving April 1.
Weaponize a pumpkin: Better Off Ted
Half absurdist satire of the greedy business world, half childlike celebration of mad-scientist lab creations, this short-lived cult comedy from the creator of Santa Clarita Diet and the immortal Andy Richter Controls the Universe explores life at an R&D firm for a company man (Jay Harrington) trying to retain what's left of his soul. The supporting cast is stacked with great comic ringers, especially Portia de Rossi as the deadpan corporate head not even pretending to care about humanity, and plotlines embrace the zany side of comedy like nothing else on network TV in a long time. Leaving April 1.
You keep on using that word: The Princess Bride
Did you know it counts as an act of public service to show Rob Reiner's lovely and rich quip-filled fairy-tale parody to at least one person who has never seen it? But you have to promise not to quote along when Inigo Montoya describes what he'll say to the six-fingered man, as the Dread Pirate Roberts goes in against the Sicilian when death is on the line, or when … well, geez, you'll just have to keep your mouth shut for the entire film. Nothing matches the glee of experiencing a perfect tale, told perfectly, the first time. Leaving April 1.
Noteworthy selections in bold.
TELEVISION
Leaving April 1
Ally McBeal: Seasons 1–5
Angel: Seasons 1–5
Better Off Ted: Season 1
Bones: Seasons 1–4
Buffy the Vampire Slayer: Seasons 1–7
Dollhouse: Season 1
Firefly
House, M.D.: Seasons 1–8
Lie to Me: Season 1
The Riches: Seasons 1–2
Roswell: Seasons 1–3
The X-Files: Seasons 1–9
Leaving April 7
Legit: Season 2
Wilfred: Season 4
Leaving April 10
Legit: Season 1
Leaving April 17
American Dad! Season 6
MOVIES
Leaving April 1
The Agony and the Ecstasy
Barbershop 2: Back in Business
The Boys From Brazil
Chaplin
The Escapist
Ferris Bueller's Day Off
Menace II Society
The Princess Bride
Resident Evil: Extinction
Snow Day
Stomp the Yard
Superman II
Superman III
Superman IV: The Quest for Peace
Superman Returns
Superman: The Movie
The Usual Suspects
Vanilla Sky
Leaving April 3
The Circle (2014)
Collateral Damage
Leaving April 9
Hero
Leaving April 10
Flower Girl
Leaving April 14
The Lazarus Effect
Leaving April 15
A Fantastic Fear of Everything
Leaving April 26
The Nutty Professor 2: Facing the Fear (2008)
Leaving April 30
Born to Defense
The Defender
The Mirror
Under the Tuscan Sun