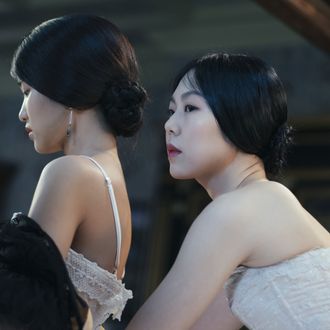 At the beginning of (and throughout) every month, Amazon Prime and Amazon Video add new movies and TV shows to their libraries. Some of these may also have previously been on Amazon, only to have been removed and then added back. For more comprehensive coverage of the best titles available on Amazon and elsewhere, check out Vulture's What to Stream Now hub, which is updated throughout the month.
Sleek and suspenseful: The Handmaiden
Park Chan-Wook can never control himself, and cinema thanks him for it. After years of depraved revenge epics and other weird experiments like Stoker, he tried to settle down with a period romance set among the upper class in Japan-occupied Korea — and wound up making one of the most breathless, action-packed films of the year. The twisty storytelling gives us the pleasure of being conned over and over again, as a young Korean thief poses as a handmaiden to a Japanese heiress so she can steal her fortune, only for the two women to fall quite lustily for each other. From there, the double-crosses stack high as every frame of this empowerment thriller smuggled inside an erotic fantasy crackles with unreserved glee. Available April 13 on Prime.
Talk of the town: In a World…
The era of the movie trailer voiceover appears to be pretty much kaput these days, since kids today prefer their advertising with sped-up editing and minimal explanation. In another 10 years, few will recognize the title of writer-director-star Lake Bell's fiendishly clever 2013 comedy as a reference to the trailer catchphrase made famous by voiceover artist Don LaFontaine. But that only means Bell's savvy and very funny industry satire gets to serve a double purpose as a time capsule of that moment when Hollywood had such an odd obsession with cartoonishly deep male voices, and why it would be so hard for someone like Bell to infiltrate that clubhouse. In a world where ingrained sexism is the law of the land, one woman will risk everything to change the rules of the game. Available April 9 on Prime. Also on Hulu.
We found love in a hopeless place: American Honey
Even lost troublemakers from broken homes gotta go somewhere, and Andrea Arnold's epic of wayward young folk in the South grants them the dignity and compassion needed to make their lives sing with the poetry of cinema. Newcomer Sasha Lane is electric as Star, an 18-year-old from Texas who abandons a gross boyfriend and his two children to sell magazine subscriptions on the road with a troupe of rowdy weirdos led by a surprisingly compassionate (and convincingly rat-tailed) Shia LaBeouf. The film is loaded with dark irony – particularly the fact that the kids make money by selling an outdated print product in a severely depressed economy – but also a good amount of disarmingly sweet sincerity. When Star shines, she does so for us all. Available April 27 on Prime.
Noteworthy selections in bold.
TELEVISION
Available on Prime
Tumble Leaf (April 4)
American Playboy: Season 1 (April 7)
Fortitude: Season 2 (April 14)
Bosch: Season 3 (April 21)
Thirteen: Season 1 (April 21)
Thunderbirds are Go! Season 3 (April 21)
Catastrophe: Season 3 (April 28)
Animal Kingdom: Season 1 (April 30)
Available for purchase
The Real Housewives of Potomac: Season 2 (April 3)
Southern Charm: Season 4 (April 4)
Archer: Season 8 (April 6)
Better Call Saul: Season 3 (April 11)
Fargo: Season 3 (April 20)
MOVIES
Available on Prime
Almost Famous (April 1)
Chaplin (1992) (April 1)
Days of Thunder (April 1)
Eddie Murphy Raw (April 1)
Election (1999) (April 1)
Ella Enchanted (April 1)
Kiss the Girls (1997) (April 1)
Mulholland Falls (April 1)
Robocop (April 1)
Robocop 2 (April 1)
Saturday Night Fever (April 1)
Searching for Bobby Fischer (April 1)
Sliver (April 1)
The Ghost and the Darkness (April 1)
There Will Be Blood (April 1)
Tommy Boy (April 1)
What If (April 1)
Hello, My Name Is Doris (April 2)
The Last Exorcism (April 4)
Precious Cargo (April 4)
Barbershop: The Next Cut (April 8)
In a World (April 9)
The Perfect Match (2016) (April 9)
The Handmaiden (April 13)
The Love Witch (April 14)
American Pastoral (April 21)
American Honey (April 27)
Available for rental
Office Christmas Party (April 4)
Rogue One: A Star Wars Story (April 4)
Hidden Figures (April 11)