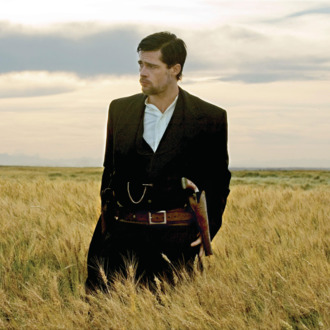 Photo: Kimberly French/Warner Brothers
At the beginning of (and during) each month, HBO adds new movies and TV shows to HBO Go and HBO Now. Below, you'll find our April 2017 recommendations. For more comprehensive coverage of the best titles available on HBO and elsewhere, check out Vulture's What to Stream Now hub, which is updated throughout the month.
Keep on ridin', ridin', ridin': The Assassination of Jesse James by the Coward Robert Ford
Like an old gunslinger's longtime second, Andrew Dominik's 2007 Western has been quietly building its legacy while its showier contemporaries (like No Country For Old Men) hogged the spotlight. But by now, it seems pretty safe to declare that this excavation of the legendary outlaw's (planned) death at the hands of his worshipful yet conflicted sidekick is a bonafide work of genius, from Brad Pitt and Casey Affleck's performances as weary men circling each other's misdeeds like caged animals to Roger Deakins's luminescent cinematography (the train robbery will knock your socks off). Fittingly for a movie about Jesse James, Assassination has the power to haunt you long after its time is up. Available April 1.
Jai ho: Slumdog Millionaire
No need to re-open the moldy debates over Danny Boyle's 2008 Best Picture winner about the slum child who miraculously becomes a game-show hero for the age of globalization. Let's just simply to note that, if you choose to embrace Slumdog Millionaire, you will find a simple, profound piece of filmmaking that grants the gift of believing there could be a grander goal to every awful thing that happens in our lives. Our sorrows could be linked inextricably to our triumphs, our reluctant submission to a capitalist system could be the thing that leads us to the love of our lives, and instead of being held captive to the whims of destiny, we could instead do as Dev Patel's Jamal does: challenge it, dance with it, steer into it with a righteous aim. Available April 1.
Medical misdeeds: The Immortal Life of Henrietta Lacks
Rebecca Skloot's 2010 nonfiction book about a black cancer victim whose cells became the basis for decades of medical treatments is a modern classic of the popular-science genre, masterfully weaving together issues of race-inflected science experiments and medical ethics. So, how on Earth is HBO going to pull off a successful dramatic adaptation of a decades-spanning, medical-terminology-drenched story about cancer cells? With Oprah's help, of course. Winfrey is exec-producing the film and stars as Lacks' descendant Deborah, while Rose Byrne plays Skloot, who didn't insert herself obtrusively into the original book's narrative but on film will likely make for an easy … er, connective tissue. Available April 22.
Noteworthy selections in bold.
Available April 1
Absolutely Fabulous: The Movie
The Assassination of Jesse James by the Coward Robert Ford
Be Kind, Rewind
Breaking Away
Cape Fear (1991)
The Chronicles of Narnia: The Lion, The Witch & The Wardrobe
Criminal Activities
Crimson Tide
The Deer Hunter
Dragon Blade
Fast Times at Ridgemont High
Herbie: Fully Loaded
Hollywood Ending
Kicks
Last Man Standing
Mamma Mia!
Operation Dumbo Drop
Play Misty for Me
Rat Race
The Simpsons Movie
Slumdog Millionaire
Speed Racer
Unforgiven
Urban Cowboy
The Wild Life
Available April 3
Abortion: Stories Women Tell
Available April 4
Saving My Tomorrow: Part 5
Available April 8
War Dogs
Available April 11
Search Party
Available April 15
Suicide Squad (Theatrical and Extended Versions)
Available April 17
Indignation
Available April 22
The Immortal Life of Henrietta Lacks
Saving My Tomorrow: Kids Love the Earth
Available April 24
The Memory of Justice
Available April 29
2017 Rock and Roll Hall of Fame Induction Ceremony
Victor Frankenstein