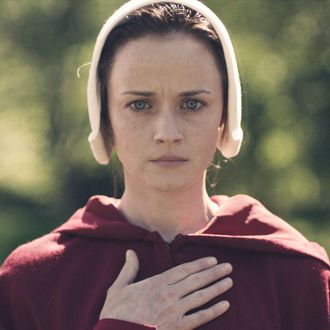 At the beginning of (and during) every month, Hulu adds new movies and TV shows to its library. Below, you'll find our recommendations for April 2017. For more comprehensive coverage of the best titles available on Hulu and elsewhere, check out Vulture's What to Stream Now hub, which is updated throughout the month.
Praise be: The Handmaid's Tale
Trust us, you'll want to watch and argue about Hulu's much-anticipated Margaret Atwood adaptation. Elisabeth Moss stars as the quietly seething Offred, who, in the story's imagined neo-Puritan American future, is part of an enslaved group of childbearers to the infertile upper class of the Republic of Gilead. The show comes with some unfortunate modern embellishments, yet it finds a haunting power in its visual tableaus of the handmaids in their bright-red dresses. And, of course, its central themes of female subjugation and the perversion of Christianity for evil purposes have only intensified in relevance since Atwood's novel was first published in 1985. Series premiere available April 26, with new episodes airing weekly.
Still waters run deep: Top of the Lake
Nothing against The Handmaid's Tale, but if you're eager to see Elisabeth Moss star in the definitive feminist drama of our era, you'll want to devour the first season of Jane Campion and Gerard Lee's seven-part mystery about sexual abuse in a small New Zealand town. It's a work of mystical, heart-throbbing beauty that interrogates not only the deeply entrenched nature of male cruelty, but also the larger debt all humans owe to the natural world. Top of the Lake pierces through to a level of profundity that many of its male-driven "prestige" TV peers fail to reach, and it's returning for a second season soon, so take a weekend and immerse yourself in its depths. Available April 24.
The magic-bullet theory: JFK
This three-hour prosecutorial argument for the Kennedy assassination being a government cover-up remains one of the most audacious projects ever mounted by a Hollywood studio. But even if you think Oliver Stone is just a bug-eyed communist conspiracy monger, there's more than enough sheer movie-ness on display in JFK — whiplash editing, actors performing to the rafters — to lend the film a genuine dramatic energy and purpose. The most historically accurate thing it does might be simply conjuring the all-encompassing paranoia and terror that robbed a vulnerable nation of any easy answers as to where it would head next. Available April 1.
Noteworthy selections in bold.
TELEVISION
Available April 5
Preacher: Complete Season 1
Available April 8
Camp Lakebottom: Complete Season 1
Available April 15
DOT: Complete Season 1A
Sid the Science Kid: Complete Seasons 1 and 2
Sid the Science Kid: The Movie
Available April 18
My Hero Academia: Complete Season 1 (Dubbed Version)
Available April 21
L.A. Story: Complete Season 2
Available April 24
Top of the Lake: Complete Season 1
Available April 25
Wayward Pines: Complete Season 2
Available April 26
The Handmaid's Tale (series premiere)
Available April 29
Teenage Mutant Ninja Turtles: Complete Season 4
MOVIES
Available April 1
1408 (2007) (Showtime add-on)
A Horse Tale (2015)
Affliction (1998)
Agent Cody Banks (2003)
Almost Famous (2000)
America's Sweethearts (2001) (Showtime add-on)
Bad Company (1995) (Showtime add-on)
Bangkok Dangerous (2008) (Showtime add-on)
Ben Collins: Stunt Driver (2015)
Beyond the Sea (2004) (Showtime add-on)
The Big Empty (2003)
Bigfoot Country (2012)
The Burrowers (2009)
Cadillac Man (1990)
Call Me (1988)
Casual Encounters (2016)
Chaplin (1993)
Chosen (2016)
Company Man (2000) (Showtime add-on)
Cry Freedom (1987) (Showtime add-on)
Dancer (2016)
Days of Thunder (1990)
Deja Vu (2006) (Showtime add-on)
Deuce Bigalow: Male Gigolo (1999) (Showtime add-on)
Eddie Murphy Raw (1987)
Election (1999)
The Ex (2006) (Showtime add-on)
Factory Girl (2006) (Showtime add-on)
Federal Hill (1994)
Felicia's Journey (1999)
Ferris Bueller's Day Off (1986)
Fifteen and Pregnant (1997)
Fight to the Finish (2016)
Flyboys (2006)
Frankenstein (2004)
Furry Vengeance (2010) (Showtime add-on)
Gator (1976)
The Giant King (2015)
The Ghost and the Darkness (1996)
Guns of the Magnificent Seven (1969)
Happy Endings (2005)
Hemingway's Garden of Eden (2010)
The Hours (2002)
I Am Number Four (2011) (Showtime add-on)
I.Q. (1994)
In Old California (1942)
JFK (1991)
Kill Me Again (1989)
Kingdom of Blood (2016)
Kiss the Girls (1997)
Lincoln (2012) (Showtime add-on)
The Magnificent Seven Ride (1972)
March of the Penguins (2005)
Mighty Joe Young (1998) (Showtime add-on)
Miss Potter (2006) (Showtime add-on)
Mother's Day (2016) (Showtime add-on)
Mr. Brooks (2007) (Showtime add-on)
Mulholland Falls (1996)
My Best Friend's Girl (2008) (Showtime add-on)
NYC Underground (2013)
Original Sin (2001)
Out of the Inferno (2016)
Payback (1999)
People Like Us (2012) (Showtime add-on)
The People vs. George Lucas (2011)
Pony Express (1953)
Premonition (2007) (Showtime add-on)
The Puffy Chair (2007)
Return of the Living Dead 3 (1993)
Return of the Living Dead 4 (2006)
Return of the Living Dead 5 (2007)
Road Trip (2000)
Robocop (1987)
Robocop 2 (1990)
Robocop 3 (1992)
Saturday Night Fever (1977)
Searching for Bobby Fischer (1993)
Serpico (1973)
Sexipede (2010) (Showtime add-on)
Scrooged (1988) (Showtime add-on)
Shaun of the Dead (2004) (Showtime add-on)
Sliver (1993)
The Spirit (2008) (Showtime add-on)
The Switch (2010)
Tale of Tales (2015) (Showtime add-on)
Tapeheads (1988)
Thelma & Louise (1991)
Tommy Boy (1995)
Trail of Blood (2013)
Twice Upon a Yesterday (1999)
Tyler Perry's The Family That Preys (2008) (Showtime add-on)
Under the Sea (2009)
The Usual Suspects (1995)
The Warriors (1979)
Who Framed Roger Rabbit (1998) (Showtime add-on)
Wicker Park (2004)
The Yards (2000) (Showtime add-on)
Available April 2
Hello, My Name Is Doris (2016)
Available April 4
The Last Exorcism (2010)
Precious Cargo (2016)
Available April 7
The Beach Boys: Making Pet Sounds (2017) (Showtime add-on)
Steve Byrne: Tell the Damn Joke (2017) (Showtime add-on)
Available April 8
Barbershop: The Next Cut (2016)
Beyond the Edge (2016)
Perfect in '76 (2017) (Showtime add-on)
Available April 9
In A World (2013)
The Perfect Match (2016)
Available April 10
Swelter (2014)
Available April 13
Short Term 12 (2013)
Available April 14
The Babadook (2014)
The Man Who Knew Infinity (2015) (Showtime add-on)
The Straight Story (1999) (Showtime add-on)
Available April 18
Ain't Them Bodies Saints (2013)
Election Day: Lens Across America (2016)
Available April 19
Den Brother (2010)
The Even Stevens Movie (2003)
Johnny Tsunami (1999)
Stuck in the Suburbs (2004)
Teen Beach Movie (2013)
Tiger Cruise (2004)
Available April 21
Warpath (1951)