Get New on Netflix delivered every month.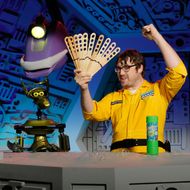 At the beginning of (and during) each month, Netflix adds new movies and TV shows to its library. Below, you'll find our April 2017 recommendations. For more comprehensive coverage of the best titles available on Netflix and elsewhere, check out Vulture's What to Stream Now hub, which is updated throughout the month.
Trapped in the not-too-distant future: Mystery Science Theater 3000: The Return
Once again, Netflix aligns itself with the makers of a long-dormant cult comedy just so geeks will worship them and — aw, who cares? It's been 18 years since the MST3K bozos last watched a bad movie in space for our enjoyment, and this revival features Felicia Day and Patton Oswalt in prominent new roles, along with writing contributions from Dan Harmon and Joel McHale, plus the original cast returning in some capacity for this 14-episode season. Despite what appears to be a deliberately '90s-DI-throwback look, layering clever commentary on top of a little-seen B-movie subculture has new resonance in an era where everyone and their brother has an ironic movie podcast and a desire to connect with strangers via weird entertainment. It's time to see how the real mad scientists do it. Available April 14.
If you must blink, do it now: Kubo and the Two Strings
Not many people saw Laika's masterfully constructed stop-motion fable of a young boy's journey through ancient Japan, outside of film critics and animation evangelists. But the movie is one of those magic accidents of cinema: a rousing adventure that's also a family-friendly meditation on the perils of growing up (even if the sidekicks, a monkey voiced by Charlize Theron and a beetle played by Matthew McConaughey, do grate on the nerves after a bit). The details on the giant skeleton alone must be seen to be believed. Available April 8.
Minyan time: The Tenth Man
For a quieter, under-the-radar pick, check out this perfectly pleasant comedy from Daniel Burman. In The Tenth Man, a 30-something neurotic man named Ariel returns home to Buenos Aires's self-contained Jewish neighborhood after a long absence. He's hoping to speak to his father, who runs a local foundation, but dad keeps distracting him with random acts of charity to complete. Yet Ariel slowly realizes he's getting something from all these good deeds: renewed spiritual identity, a sense of purpose in life, and maybe even a relationship with a mute Orthodox woman. For what is essentially a modern update to one of those old moralistic shtetl tales, The Tenth Man makes for a surprisingly easygoing romp through a lively city and culture. Available April 1.
Noteworthy selections in bold.
TELEVISION
Available April 1
Good Witch: Season 2 (2016)
Wynonna Earp: Season 1 (2016)
Available April 4
Chewing Gum: Season 2
Available April 7
Dawn of the Croods: Season 3
The Get Down: Part 2
Available April 10
Documentary Now!: Season 2 (2016)
Available April 12
Legends of Tomorrow: Season 2 (2016)
Available April 14
Chelsea: Season 2
Mystery Science Theater 3000: The Return
Available April 21
Bill Nye Saves the World: Season 1
Girlboss: Season 1
Hot Girls Wanted: Turned On: Season 1
The Mr. Peabody & Sherman Show: Season 4
Tales by Light: Season 2
Available April 22
The Great British Baking Show: Masterclass: Season 1-3 (2016)
Available April 23
Liv and Maddie: Season 4 (2016)
Available April 26
Real Rescues: Season 6-7 (2012)
Available April 27
Las Chicas del Cable: Season 1
Available April 28
Dear White People: Season 1
Available April 30
Sofia the First: Season 3 (2015)
MOVIES
Available April 1
Across the Universe (2007)
An American Tail (1986)
An American Tail: Fievel Goes West (1991)
An American Tail: The Mystery of the Night Monster (1999)
Born to Be Free (2016)
Boy Bye (2016)
Cool Runnings (1993)
Gremlins (1984)
A Nightmare on Elm Street (1984)
Only for One Night (2016)
Richard Pryor: Live & Smokin' (1971)
Scooby-Doo (2002)
Schindler's List (1993)
Something's Gotta Give (2003)
The Tenth Man (2016)
Thunderstruck (2012)
Trouble with the Curve (2012)
Tropic Thunder (2008)
A Weekend with the Family (2016)
Available April 2
The D Train (2015)
Available April 4
Louis C.K. 2017
Available April 6
The BFG (2016)
Available April 7
El Faro De Las Orcas
Win It All
Available April 8
Kubo and the Two Strings (2016)
Available April 11
Kevin Hart: What Now (2016)
Available April 14
El Elegido (The Chosen) (2017)
Sandy Wexler
Available April 15
Homeward Bound: The Incredible Journey (1993)
Slam
Available April 17
Lucas Brothers: On Drugs
Available April 19
A Plastic Ocean
Available April 21
The Prestige (2006)
Sand Castle
Tramps
Available April 22
The Secret Life of Pets (2016)
Available April 23
Phantom (2013)
Available April 24
Long Nights Short Mornings (2016)
Available April 25
Queen of Katwe (2016)
The 101-Year-Old Man Who Skipped Out on the Bill and Disappeared
Vir Das: Abroad Understanding
Available April 26
Trust (2010)
Available April 28
A Murder in the Park (2014)
Casting JonBenet
Rodney King
Small Crimes
Get New on Netflix delivered every month.