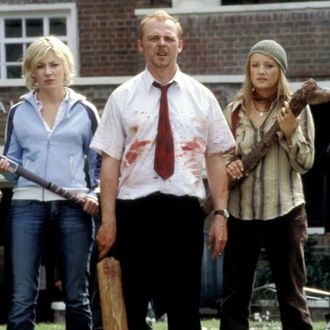 Photo: Universal Pictures
Each month, Showtime adds new movies to its library. Below, you'll find our April 2017 recommendations. For more comprehensive coverage of the best titles available on Showtime and elsewhere, check out Vulture's What to Stream Now hub, which is updated throughout the month.
You've got some red on you: Shaun of the Dead
By this point, you don't need anyone to tell you about Edgar Wright's Shaun of the Dead, the Simon Pegg-starring zombie movie spoof that accidentally-on-purpose became the best zombie movie of the new century, funny or not. It's true that today, the best way to experience tech-support dorks mauling the undead with Queen records is during a midnight screening, but barring that, another rewatch or two will do just fine. Available April 1.
An ode to Honest Abe: Lincoln
Imagine the courage, the sheer moral fortitude, it must have taken to bring together a nation that had become violently divided over its very humanity — and over your insistence on prioritizing compassion and integrity over politics and easy wins. Imagine what it was like to stumble blindly toward the light, guided merely by the hope that your actions were the right ones, and the prayer that your life's work would be built upon by your successors, and not dismantled by opposition merely out of spite. That Steven Spielberg, Tony Kushner, and Daniel Day-Lewis chose to imagine precisely this at our current moment in history is an achievement of seismic significance, one that we would be wise not to let fade into some distant memory of a time when presidents treated their office with sincerity and respect. Available April 1.
City on fire: Burn Motherf*ker, Burn!
In this original documentary tracing the events leading up to the 1992 Los Angeles riots, director Sacha Jenkins delves into several decades of racial tensions in Southern California that culminated with the acquittal of the police officers who killed Rodney King and the violent outrage that followed. Although fans of Ezra Edelman's Oscar-winning O.J.: Made in America are likely to notice a lot of coverage overlap, this film promises to delve more into topics like the world of L.A. street gangs in the '70s and '80s. Plus, some might value the opportunity to watch a more generalist, 90-minute overview of the period instead of investing the eight hours necessary to take in the Juice's story. Available April 21.
Noteworthy selections in bold.
Available April 1
1408
America's Sweethearts
I Am Number Four
Lincoln
Mother's Day
Shaun of the Dead
Tyler Perry's The Family That Preys
Available April 7
The Beach Boys: Making Pet Sounds
Steve Byrne: Tell the Damn Joke
Available April 8
The Boy
Available April 14
The Man Who Knew Infinity
Available April 21
Burn Motherf*ker, Burn!