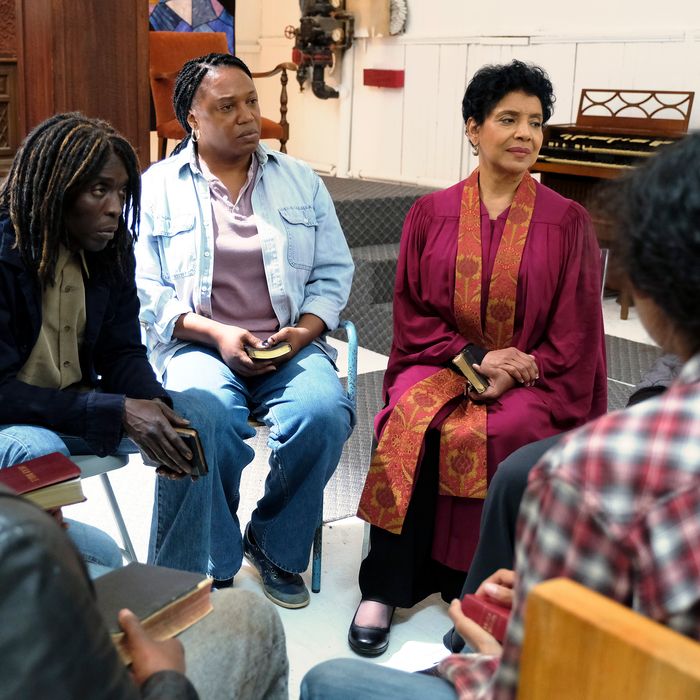 When We Rise.
Photo: Eike Schroter/ABC
When We Rise, the four-part mini-series that follows the struggle for LGBTQ rights from the early 1970s to the present, was heavily promoted during the Academy Awards but hasn't generated much cultural conversation. When the first two-hour episode aired Monday night on ABC, the social-media chatter surrounding it was muted, and so were the ratings.
In a way, the lack of noise marks a certain level of progress. Not so long ago, a prime-time, broadcast-network event in which gays and lesbians openly display their affections would have caused a major, pearl-clutching uproar. The fact that it hasn't is encouraging on one level, but discouraging on another. That's because, despite its flaws, When We Rise is exactly the kind of docudrama to which attention should be paid right now, when the political climate has turned so pre-apocalyptic that talk of any kind of progress may sound delusional.
After watching all four of these interconnected TV movies, especially in close succession, the message that comes across most clearly is this: that the fight for parity and positive change never comes down to a single battle that's won or lost. Instead, it's a never-ending marathon with successes, setbacks, and laps that social-justice warriors keep on running and running on repeat. Older viewers familiar with their LGBTQ history may yawn during more than one moment, perhaps while letting out a: "Yeah, yeah, been there, demonstrated for that." Younger audiences, on the other hand, stand to gain the most knowledge and perspective from this reality-inspired recap, which, indeed, sometimes plays like it was designed to be viewed over several periods of AP American History.
The first episode and a half, set in the 1970s as the gay-rights crusade begins to turn into an organized movement, feels a bit like a spinoff of the movie Milk. There's good reason for that. Dustin Lance Black, the creator of When We Rise who also wrote and directed portions of it, won an Academy Award for writing the 2008 film that starred Sean Penn as Harvey Milk, the San Francisco city supervisor and gay-rights leader who was gunned down in 1978. Milk's director, Gus Van Sant, also directed the first episode of When We Rise, which, if you missed it Monday, is streaming on Hulu and ABC's website. (The remaining three episodes will air at 9 on Wednesday, Thursday, and Friday, having been preempted from Tuesday night by the president's address.)
Cleve Jones, who, among other things, created the AIDS Memorial Quilt, was featured prominently in Milk, too, and is again in When We Rise. But the stories of other actual gay, lesbian, and trans activists in his extended circle — including women's advocate Roma Guy and Vietnam veteran Ken Jones — have prominent placement, too. While Milk focused more on a single man and the ripple effects of his efforts and death, this series strives for a more intersectional portrait of the indignities and triumphs experienced by members of a marginalized population.
The younger actors who bring those firebrands to life in parts one and two, including Austin McKenzie, Emily Skeggs, and Jonathan Majors, deliver spirited performances, as do their older counterparts in the last two chapters: Guy Pearce, as Cleve, Mary-Louise Parker as Roma, Michael Kenneth Williams as Ken, and Rachel Griffiths, taking the baton from Fiona Dourif as Diane, who becomes a nurse for HIV/AIDS patients as well as Roma's partner.
All of these actors are faced with, and mostly overcome, the challenge of elevating material that can sometimes be overly steeped in factual regurgitation or just plain heavy-handed. ("I have fliers I need to be stapling up to protect us from the patriarchy," young Roma says, in all sincerity, in part one.) The handoffs that occur between episodes two and three, when the veteran actors take over for the younger ones, are slightly awkward as well. At one point, Pearce is forced to work opposite David Hyde Pierce, who portrays Cleve's dad. But the two, separated age-wise by less than a decade in real life, look more like peers than father and son.
Nevertheless, the situations these characters face resonate more as time marches on; watching them suffer from and lose loved ones to AIDS or be told, repeatedly, that they are less-legitimate humans because of their sexual orientation has the same effect it has on real people in real life. It turns from a sting to a persistent, painful ache that won't subside. However, things never get so stark or explicit that the show becomes too hard to watch. That's both a compliment and a criticism. Black and his fellow writers and filmmakers seem to have made a decision to bring this saga to the widest possible audience, and that means the really ugly details have been scrubbed down more than they might have been for, say, HBO or Showtime. (It also means they make room for a ton of cameos, from Whoopi Goldberg, Rosie O'Donnell, Rob Reiner, and, my personal favorite, Debra Winger in the role of Supreme Court Justice Elena Kagan.)
"You think we've got one more in us?" Cleve asks a fellow activist in part four, as a demonstration against Prop 8 gets underway in 2008. I don't think it counts as a spoiler to reveal that yes, of course they do. The most valuable service When We Rise performs is to remind us that joining any resistance is not a temp job. It's a lifetime commitment, and one that doesn't end even after same-sex marriage becomes law. As the brouhaha over bathroom bills proves, for the LGBTQ community or any group that isn't treated equally, the fight for parity is daunting. But When We Rise suggests that even in the most stubbornly dark of times, it's still possible to start digging tunnels and, eventually, generate light at the end of them.