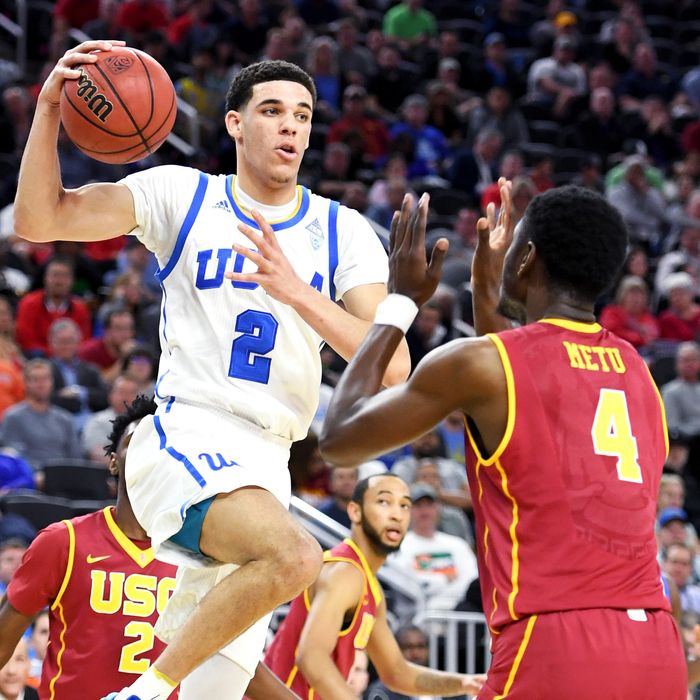 Lonzo Ball in action.
Photo: Ethan Miller/Getty Images
Starting just after noon ET today, there's going to be more than 64 hours of meaningful college basketball played over the course of two days. If you're wondering how to best allocate your time while watching at work, or which TV to position yourself near during happy hour, here are the five first-round games with the greatest entertainment potential. If the tournament is sports' version of prestige TV, think of these as the Battle of the Blackwater.

No. 7 Michigan vs. No. 10 Oklahoma State (Friday, March 17,
12:15 p.m., CBS):
A must-watch thanks to a pair of point guards. Both Derrick Walton (Michigan) and Jawun Evans (Oklahoma State) might be the field's best in the backcourt, and though each runs an offense predicated on their teammates' ability to get open, the game will likely come down to whichever guard gets the better of the other. Walton, a senior, has been playing the best basketball of his Wolverine career the last six weeks, making 43 percent of his threes, while Evans, a bruising 6-foot-1 guard whose stoutness belies his speed, has the nation's third-highest assist rate. This Midwest regional game should be a classic.
No. 5 Minnesota vs. No. 12 Middle Tennessee (Thursday, March 16, 4 p.m., TNT):
Fresh off the greatest upset in modern NCAA tournament history, Middle Tennessee is again dancing, returning the majority of the Blue Raiders that knocked off Michigan State last year. And coach Kermit Davis's squad has the best chance of any of the field's mid-major teams to make a deep NCAA tournament run, just as Butler did in 2010 and '11. Giddy Potts not only has the best name in all of college basketball, but he is a remarkably accurate three-point shooter with limitless range, while Reggie Upshaw is a senior big in the mold of Draymond Green, using a quick first step and surprisingly adept ball-handling skill set to drive the rim. A Middle Tennessee win is the trendiest upset pick that actually could come true.
No. 6 Creighton vs. No. 11 Rhode Island (Friday, 4:30 p.m., TBS):
Two months ago, Creighton was the toast of college basketball, but a season-ending injury to point guard Mo Watson has slowed down the Bluejays' Über-efficient offense. Enter Rhode Island, a team that thrives on defense, and is stocked full of shot-blocking bigs that can make any team uncomfortable. This game is a clash of philosophies, and in the process will serve as an introduction to URI's unique shorts (they have a picture of a Ram on the waistband) as well as Hassan Martin, a 6-foot-7 big with massive hands — they measure 10.5 inches long (larger than those of the San Antonio Spurs' Kawhi Leonard).
No. 8 Northwestern vs. No. No. 9 Vanderbilt (Thursday, 4:30 p.m., TBS):
Oh, you didn't know that Northwestern was one of five teams to have never made the NCAA tournament? That 'Chicago's college team' had suffered 79 straight seasons of futility? Even if the Wildcats are quickly bounced, tune in to watch history unfold, and hopefully get some good shots of Julia Louis-Dreyfus in the stands. (Her son plays for Northwestern.)

No. 3 UCLA vs. No. 14 Kent State (Friday, 9:57 p.m., truTV):
The Bruins' star guard Lonzo Ball could be starting for the New York Knicks next season — although given the lottery odds, he probably won't be — but still, Ball is the most electrifying guard to play the college game since current Knick Derrick Rose suited up for Memphis. Whether finding teammates with perfectly timed passes or connecting from well beyond the three-point line with a funky yet weirdly functional jump shot, Ball is the reason this Pac-12 team could make the Final Four.