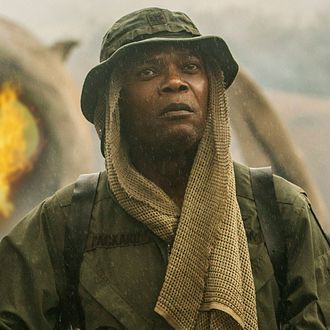 Samuel L. Jackson in Kong: Skull Island.
Photo: Chuck Zlotnick/Warner Brothers
The new Kong: Skull Island does something a little bit different with its setting. While Peter Jackson's King Kong remake was set in 1933 (the same year the original was released) and Gareth Edwards's Godzilla was set in the present day, Skull Island takes place in the '70s, around the end of the Vietnam War. (Much of the film's imagery, as well as its marketing, hits the Apocalypse Now angle hard.) Why is this? In the run-up to the film's release, we asked director Jordan Vogt-Roberts about how the film's period setting came about. As he explained, it came from trying to find a new way in to the King Kong story: The 1970s saw the first wave of satellites launched into space, which Vogt-Roberts saw as the last possible chance to discover a new part of the world.
"As soon as I started thinking about the '70s, then suddenly, choppers and napalm and sunsets and the sweat of the jungle popped into my head, and this fundamental idea of Apocalypse Now and King Kong, a Vietnam war movie mixed with a monster movie — Platoon meets a [Ray] Harryhausen film," Vogt-Roberts told Vulture. "And that idea was so exciting to me. I was like, that's a movie that I would want to see." Agree or disagree with the choice, but his methods seem sound.