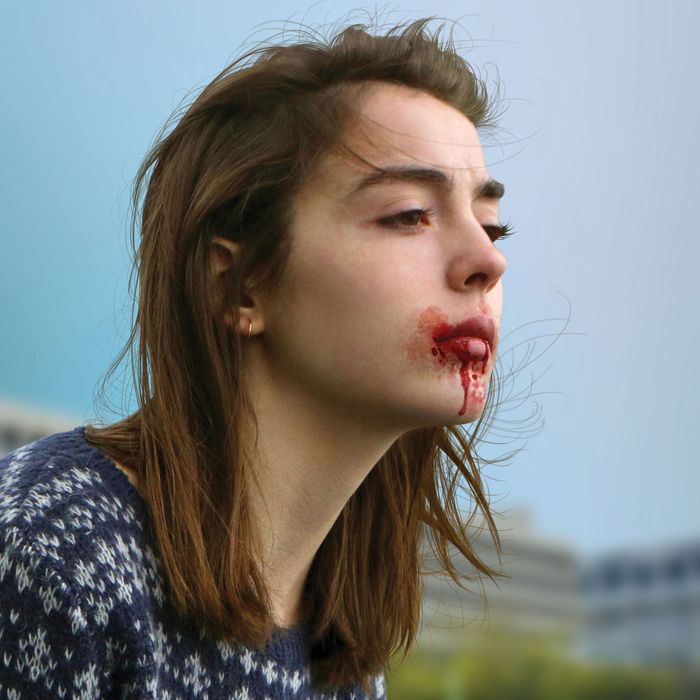 Garance Marillier in Raw.
Photo: Petit Film
After almost a year traveling the festival circuit, the French thriller Raw debuted in the U.S. last weekend amid a snowball of buzz. Writer/director Julia Ducournau takes a coming-of-age narrative about a first-year veterinary student and adds a touch of cannibalism, producing one of the best horror films you'll see this year. The movie, with its buckets of gore, has developed a reputation for making viewers pass out, but that's all just sideshow chatter. What really gets the movie's blood going is its star, Garance Marillier. The 19-year-old newcomer sinks deep into the psyche of the movie's heroine, Justine, and drags viewers on a journey through one of the scariest places on Earth — the developing mind and body of a teenage girl.
After an icky hazing incident, Justine begins to suffer from a new hunger. Her already rough transition into college life becomes a brain-breaking exercise as the world hits her for what seems like the first time. Sex, drugs, drinking, parties, sibling rivalry, first crushes, unfortunate waxing mishaps, cruel party pranks, and blaring house music — Justine has to wade through it all, while suppressing the desire to eat pieces of the people around her. For an ambitious young actress with a desire to leave an impression, the role is a dream come true, and it's the most recent piece of evidence in support of an emerging cinematic trend: If you're a young actress in search of dynamic, difficult material to cut your teeth on, the best parts to choose from are in horror and other genre cinema.
In Raw, Docournau gives Marillier a huge sandbox to play in, bringing forth a mighty physical effort from her young star. (Ella Rumpf, who plays Justine's older sister, competes with Marillier to steal every scene.) As the cannibal cravings emerge, Justine literally sheds her old skin. She's bloodied, blackout drunk, agonizingly hungry, and delirious, but Marillier doesn't play any of it for camp. Her transitions between manic fits of physical liberation and silent brooding feel natural and smooth. The more extreme the circumstance, the more real Marillier makes Justine feel.
It's a feat not unlike what Anya Taylor-Joy managed to pull off in her debut performance in last year's The Witch, and then again in M. Night Shyamalan's massive January surprise, Split. In both movies, Taylor-Joy played a young woman verging on adulthood, subject to the madness of a fearful adult world over which she has no control. With a physicality that calls to mind both an alien visitor and an unsullied high school teen, she reacts to those violations with wide-eyed terror. Maika Monroe broke out in the fantastic It Follows, which came after her impressive turn in 2014's The Guest, both of which saw her balance teen detachment and terror, without letting either become tedious or overly archetypal. (You can see her next in the micro-budget science-fiction movie Bokeh.) Marillier wasn't even the only teen confronting cannibalism at Cannes in 2016: Elle Fanning also put on a beguiling turn in Nicolas Winding Refn's body-horror meditation The Neon Demon. And some of the best international horror movies in the past few years have been anchored by excellent performances from new actresses, like the Danish werewolf movie When Animals Dream, and the British zombie drama, The Girl With All the Gifts.
Besides these newcomers, the careers of Saoirse Ronan and Chloë Grace Moretz prove that building a career in specialized cinema is more of a savvy career move these days than the typecasting life sentence it may have been decades ago. In between Ronan's two Oscar nominations, she's built the bulk of her career around sci-fi and fantasy roles, starring in movies like Hanna, Byzantium, How I Live Now, and The City of Ember. And Moretz, who is one of the most prolific actresses of her generation, has already appeared in around 50 films, but her most well-known roles are the ones that hew toward genre fare: Kick-Ass, The Amityville Horror, Let Me In, and Carrie. (She's also starring in the forthcoming remake of Dario Argento's Suspiria.) Both actresses shined in a range of roles, but it's their work in horror, science fiction, and fantasy that have provided the most memorable showcases for their abilities. Even Hailee Steinfeld, who recently impressed in Edge of Seventeen, has done her best work in a pair of Westerns: True Grit and The Keeping Room.
This proliferation of strong, distinct featured roles for young women is made possible by a broader embrace of genre films. As superhero narratives have taken over Hollywood and Comic Con culture has turned mainstream, the stigma surrounding horror, sci-fi, and the like has lessened. Knowing the specifics of the Skywalker bloodline doesn't make you an outcast anymore, and being a Final Girl doesn't consign you to a lifetime of attending fan conventions. Recent efforts like Raw, The Witch, It Follows, The Babadook, Goodnight Mommy, and The Neon Demon have also elevated the genre in the eyes of some viewers. As Jason Blum puts it, "Those [are] movies you're allowed to like in elite culture." Combine this with the fact that conversations about better representation onscreen are actually starting to yield results, and today's new actresses can access better roles early in their careers, giving them the résumés to earn even stronger ones down the line.
Part of what makes the performance by Marillier in Raw so exciting is knowing that there's a whole crop of young filmmakers who can write characters like Justine. Directors like Ducournau, The Witch's Robert Eggers, The Babadook's Jennifer Kent, and It Follows' David Robert Mitchell, have proven that the intimate, emotional power of Raw is far from a one-off triumph in horror, and actresses like Taylor-Joy, Moretz, and Ronan are showing young actresses that they can choose to focus on roles in smaller genre films without sacrificing steady work and the opportunity to be messily human onscreen. These can be survivors and fighters, and also vampires, cannibals, and witches. The lines between good guys and bad guys are now as muddied as the boundaries separating satire, drama, and horror, and that means it's never been a better time to be a bad girl in the movies.