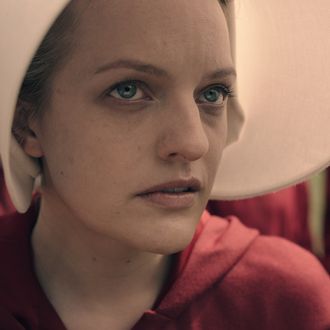 Elizabeth Moss in Hulu's The Handmaid's Tale.
Sure, the buzz around Hulu's The Handmaid's Tale is palpable, but the women wearing the story's red robes and white bonnets to the Texas Senate gallery were probably not just cosplaying as their favorite literary character. On Monday, the Texas Senate was making moves on several pieces of legislation that could affect access to abortion. According to the Huffington Post, one of the laws would effectively ban a method of second-trimester abortions. Another would curtail a family's ability to sue for malpractice if the doctor failed to disclose an abnormality in the womb that could lead to a disabled child (reproductive activists fear anti-choice doctors who suspect the parents will elect an abortion might use this as a legal opportunity to remain quiet in these cases).
Many readers have found a renewed relevance in Margaret Atwood's 1985 novel, which has recently found its way to the top of the best-seller list. In The Handmaid's Tale women in a dystopian near-future have been stripped of their agency and rights. Some women, including the protagonist, are designated breeders, and are forced to bear children and wear red robes and white bonnets.
The Texan women who wore the outfits to the Senate gallery were ejected for carrying protest signs, which is against the chamber's rules.