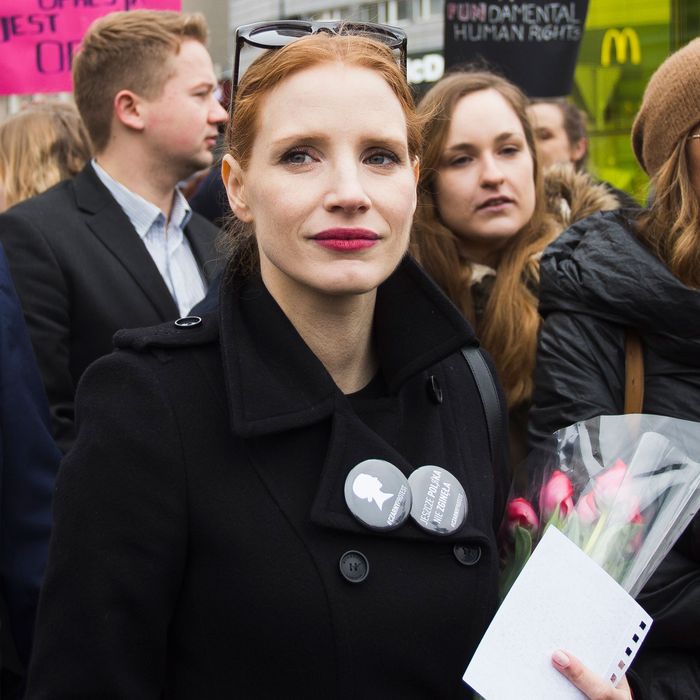 Jessica Chastain protesting in Warsaw.
Photo: Krystian Dobuszynski/NurPhoto via Getty Images
As many women worldwide spend their day on strike from any paid or unpaid labor, some in the entertainment industry have stood in solidarity with #ADayWithoutAWoman, the latest mass international demonstration for women's rights launched by the organizers of the Women's March. On Tuesday, Ryan Murphy announced that work on his expanded Murphyverse would come to a halt today as all the women of his many female-led casts go on strike. In Warsaw, Poland, where Jessica Chastain has been promoting her new film, she instead took the day to march in a women's strike rally, encouraging other women to do the same if possible. Lena Dunham's Lenny newsletter, like many sites including New York's The Cut, won't publish today as part of the strike; instead, Dunham has written an essay for LinkedIn about the significance of immigrant women.

Amber Tamblyn has written a new poem inspired by the strike called "Uncertainty," for Amy Poehler's Smart Girls organization: "Men stare in the mirror and see / no sense of future. / Something is missing. / Something missed. / They sense they do not exist. / Perhaps they don't. Because, / who gave them life? / What is life, / They ask each other. / What is life without women?" And in true Samantha Bee form, she's also used the day to troll male feminists with a very serious letter from one of them. Here's how women celebs are trumpeting both #ADayWithoutAWoman and International Women's Day.

Anne Hathaway spoke at the U.N. as a Goodwill Ambassador to advocate for equal paid parental leave: "In this modern world, some families have two daddies. How exactly does maternity serve them?"

This post has been updated throughout.