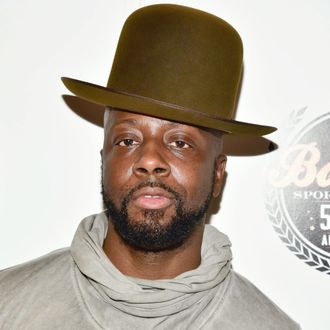 Wyclef Jean.
Photo: Eugene Gologursky/Getty Images for Bounce Sporting
In a bizarre scene documented on Twitter early Tuesday morning, the Fugees' Wyclef Jean says he was mistakenly detained by police in Los Angeles as a suspect in a robbery he didn't commit. According to Jean in footage he tweeted, he had been at his recording studio and was later stopped by police at a nearby gas station without being told why. "The LAPD have me in cuffs for absolutely nothing," he tells the unidentified person filming while handcuffed next to a cop car. "I was asked by the police to put my hands up. Then I was told do not move. I was instantly hand cuffed before being asked to identify myself," Jean tweeted. "They proceeded to ignore me and I was treated like a criminal until other police showed up and pointed out they had wrong person."
As it turns out, Jean was being investigated in connection with an armed robbery that had happened close to the studio where he was working because his car matched the description the victim gave. Jean was later released by police because, ironically, the LAPD had reportedly already arrested the correct suspect at the same time they had Jean in handcuffs. "LAPD another case of mistaken identity," Jean noted of the racial undertones of the search. "As someone who has law enforcers in my family, I was appalled by this behavior of the LAPD." The LAPD provided no further comment to the New York Times about the incident other than to confirm Jean's detainment.
Update: The LAPD has now issued an apology to Wyclef Jean, saying, "It is unfortunate that Mr. Jean was detained for six minutes during this investigation, as he had no involvement whatsoever in this violent crime." They also explain that his detainment was standard practice in criminal investigations: "Los Angeles County Deputy Sheriffs are frequently required to make lawful detentions, under the strict parameters provided by law, in the interest of catching often dangerous and armed suspects in our communities and keeping the public safe."