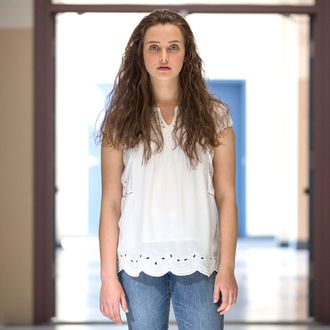 Hannah in 13 Reasons Why.
Photo: Beth Dubber/Netflix/Beth Dubber/Netflix
Netflix's teen drama 13 Reasons Why begins after the suicide of a high-school student named Hannah (Katherine Langford), who leaves behind a series of tapes revealing how the actions of the people around her — friends, parents, teachers — led to her death. Adapted from the book of the same name, 13 Reasons has gotten solid reviews, but mental-health professionals have criticized the series for its decision to depict Hannah's death in graphic detail. Studies have shown that portrayals of suicide may lead to "suicide contagion," or copycat acts, especially when the death is sensationalized or glamorized, as it could be on a TV series. In an essay for Vanity Fair, Nic Sheff, a writer on the show, pushed back against those criticisms, arguing that he believed the series "should depict the suicide with as much detail and accuracy as possible."
As he explains in his essay, Sheff lived with drug addiction and suicidal ideation while growing up, and attempted to take his own life, a story he related to the other writers in the room while working on the series. After swallowing pills, Sheff explains, he remembered the story of another woman's suicide attempt — the pain and horror of it — stopped himself, and forced himself to throw up. "So when it came time to discuss the portrayal of the protagonist's suicide in 13 Reasons Why," he explains. "I of course immediately flashed on my own experience. It seemed to me the perfect opportunity to show what an actual suicide really looks like — to dispel the myth of the quiet drifting off, and to make viewers face the reality of what happens when you jump from a burning building into something much, much worse."
"It overwhelmingly seems to me that the most irresponsible thing we could've done would have not to show the death at all," Sheff writes.
Like Sheff, novelist Jay Asher and Brian Yorkey, who created the TV series, have also argued that the scene is neither gratuitous nor glamorous, though mental-health organizations have still criticized the show despite those arguments. The 13 Reasons Why finale, which depicts Hannah's death, opens with a content warning noting that "viewer discretion is advised."