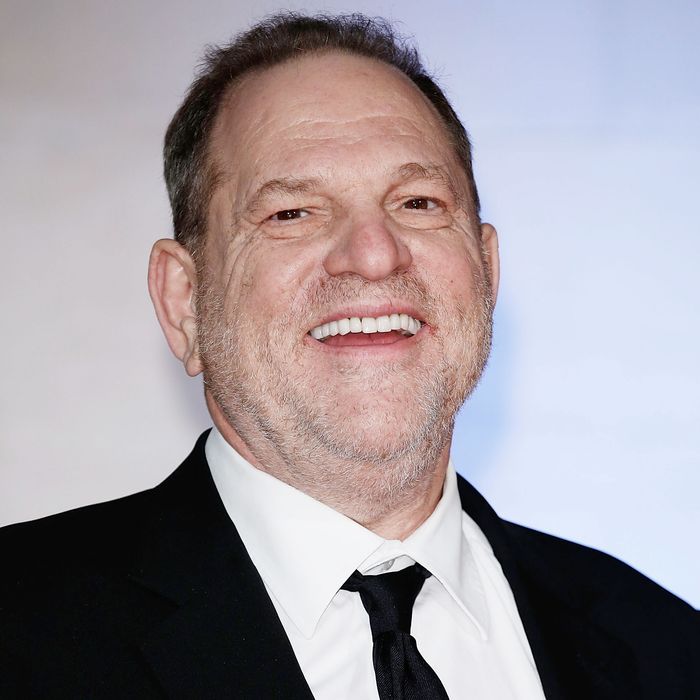 Harvey Weinstein.
Photo: John Phillips/Getty Images
No one — not even Kris Jenner herself — is as slick with self-generating buzz as Harvey Weinstein. The latest case? The Weinstein Company announcing that it is gearing up for a fight with the MPAA over an R rating for its trans teen drama 3 Generations. "The fact that an R rating would prevent high-school students from seeing this film would truly be a travesty," Weinstein said in a statement released Thursday. "The MPAA and I were able to come to an agreement on Bully and I am confident that we will be able to do so again."
As that statement implies, all this has happened before — a couple of times, actually. When a Weinstein release needs an awards-season push or a box-office boost, the company's head honcho is a master of ringing up the MPAA and declaring war. This is the man who created the modern Oscar campaign, after all. (Then again, every unsavory thing you've heard about Harvey Weinstein is a lie.) It happens so often, in fact, that we've just got to assume Harvey Weinstein has an iCal alert that goes off once every few months, reminding him to stage a battle royale with the MPAA.
1994: Clerks
Back in the Miramax days, the MPAA gave Kevin Smith's Sundance comedy an NC-17 rating for sexually explicit language. On appeal, the rating was softened to an R. In this case, the ratings fight wasn't so much to drum up publicity as it was to ensure the tiny film didn't receive a box-office death sentence.

2008: Zack and Miri Make a Porno
… and then Harvey made some clever posters. When the MPAA protested images of Elizabeth Banks and Seth Rogen on the movie's poster as being too risque, the studio swapped in two stick figure drawings and the phrase "Seth Rogen & Elizabeth Banks made a movie so titillating that we can only show you this drawing." Eventually the titled was shortened to just Zack and Miri, and the Kevin Smith movie got its initial NC-17 rating knocked down to an R without making any cuts.
2010: Blue Valentine
Blue Valentine's somber love story was slapped with a NC-17 rating from the MPAA, which decided that the movie's sad (and, honestly, rather tame) sex scene was too explicit. Harvey issued a strongly worded statement expressing his disappointment in the MPAA's rating, but also signaled that he was ready for a buzzy fight, pointing to another recent picture — Piranha 3-D — that eked out an R rating while featuring a scene where a piranha coughed up a penis. When asked if he'd recut the movie to meet an R rating, Harvey said he'd decline: "[Director Derek Cianfrance] doesn't want to do it, I don't think there's any reason to do it, and of course I'm worried that if we don't get the R it could jeopardize the business of the movie and more importantly my actors because they are eminently nominatable." ("Eminently nominatable" — there's your new Twitter bio.) After all this, Harvey announced that he'd assembled a legal team to duke it out with the MPAA over Blue Valentine's NC-17 as well as the next film on this list.

2011: The King's Speech
As the Weinsteins' King's Speech battled the critical darling Social Network for the Best Picture Oscar, Weinstein raised the stakes by teasing a PG-13 cut of the movie that could be shown to a wider audience. The King's Speech's original theatrical cut, released in November 2010, was rated R for scenes of Colin Firth swearing. And then, in Social Network parlance, Harvey lawyered up, asshole: He joined Speech's cause with Blue Valentine's. He failed, but it didn't matter: So many people saw the R version that, by the time the PG-13 cut was released, it was a box-office flop.
2012: Bully
The Weinstein Company planned to take Bully, Lee Hirsch's documentary about a handful of teens suffering severe bullying at school, on a tour of middle and high schools. Then, the MPAA handed the movie an R rating for foul language. "I have been through many of these appeals, but this one-vote loss is a huge blow to me personally," Weinstein said, citing a plea from one of the doc's subjects. After Weinstein enlisted a range of high-profile supporters to squawk for justice, the film was released unrated; buzz attained, the Weinsteins released a PG-13 cut a few weeks later.
2013: Philomena
Philomena, a very sweet movie where Judi Dench plays an elderly Irish woman, originally landed an R rating from the MPAA for language, but the Weinstein Company argued that its messages of family and humility outweighed the F-bombs. Dench showed up in a video appeal in costume as M from the Bond films, while co-star Steve Coogan also flew to Los Angeles for an MPAA hearing. Because some gimmicks just work, the studio won. By this time, everyone recognized that this was just a play for a box-office boost.
2017: 3 Generations
Now, here we are, with Weinstein Company once again lawyering up to contest a rating. We'll see what happens with the rating, but the primary goal — getting people to write about 3 Generations — seems to be working so far.
Update, April 27: The Weinstein Company has lost the battle, but they've arguably won the war. After suggesting that they'd challenge 3 Generations' R rating (and garnering support from the president of GLAAD), TWC has announced that they've made the necessary cuts to the family drama to earn a PG-13 rating. GLAAD president and CEO Sarah Kate Ellis spoke with Harvey and the MPAA's Joan Graves to mediate, according to The Hollywood Reporter. The cuts were reportedly made for profanity, and didn't undermine the movie's trans story line. "Honestly, this is not a publicity attempt," Weinstein told the Associated Press when the MPAA issued the R rating. "If it was I'd just say so because I don't care. I find nothing wrong with seeking publicity. This is issue oriented." 3 Generations' rating achieves both goals: The movie has generated its share of free press, and earned some allies along the way.