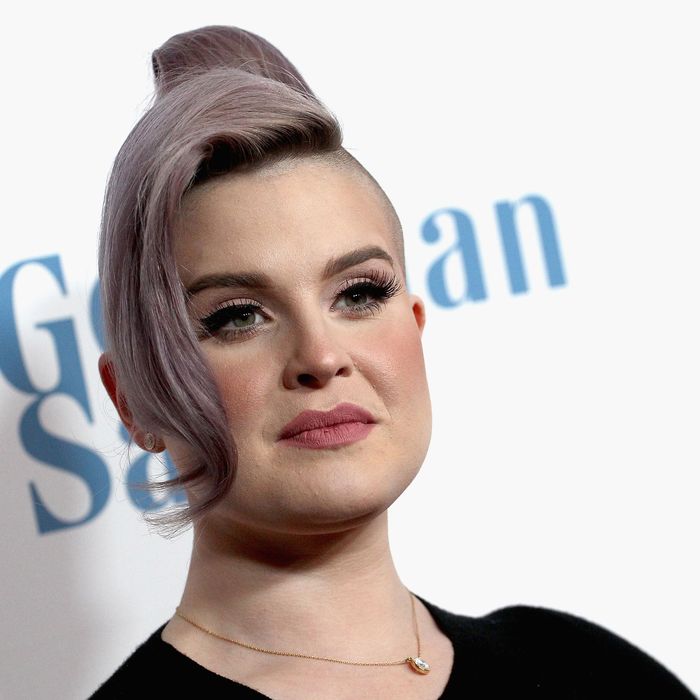 Kelly Osbourne, badass bitch.
Photo: Tommaso Boddi/Getty Images for The Trevor Project
In her new memoir, There Is No F*cking Secret, Letters From a Badass Bitch, Kelly Osbourne addresses a series of issues ranging from her drug addiction to women who leave pee on the toilet seat (a chapter aptly titled "Dear Seat Sprinklers"). Though much of her life has been documented on The Osbournes and Fashion Police, the memoir is filled with plenty of anecdotes, confessions, and bits of advice that have never made it into the public eye. Here are a few of our favorites.
Joan Rivers used to set toilet seats on fire.
Osbourne devotes an entire letter to the late, great Joan Rivers, who passed away in 2014 during a routine medical procedure. She describes all of the hijinks of a 25-year friendship that, Osbourne says, began during a satellite interview featuring a 6-year-old Kelly who "proceeded to stick [her] tongue out, yawn, and scratch [her] vagina." But it's her description of River's germaphobic habits that'll crack you up. Apparently, Rivers would pour bottles of vodka over airplane toilet seats before she sat on them. Or, when on the ground, she'd place a paper cover on the seat before setting it on fire to "burn off all the germs." "How you weren't setting off fire alarms all over Hollywood, who knew," Osbourne writes. But one time, on the Fashion Police set, a plastic toilet did go up in flames and "shriveled up into a misshapen plastic mass." But did E! throw away the ruined seat? Nope — they just moved it to the men's room.
Amy Winehouse was a great friend.
Kelly mentions Winehouse often throughout her memoir, recalling how she was the leader of their friend group (which also included the likes of Kate Moss, Nick Grimshaw, and Alexa Chung). "If Amy said to do something, people would do it," Osbourne writes. "And she'd easily convince someone to let us have a lock in after closing hours, or step behind the bar to start serving drinks herself." Winehouse was also a guru of sorts when it came to matters of the heart. Once, when they were roommates, she helped Osbourne get over a Mickey Mouse–underwear-wearing, married (and, unfortunately, unnamed) asshole of a star who she'd seen on and off for years.
Robin Williams helped save Sharon Osbourne's life.
When things were looking dark and she was refusing a second round of chemotherapy for her cancer, Robin Williams paid Sharon a visit, laid with her in bed, and made her laugh. "I tear up when I think about this," Kelly writes. "Because Robin Williams helped save Mum's life and I don't think there are words in the world to describe how much what he did meant to my family. He was a beautiful, generous man."
Ozzy Osbourne once cut a thong off of his daughter.
The first time she wore a thong, Kelly shares, was by accident. Her mother bought her cute day-of-the-week underwear, but apparently didn't realize they weren't regular panties. One day, her whale-tail showed above her jeans, causing a thong-phobia inducing scene as her dad freaked out. "'No daughter of mine is going to wear a throng!' he screamed. Yes, he called it a throng," Osbourne writes. "And then he proceeded to cut said throng off me with a pair of scissors." It took years for her to wear a thong again, conceding only after she saw photos of bad panty lines on the red carpet.
At age 19, she saw her father flatline.
Osbourne was on live television in 2003 when she was called offstage and told that her father had been in a ATV accident. The two were alone on a trip to England, leaving her as the only one who could authorize his treatment. While she watched blood fill his lungs and saw him flatline in front of her, she recalls that Ozzy didn't stop being, well, Ozzy. "They had resuscitated him, and he was yelling, 'Don't fuck up my tattoos! I'll fucking kill you if you fuck up my tattoos!'" she writes. "That gave me a little bit of hope." Weeks later, she says, she knew he'd be all right when she saw a bedpan fly out of his room and heard him yell, "I can wipe my own fucking ass, thank you very much! Fuck off!"