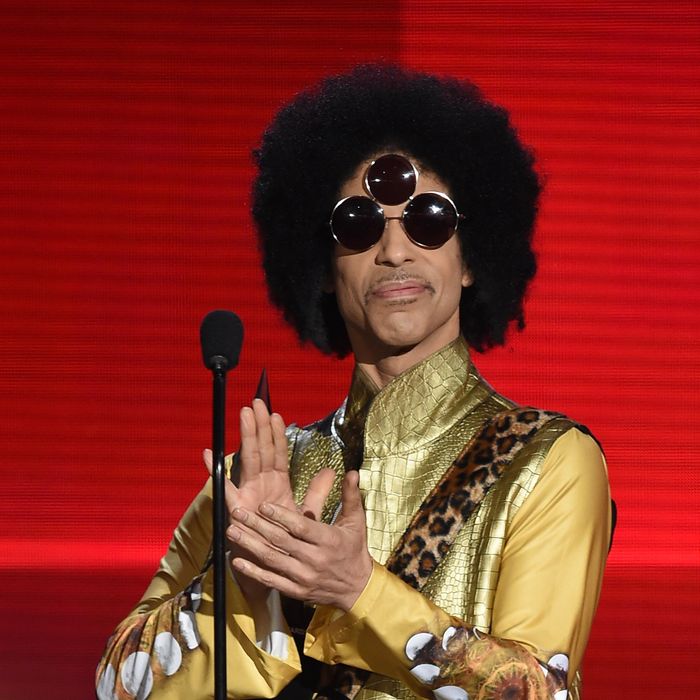 Only Prince.
Photo: Kevin Winter/Getty Images
Prince Rogers Nelson, who died one year ago today, made a career and lifestyle out of being elusive, which only made our collective desire to know about his personal life even more frenzied. But being guarded also made Prince the source of a bottomless reservoir of tales of his mythology that has somehow yet to run dry. At last month's SXSW, a few close collaborators of Prince's reunited to celebrate his legacy at both a tribute concert and panel. Two members of Prince's earliest bands, Grand Central and the Revolution, André Cymone and Dez Dickerson, were joined by Prince's first manager Owen Husney to add to the Prince folklore in a conversation with Rolling Stone's David Fricke.
Though initially cautious about betraying their friend's trust by divulging more than he wanted fans to know, once the three got to reminiscing, the memorable anecdotes poured out. (Some of which will also be featured in Dickerson's upcoming documentary about Prince.) Here are some of the best stories they told about the late legend to mark the first anniversary of his death.

Prince had been plotting for fame before anyone knew his name.
Most people chase celebrity, but fame chased Prince. Both Cymone and Husney remember instances of Prince practicing for life as an elusive star long before he was a household name. Cymone says that when Prince was 18 and had yet to put out his first album, he would often refuse to go into the local 7-11 with Cymone because he wanted to prepare for when he would no longer be able to go anywhere without being recognized. Naturally, Cymone mocked Prince's prima donna behavior and would tell everyone in the store what Prince was up to, much to Prince's annoyance: "I told them you didn't want to go in because you're gonna be famous one day."
Husney recalled a similar situation around the same time, pre-fame, when Prince's car broke down and he came to pick the singer up. While taking a look at Prince's car, Husney noticed that Prince had abruptly started to run away. Prince's explanation? "I can't let my fans see me like this." Several years later, Husney learned that Prince never even returned to the repair shop to get his car back.

Prince was a lousy driver anyway.
Because Prince never had a father figure, Cymone says he was the one to teach Prince how to drive. And it's not that Prince was bad at it; just that, with everything in life, Prince didn't follow the rules. Cymone says Prince would disregard street-parking orders and never move his car when he was supposed to. One night, they came back to find Prince's car on the front lawn of Cymone's home flattened like a pancake. No one knew what to do, so they just left it there until one day someone took care of it. Miraculously, Cymone says the car was somehow able to be salvaged.

Dez was the one who convinced Prince to return to open for the Rolling Stones after getting booed.
After a disastrous first night opening for the Rolling Stones in Los Angeles in 1981, during which Prince and his band were pelted with trash and booed off the stage, Prince hopped on the first flight back to Minneapolis and left the band behind. Husney and even Mick Jagger tried to get him to come back for the second night, but Prince wouldn't hear it. The only person he listened to was Dez Dickerson, his band's guitarist. The two spoke on the phone for 45 minutes and Dickerson was finally able to get through to Prince by reminding him "we can't let them run us out of town." Dickerson had played for white audiences before and knew showing weakness would only stoke their fire. Prince flew back to L.A., endured more hate from the crowd for a second night, and the rest is history.

There's a reason Prince distrusted the media.
Stories of Prince banning tape recorders or any form of documentation in interviews are well-known, along with his longstanding media shyness. For Prince's first TV interview with Dick Clark on American Bandstand in 1979, he was the epitome of cagey, barely looking him in the eye and refusing to answer Clark's questions. It was later revealed that the whole act was an elaborate troll orchestrated by Prince minutes before he and his band went on air — "he got that black Dennis the Menace look in his eye," Dickerson remembers — but he had his reasons. "Prince got burned badly" after his first couple of interviews, Cymone said, with Prince accusing journalists of making up quotes.

Prince turned down working with Maurice White.
Prince was a notorious control freak and, even at 18, he had a specific vision for his first album. He wanted to produce it completely on his own, even if that meant turning down a legend. His label, Warner Bros., pitched having Maurice White of Earth, Wind & Fire produce the record. But Prince refused and Husney still has the rejection letter Prince wrote: "I respect and love Maurice but I know when that sound will be over and I don't want that imprint on my sound."
Aside from constant collaboration with his band — "Sponge Prince Squarepants" is how Dez described Prince's ability to soak up the ideas in the room — Prince worked alone. So when Prince and the studio engineer weren't getting along, he forced Cymone to get on a plane to L.A. just to listen to his foul-mouthed gripes about the guy, and then had Husney dismiss the engineer. Husney even remembers Prince kicking the president of Warner Bros. A&R out of the room, but the label still took a chance on the then-teenager. "There's just no artist development like that anymore," Husney said.