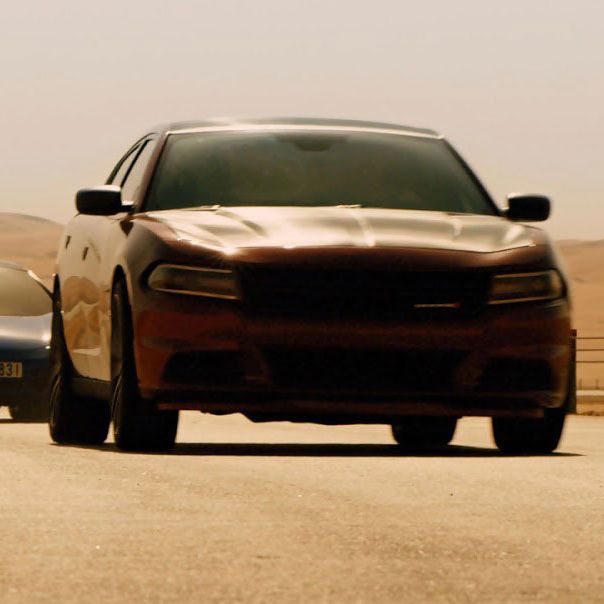 Cars on Mars.
Photo: Universal Pictures
Chris Morgan, the writer of the past six Fast and the Furious movies (including the new one), has made one thing clear about the future of the Fast franchise: Literally anything could happen, even a trip to space. But if you think that sounds like an intergalactic shark jump, Morgan told Uproxx that he won't be all frivolous about it, "The only way I'd go to space is if I had something so good." What idea could be so good that it warrants taking this heretofore-earthbound franchise into space? Morgan didn't share any specifics, but considering how much gravity defying the series has done so far (turns out cars can fly), going to space would only be a technicality at this point. Besides, when you've reached your maximum terrestrial capacity for speed and fury, there's only one frontier left to explore, and that's the final one. Here are some top suggestions for what a Space of the Furious could look like.
Road of the Furious
Road might sound general, but we mean a very specific road, the Rainbow one. What if Dom and company ended up in a high-stakes race on a super-secret Russian or Chinese re-creation of the Rainbow Road from Nintendo's Mario Kart? It would have to be hidden on the dark side of the moon or something, because nothing is secret about an interminably long racetrack in near-Earth orbit. If Team Toretto wins, one of those global superpowers will reanimate Han, and while we're at it, Gisele, too (because Gal Gadot was only getting started when she nobly gave her life in Furious 6). The loser gets … something we haven't worked out yet, but when you have "space" in the plot, you don't really need an ending, so it's fine.
Guardians of the Furious
The franchise is already green-lit through 10, which has a 2021 premiere. Guardians of the Galaxy Vol. 3 has not yet been officially announced, but is a likely part of Marvel's phase 4. These two worlds will both definitely exist past 2020, meaning one of the next two Furious movies will just have the Guardians enlisting the Gang for a heist mission to retrieve an Infinity Stone. This is how Marvel will get Jason Statham and the Rock into the MCU.
The Fate of the Passengers
The movie Passengers is retconned when Toretto and the Family show up to save Aurora (Jennifer Lawrence) from her rapey captor, Jim (Chris Pratt). In this movie, the Fast cast have become temporarily authorized Intergalactic Marshalls, sent by Kurt Russell to save a passenger vessel that's about to explode with thousands of souls and crucial plans from Chechen terrorists onboard. Details to come, but it's possible that the Rock will just the punch the ship so hard it starts working again.
The Fate of the Hidden Figures
The log line will be something about, "The most furious space race the galaxy has ever seen." Janelle Monáe, Octavia Spencer, and Taraji P. Henson will join the cast, not as their historical counterparts from Hidden Figures, but as new cool characters who become franchise regulars. This movie will win a SAG for Best Ensemble and 400 actors will rush the stage.
The Fast and the Furious: Cosmic Drift
This is the origin story of Han, which means Sung Kang really will come back, and we'll finally learn the origins of his "Han Seoul-Oh" nom de guerre. (Hint: It will have something to do with completing the Kessel Run in less than 11 parsecs — in a souped-up 2000 Acura Integra.)
Fast and the Furious Wars
This is the ultrasecret next Star Wars movie after The Last Jedi. And here's the thing: If Last Jedi is Episode VIII, and Fate of the Furious is also its own kind of episode eight, that means the ninth and tenth installments of Star Wars and the Fast franchise will be coming out in fairly similar release windows. For the sake of giving proper lead time we'll say 10 and 10 line up, meaning Earth and space will collide in 2021. Everything else is TBD, but the whole movie will be built around a podracing scene that will make Phantom Menace look like it was made with paper cutouts and melted crayon wax. After 20 years, Letty Ortiz (Michelle Rodriguez) rises to become the hero she was always destined to be. This race will happen on another planet, meaning Letty will likely save everyone on it by winning the race. She also fights Gina Carano again, because anything is possible in space Fast, and that bout deserves a rematch.