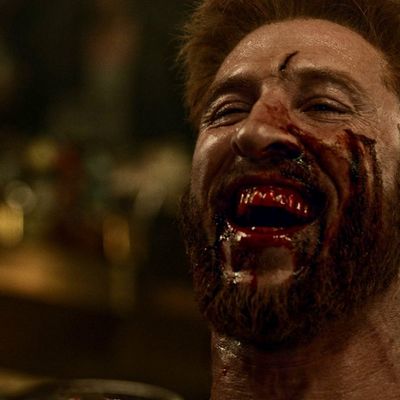 Pablo Schreiber as Mad Sweeney.
Photo: Starz Entertainment
Who are the gods of the American melting pot? When people from different cultures unite to create a new nation, what happens to the gods of the past? What kinds of new gods will emerge? In his 2001 novel American Gods, Neil Gaiman asked massive questions about national identity, immigration, and faith, and after years of languishing in development limbo at HBO, an adaptation has finally arrived courtesy of Starz and showrunners Bryan Fuller and Michael Green.
To match the scope of the novel, American Gods will need an aesthetic that embraces both the grit and operatic spectacle of Gaiman's world. It's too early to say if the show will pull that off, but its first episode is certainly a step in the right direction. Fuller is coming off a celebrated run on NBC's Hannibal, a very stylish, psychologically complex adaptation of the Hannibal Lecter novels, and American Gods is an opportunity for him to continue exploring darker storytelling while incorporating the whimsical elements of his earlier TV series, such as Pushing Daisies. The care put into the design of American Gods is the main indicator that this is a Fuller production, while director David Slade and cinematographer Jo Willems create striking images that elevate the episode's script.
"The Bone Orchard" focuses on Shadow Moon (Ricky Whittle), a man who's released from prison after the death of his wife, Laura (Emily Browning). As Shadow makes his way across the country to Laura's funeral, he meets a mysterious hustler named Mr. Wednesday (Ian McShane), who offers him an impromptu job as his assistant. (McShane quickly establishes himself as the episode's MVP with his sly, charismatic performance, while Whittle is much more withdrawn and sullen, reinforcing Wednesday's authority over his new companion.) Though Shadow is skeptical about the job, his old life is essentially over: Not only is Laura dead, but he'll soon learn that his best friend was also killed in the highway accident because she was giving him a blow job. With nothing to lose, Shadow decides to embark on a completely new path for himself.
This pilot sticks close to Gaiman's book, although there's some shuffling of material for dramatic effect. The opening scene is the first deviation, and it sets a very different tone. Rather than beginning with Shadow in prison, "The Bone Orchard" takes a far more visceral, aggressive approach: The prologue flashes back to 813 CE and the landing of the first Viking party on the shores of North America. This flashback does appear in the book, but doesn't arrive until later, and placing it at the start puts grisly sacrifice at the forefront of the story.
To shock the audience, scenes of intense violence bookend "The Bone Orchard," although the opening is much more effective than what comes at the end. The cartoonish barrage of arrows that hit the first Viking who steps off the beach benefits from the element of surprise, revealing just how grisly American Gods is going to be. The prologue gets even more violent when the Viking captain realizes that Odin demands a blood sacrifice to summon the wind they need to escape.
The sequence also introduces the show's dark sense of humor, as seen when a detached Viking arm holding a sword travels through the air, eventually stopping when it impales a man's throat. The explosive gore and waves of blood are so exaggerated, it becomes easy to detach from the brutality of it all. Slade and Willems go over the top to capture the frenzy and raw power of the battle; the scene grabs the viewer's attention, starting the series with a burst of energy. Don't take this too seriously, it seems to say, with a winking quality that highlights just how arbitrary the violence is. It doesn't matter who gets killed, just that the killings satisfy a god hungry for a sacrifice.
The final scene of this episode is far more serious, but it doesn't earn the gravitas it so clearly intends to evoke. After being abducted by Technical Boy (Bruce Langley), the sniveling personification of an egomaniacal online troll, Shadow is dumped from a limousine, beaten by Technical Boy's faceless cronies, and hung from a tree. Perhaps this lynching could be interpreted as a commentary on the internet breeding a new generation of violent racists, but I'm not sure American Gods is explicitly trying to communicate that idea. The image of a noose does appear at different points in this episode, but a visual motif isn't enough to make sense of a scene that plays like an unnecessary attempt to add shock value. If a black character is going to get lynched, American Gods better have a good reason for bringing that disturbing act to the screen.
For better or for worse, the creators of American Gods want us to know that this story will be big. The timeline of "The Bone Orchard" spans centuries, all of North America is the stage, and the script jumps from personal topics like grief and identity crisis to broader concepts like racism, religion, and the intersection of myth and reality. It's an ambitious premiere, and it can be pretty messy as a result, especially when it reaches to make grand statements about America. Much of this problem stems from the episode's reliance on stereotypes, which sketch the characters as vague outlines rather than as fully formed people. By using stereotypes to shape certain characters, "The Bone Orchard" acknowledges how American popular culture has defined different races, nationalities, and ethnic groups, but if there's nothing done to bring more specificity to each character, it's nothing more than a lazy shortcut. This was an issue with Gaiman's novel and it continues here, particularly with regard to Bilquis (Yetide Badaki) and Mad Sweeney (Pablo Schreiber).
Mad Sweeney is the most ridiculous stereotype to appear in "The Bone Orchard." In short, he's presented as a drunken leprechaun who thrives on bar brawls and mystifies Shadow with coin tricks. By comparison, Bilquis gets even less development. Her introduction presents a prime opportunity for American Gods to shape a tricky character who could use more definition, in no small part because Bilquis is a black woman who devours sexual partners with her vagina to regain her youthful appearance.
Badaki does impressive work depicting Bilquis's vulnerability when she first appears, but that quickly fades as she lures her newest victim to an all-red bedroom. I wanted to see more of that initial conversation between Bilquis and her doomed online date, if only to see how a sex goddess might fit into the current dating scene. Instead, "The Bone Orchard" presents Bilquis as a sex object, a vessel to meet the bare-breast quota that's become a requirement for any premium cable drama. The hypersexualization of the episode's only black female character is uncomfortable, to say the least — and taken with the sloppy handling of Shadow's lynching, it makes me very nervous about the show's ability to approach the racial content of Gaiman's novel with any sort of nuance or sensitivity.
Those glaring issues aside, the production design is the most compelling aspect of American Gods so far. My favorite moment of "The Bone Orchard" is the dolly shot that takes viewers inside Jack's Crocodile Bar, highlighting the episode's bold set design while serving a valuable character purpose. The bar is built inside a giant crocodile head with lights inside the teeth, and we enter the location through its open mouth. Shadow stands at the end of the bar, positioned between the jaws to indicate that he's unwittingly found himself in a very dangerous situation. He stares into the crocodile's mouth as the camera moves his way, giving the impression that the world is closing in around him. In that moment, Shadow realizes that even though he's out of prison, he's far from free. The jaws of life are just waiting to clamp down and eat him alive.