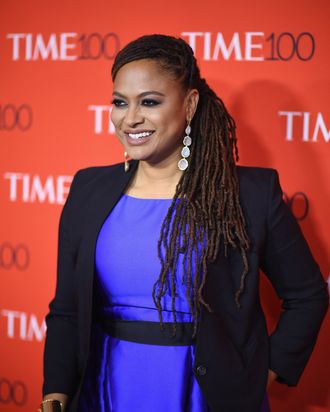 Ava Duvernay.
Photo: Dimitrios Kambouris/Getty Images for TIME
Ava DuVernay was feeling a little overwhelmed and underprepared walking into the annual Time 100 Gala on Tuesday. She was on the list of Time's most influential people in the world and had been asked to give a toast to someone who had influenced her. She just had a little favor to ask some of her reporter friends in the room. "I need you to write me a speech," she said, grabbing my hand. "I have nothing."
Over the course of watching Demi Lovato perform and catching up with old friends like John Legend and Sarah Paulson, though, she seemed to get inspired. And as she stepped up to the microphone to read her speech from her cell phone, she kept having to hold back tears. The person she wanted to pay tribute to was an unmarried registered nurse who worked the night shift for over 20 years in Compton, California. She was named Denise Amanda Sexton and was DuVernay's aunt, and the person who not only gave DuVernay her love of movies, but taught her the power of representation.
"She worked at night so she could read books by day, and see films, and go to museums, and watch the news, and learn and grow," said DuVernay. "And she did all of that, I realized, so that she could turn around and teach her nieces and nephews all that she had learned, all that she knew, all that she had drunk in, all that she had been influenced by."
And to her little niece Ava, she passed on her love of movies. They'd take the bus to the movie theater and back and talk about what they'd seen, "which for a little girl is a big deal when someone just talks to you," said DuVernay. "And I'd learn from her and I'd grow. And I understood deeply at that young age that as a black girl, as a black woman, movies affected the way I saw myself, and the way that I was seen by other people. And I came to understand the power of the image deeply, and I fell in love with it."
It became clear — something about DuVernay's use of the past tense, something about the way that she seemed to dread reading the next paragraph — that Denise is no longer here. She "ascended to another realm, triggered by cancer, something else that she always studied," DuVernay said. "That was over a decade now and she's with me every day, especially in a room like this where she — I'm sorry —" she needed a minute, "where she would be in awe of everybody here, just like I am."

Then she asked a room of some of the most powerful people in the world to raise a glass "to my ultimate influencer, my aunt, Denise Amanda Sexton of Compton, California, and to your Denise, whoever your Denise is." See the full video below, and try not to weep.