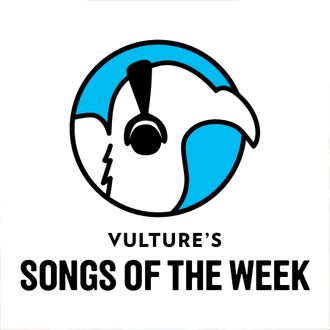 Every week, Vulture highlights the best new music. If the song is worthy of your ears and attention, you will find it here. Read our picks below, share yours in the comments, and subscribe to the Vulture Playlist for a comprehensive guide to the year's best music.
Kendrick Lamar ft. Zacari, "LOVE."
Intimacy is the unraveling thread that weaves through Kendrick Lamar's latest offering DAMN. — whether he's feeling detached from it, lusting after it, or drowning in it. "LOVE." comes in at the latter extreme. It's the most unrestrained portrait of devotion to his fiancée that he's ever released. These emotions are raw; he's not just describing the isolated, often fleeting feelings of sexual desire or romance, but the intense passion of becoming whole with someone else. Kendrick has found his person — he did a long time ago, in high school — and it's a sensation so fulfilling it can make even the most secure couple dread ever being empty again. No matter how much you love someone, they can always fall out of love with you.
Kendrick spends his part of this rap-sung ballad laying out his anxieties with a series of vulnerable questions intended to confirm she's not going anywhere, though he already knows she won't. "You're a homie for life," he tells her — the ultimate bond. Zacari lends his sublime falsetto to float Kendrick's most honest hope ("I want you to love me") from deep within his mind to the center of her heart. Every rapper needs a no-nonsense ode to their partner; it's about time Kendrick made his. —Dee Lockett (@Dee_Lockett)
Waxahatchee, "Sliver"
With "Silver," the Alabama-raised, Philadelphia-based Waxahatchee (a.k.a., Katie Crutchfield) expands on the low-fi sweetness of 2015's Ivy Tripp with a good ol' fashioned summer song about a disintegrating relationship. "The kiss on my lips starts to feel unfamiliar" Crutchfield declares over decidedly cheery guitar strums. When you hear her sing, "You tell a classic story / Smothered underneath formality / I'll portray the old shag carpet / You can walk all over me," you might wonder why it doesn't sound more melancholic. But that disconnect displays the song's core: embracing darkness as a means of getting out of it. —Gabe Cohn (@gabescohn)
Lil Yachty ft. Migos, "Peek a Boo"
So far, Migos rapping what seems to be the entirety of the children's book Llama Llama Red Pajama is the only good thing that has happened in 2017. Unsurprisingly, Migos matching their signature cadence to the nonsensical plot of the book went viral, and now, at least a little bit because of that (maybe?), we have "Peek a Boo," a song that features no llamas, is very much not for kids, and, through the endless (and it turns out pretty funny) repetition of the phrase "Peek a Boo" is the kind of earworm that just does not go away. —Sam Hockley-Smith (@shockleysmith)
Kamasi Washington, "Truth"
We should all take comfort in the fact that an artist like Kamasi Washington — whose aptly named, nearly three-hour long jazz LP The Epic found mainstream success in 2015 — can succeed in a world where albums were once thought dead, and the idea of a new jazz album flying off the shelves of indie record stores was crazy. If The Epic made a statement with its very existence, Washington's latest single, "Truth" (not "post-truth"), along with the upcoming EP it's from, Harmony of Difference, seems poised to make another one. Despite clocking in at over 14 minutes, the song manages to feel dense, rarely settling on one idea (or instrument) for long, moving from idea to idea in an overflowing display of creative volume. Here's a world where Washington celebrates the truth, determined to make the idea mainstream again. —GC

Shamir, "Like a Bird"
Shamir could have been a pop star. He probably still could be a pop star, but he wasn't really into the politics of the music industry so he decided it might be a good idea to quit altogether — and he almost did. Then, out of nowhere, he released Hope, a charmingly unassuming collection of guitar-based lo-fi recordings. It's a good listen as a whole, but "Like a Bird," built on a rudimentary drum-machine pattern and a keyboard line that sounds like miniature steel drums, is a slice of genuine bedroom soul. It's not perfect, but it feels true. —SH-S

Royal Blood, "Lights Out"
Royal Blood, the bass-and-drums-only English hard-rock duo, had an unusually quick rise in 2014, thanks in part to a gushing, almost too-good-to-be-true declaration of love from Jimmy Page. The duo's new single, "Lights Out," taken from their upcoming second LP How Did We Get So Dark? doesn't stray too far from the riff-heavy, stadium-friendly recipe that put the band on the map. That winning combination continues to work here: catchy enough for the masses, hard enough for the headbangers, and weird enough to pique the interest of guitar nerds who never leave a show without studying the guitar effects pedals onstage. —GC

Jesse, "Hard Sky"
In 2011, the Austin-based band Pure X released a classic album. It was slow and muggy, and entire worlds were contained in its languorous shifts. It crawled along, and the crawling was part of the art. In a time when taking your time is not exactly fashionable, Pure X made sure to take it easy, but there was an omnipresent angst to their music too. After their third LP, 2014's Angel, they went on hiatus. Jesse Jenkins, a third of Pure X, recently released "Hard Sky," the first single from his solo record. It's lush but lonely and it sounds a little bit like music you might hear after living through an apocalypse, accepting your new reality, and calming down a bit. —SH-S

Chris Stapleton, "Broken Halos"
In just a few weeks, we'll get the first of two volumes of Chris Stapleton albums to drop this year. As a songwriter first, Stapleton was quietly prolific; now, as an artist, he seems poised to be the same. "Broken Halos" was one of the first songs off the new record that Stapleton performed after the dust started to settle on his acclaimed debut album and, though it may not sound better on wax (Stapleton's gravelly soul translates better live), it's still a gem akin to the rest of his work. With the help of his old SteelDrivers partner Mike Henderson's pen and his wife Morgane's ever-present harmony, "Broken Halos" is a meditative tribute to fallen guardian angels — the ones who transform us, but inevitably leave when their work is done. "Don't go asking Jesus why," he sings of their loss. It's not up to us to know. –DL

Playboi Carti, "Magnolia"
Has there been a better time for flutes in rap music? The answer is no, but there's also a chance that what we're hearing on the beat for "Magnolia" is actually, like, an ocarina or panpipes or something. Maybe it's just a keyboard! Still, it sounds flute-like, and that's what is important. —SH-S