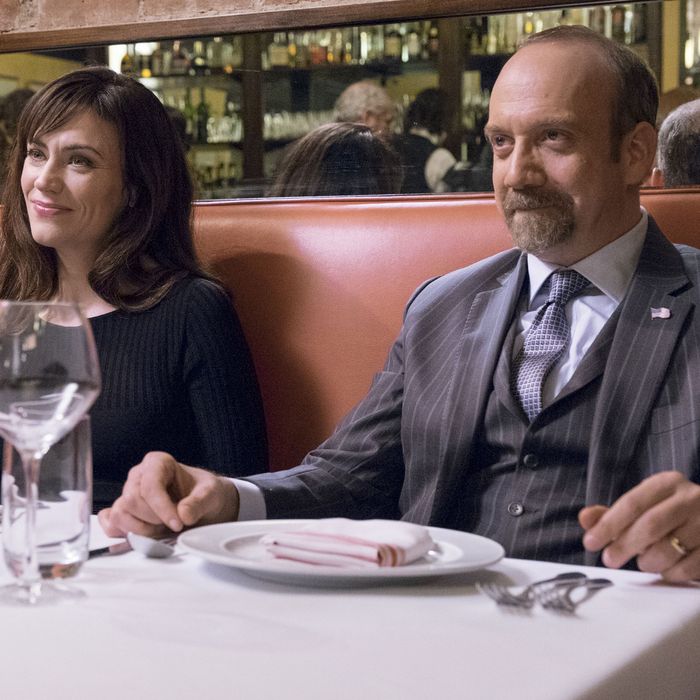 Maggie Siff as Wendy, Paul Giamatti as Chuck.
Photo: Jeff Neumann/SHOWTIME
The Rhoades and Axelrod marriages have been, to put it lightly, tumultuous. Chuck (Paul Giamatti) and Wendy (Maggie Siff) started the season split up, but after working at it through counseling, seem to be a team again — although their reunion could be a result of external factors as much as their rekindled love. Meanwhile, Axe (Damian Lewis) goes through one of the darkest chapters of his consistently happy marriage to Lara (Malin Akerman) in this week's episode, and it sends him spiraling through multiple stages of emotion and anger. Billions could have called this one "The Five Faces of Axe."
The hour starts with a note as "What a Nice Way to Turn Seventeen" plays over the scene. A note from Lara to Axe says, "You lied to me," as the the Crystals sing, "The party's through and I'm alone …" Axe will be alone a lot this episode, and he's not good at being alone. As he moves around the city, looking for Lara and his kids, he makes multiple phone calls to her throughout the episode, starting apologetic and getting angrier and angrier each time. He also aggressively confronts Wendy, accusing her of trying to break them up. It's interesting to consider the ripple effect here. Axe lies to his wife, Lara leaves, and now the anger that Axe unleashes could give Lara exactly what she wants: Wendy out of their lives.
For the first time since last season, we get a subplot that involves Chuck Rhoades's predilection for a certain kind of kink. The dominatrix he saw last year could become a sticking point for his political avarice. Luckily, Chuck has George Minchak (the great Mary-Louise Parker) in his corner. Introduced in this episode, Minchak is a political predator, a James Carville–esque tough-talker who will beat the press to any story that could derail Chuck's career. In their first meeting, she asks Chuck all the questions. Does he cheat? Ever have same-sex exploration? Go to Sea World? She notes that it would be best if the Rhoades marriage wasn't "in process" when the campaign really started — it either needs to end or they need to get back together.
While Minchak tries to form a relationship with Chuck, Bryan Connerty (Toby Leonard Moore) does his best to build one with Taylor (Asia Kate Dillon). On advice from Steph Reed, Bryan basically tries to see if he can turn them, playing to Taylor's philanthropic and moral side. As he says, Taylor's hard drive hasn't been formatted by Axe Capital yet to wipe out its conscience feature. He first interrupts them at a coffee shop, and they start to panic a bit, but he quickly figures out that Bryan is mostly grasping at straws, especially when he screws up a reference to The Firm. They take Bryan's card, but will later go into the office and totally call him on his shit, noting that he has zero leverage on them, offering cookies instead of any sort of negotiation or show of strength. Taylor's story is like that of an origin story in a comic book, getting more powerful every week. But are they a superhero or a supervillain?
Meanwhile, Axe gets a call from Boyd (Eric Bogosian), revealing that he has some crucial information that he can deliver on his work release later that day. Axe continues to pace and try to find his family. As he stalks Lara, Wendy and Chuck get closer, first meeting at a juice bar, where she looks rattled by the situation. Will this be the final straw to get Wendy Rhoades out of Axe Capital? She does make an attempt to first mend broken bridges. She goes to Axe, and the two reminisce about Lara. It's nice to hear Axe speak about why he loves her, conveying a story about how giving Lara was in the days after 9/11, helping widows clean out their firefighter husband's bedrooms, going the extra step of returning to their house alone to see what might have been missed. Axe realizes he also needs to go the extra step, leaving a message on Lara's voice-mail that he'll "erase Wendy Rhoades from our world forever."
Intertwined with Axe's very bad day, we see Minchak and Chuck get closer as they get deeper into his closet, looking for skeletons. At first, it looks like Chuck could have a problem when his favorite master's laptop is stolen from a client, but it's revealed that Chuck actually orchestrated that little escapade. Even the hazing incident he mentions to Minchak wasn't one in which he was an instigator, but the victim. Is there anything he hasn't thought of that could derail his journey to Albany?
Wendy goes to Lara, encouraging her to come home. Lara has an interesting insight into the problem with Wendy: She fulfills a supportive role that Lara wishes she could. We heard earlier about Lara helping 9/11 widows, but Wendy is always the one to "fix" her husband. Lara offers Wendy a fortune to go away. She doesn't take it. Then Wendy plays to Lara's sympathies by noting that Axe is scared, for possibly the first time. Lara asks if this might make them stronger. Wendy offers, "Forgive if you can." Is she talking to herself?
In the final scenes, Taylor rents an apartment that costs $26,000 a month, Axe learns about the Ice Juice deal from Boyd (and he's going to destroy it), Lara comes home, and Wendy and Chuck go out to dinner. They eat a great meal, flirt, and she ends up telling him to come back to the house they shared for so many years. They play the master-and-servant games they've played so well in the past, as Axe deletes the dozens of voice-mails he left for his wife. She'll never know how angry and emotional his day was. Or will she?
The title track, U2's "With or Without You," plays over the closing credits, but you might have missed another cool music cue in the first dominatrix scene: "Blood in the Cut" by K. Flay. I love the range of music choices on this show, from the Crystals to U2 to K.Flay in this episode alone.
Narratively, this was a little slow for the tenth episode of a 12-episode season, but I don't mind. It allowed for excellent work from Lewis and Dillon and crucial developments in the key relationships, and it really felt like a calm before the storm I'm expecting.
This has been one of Damian Lewis's best seasons of any show, right up there with Homeland season one. He is simply fantastic in this episode, capturing Axe's simultaneous fear and anger, and he's been great all season in the way he defines the differences in his relationships with people like Wendy, Lara, Taylor, and Wags.
Only two episode left! Will the Ice Juice deal be the skeleton that Minchak can't erase? Will Taylor continue what looks like a descent into indulgence? Are Wendy and Chuck really back together?