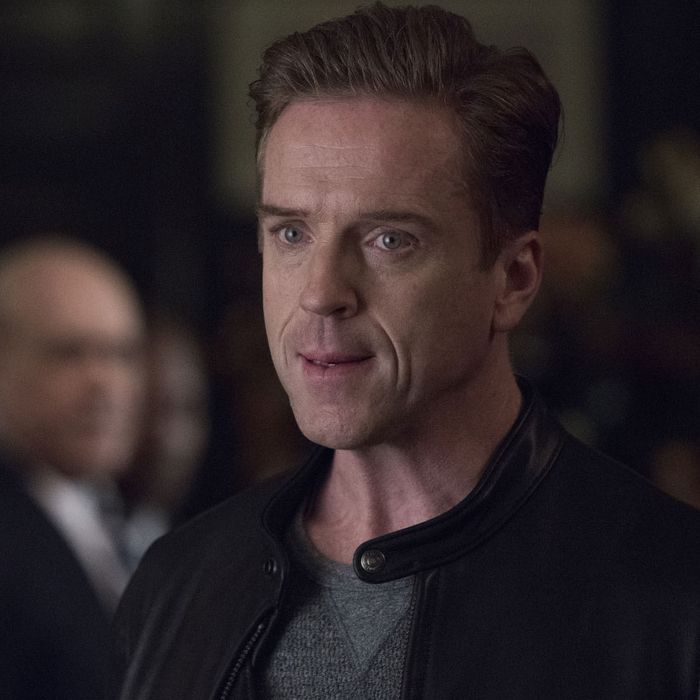 Photo: Jeff Neumann/Jeff Neumann/SHOWTIME
Since the show's inception, the central arc of Billions has focused on alternating power between Chuck Rhoades (Paul Giamatti) and Bobby "Axe" Axelrod (Damian Lewis): When one is up, the other is usually down. At the start of season two, Axe was undeniably up, rebuilding Axe Capital and moving forward, while Chuck was undeniably down, about to lose his job under the weight of dozens of lawsuits. Eight episodes into the season, the fortunes have reversed: Axe is obsessed with figuring out how the Sandicot deal fell apart, while Chuck seems bound to be the next governor of New York. Of course, if we know anything from Billions, it's that neither of these positions of power will last for long.
"The Kingmaker" refers to "Black" Jack Foley (David Strathairn), one of the wealthiest and most powerful men in New York, the kind of guy who can pull strings and create political leaders. He's also the guy who killed the Sandicot deal, as a favor for his old buddy Chuck Rhoades Sr. (Jeffrey DeMunn). Much of the drama this week consists of discovering how Foley will use his power next. At the start, it doesn't look good for Chuck, as Foley tells Rhoades Sr. that he'll be putting his weight behind someone else, two-term Buffalo mayor Bob Sweeney (the great Matt Servitto of The Sopranos). Chuck couldn't get Foley's granddaughter the clerkship, so Foley is backing another horse.
Chuck doesn't like playing political games in which he doesn't have an edge, and so he dismisses his dad's assertions that he screwed up the Foley deal and decides to take care of Sweeney himself. First, he offers the potential candidate a spot on the Rhoades ticket as his lieutenant governor. The arrangement is predictably rebuked by Sweeney, and as is so often the case with Chuck Rhoades, if you refuse his offer of kindness he comes at you with a rocket launcher. In this case, that means having Ira (Ben Shenkman) dig up dirt on Sweeney — namely, that the candidate sent his son away for gay conversion therapy when he was 17. (A timely real-world issue that has dogged Mike Pence's own political ascendancy.) That baggage is too much for Sweeney, and he backs out of the race before it has even really begun. Was this all a test by Foley to see how Rhoades would respond?
While all of that drama is going down, Axe is on a witch hunt. He wants to strike back at Foley, and to that end has Wags (David Costabile) task Taylor (Asia Kate Dillon, great from first scene and getting better every week) with finding Foley's metal-ore supplier so Axe can outbid him, damaging one of his revenue streams. But while Wags talks through it with Taylor, we see signs that Mafee (Dan Soder) is coming unmoored, lacking confidence in the wake of Taylor's successes and growing standing at the firm. A trip to an exclusive strip club with Wags doesn't boost him up, but his spirits are raised when Taylor, on advice from Wendy (Maggie Siff) buys Mafee a rare King of the Ring poster signed by the Undertaker and Mankind. (Too bad the writers didn't find a way to work in Soder's Randy "Macho Man" Savage impersonation, because it's awesome.)
As the power games play out at Axe Capital and their leader becomes consumed by a distracting vendetta, Bryan (Toby Leonard Moore) and Sacher (Condola Rashad) are seeing if recently fired Axe Capital employees have any stories to tell. The quest leads them first to Dr. Gus (Marc Kudisch), who didn't really treat Axe, so he can't offer much. But he does put them on the scent of Steph Reed (Shaunette Renée Wilson), who was present for many a conversation before Axe called himself a "fucking terminator" and terminated her. Steph could tell some stories — and she will, but only with a subpoena. Bryan takes it to Chuck, who advises waiting. There are bigger fish to fry right now than Bobby Axelrod.
Meanwhile, Axe learns just how powerful Jack Foley is when a sizable offer to one of Foley's suppliers is turned down. Axe may have a lot of money and influence, but he doesn't have political power—the ability to screw with licenses, contracts, etc. He tries another approach to get close to Foley, making a large donation to a random wildlife organization on the condition that they give Foley a Man of the Year award, and that Axe be the one to present it to him. Oh, the games people play just to get in the same room. Foley recognizes Axe's persistence and grants him a meeting, which happens to be on the same night that the man is throwing a party that both Rhoades will be attending. Uh-oh. Collision course imminent.
Outside Foley's house before their meeting, Axe runs into an old AC employee, Danny Margolis (Daniel Cosgrove), the guy who ratted on the company last season and now works catering. Axe's talk with Foley doesn't go too well, though he does learn that the Sandicot switch wasn't personal — Foley was doing it for someone else. Afterward, Axe finds Margolis again and convinces him to be eyes on the inside, taking photos of the guests.
Meanwhile, Wendy comes to take care of the kids so Chuck can go to the Foley soiree, and the two sweetly exchange apologies. She apologizes for yelling at Chuck about the photo op and he reveals that he went on a date with the girl (Tammy Blanchard) from Jujitsu, but it only ended with a kiss. Of course, we know that Wendy went on a date too — with Craig Heidecker (James Wolk) — and it ended with much more. She seems ready to confess that fact, but does not, later subtly revealing in a phone call to Taylor that she's shaken up by lying to Chuck. Will he find out about the infidelity? Probably. Little stays secret on Billions.
Foley's party goes well, and includes an actual appearance by Ben Folds on piano and a promise by Foley to make Chuck governor, which the Rhoades men celebrate with drinks afterward at the Yale Club. That's when Axe gets a pic from his spy of Foley talking to Chuck and Chuck's dad. He loses it, and speeds downtown, barging into the club and screaming about looking for "Rhoades, you fucking weasel." He accuses Chuck of killing the Sandicot deal, noting that he is now destroying the town because of that. He gets in a few great jabs about Chuck needing his daddy to make his decisions for him. At first, Chuck seems angry at pop, but then he sees the political capital that Axe just handed him on a plate: Axe has decimated the part of the state where Chuck polls the weakest, so Chuck can take down the big businessman and be the defender of the people he needs to vote for him. It may be the highest we've seen Rhoades in the show to date — and as gravy, he now has justification to take Axelrod on again.
• Strathairn and Servitto were perfectly cast this week. Seeing Servitto reminded me how much I miss the cast of The Sopranos and how most of them would fit in well on this show. Let's get Joey Pants an arc next season.
• This episode was directed by Oliver Hirschbiegel, filmmaker behind the excellent Downfall. Seek that out.
• GREAT music cues this week, including "Battle Sirens" by Knife Party & Tom Morello and "Turn the Season" by Fucked Up. Plus, Ben Folds starts singing his "Landed" at the party.