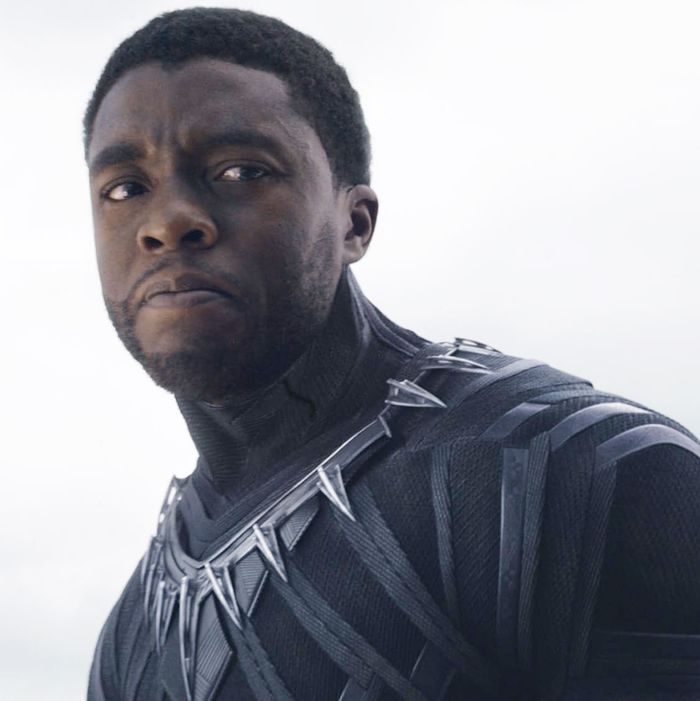 Boseman, Chadwick Boseman.
Photo: Marvel Entertainment
Louis D'Esposito, the co-president of Marvel Studios, grinned as a group of journalists sat down in a Disney screening room Monday night. "The first thing you'll be seeing," he told us, "is Lupita taking out some bad guys."
The executives at Marvel Studios are known for playing their cards close to the vest, but every so often, when you know you're sitting on a winning hand, you can't help but show off. That's why the studio summoned reporters to the Disney lot in Burbank to tease several of the movies coming from Marvel's wildly successful cinematic universe, including Thor: Ragnarok, Spider-Man: Homecoming, Ant-Man and the Wasp, and Captain Marvel. Aside from a full screening of Guardians of the Galaxy Vol. 2, by far the biggest sneak peek the studio offered was an extensive look at Black Panther, which wraps filming in Atlanta tomorrow and is due out February 16, 2018.
As we watched dailies of Oscar winner Lupita Nyong'o ably somersaulting through a Black Panther action sequence, D'Esposito beamed. While the fight choreography was straight out of the Marvel playbook — you could imagine Scarlett Johansson's Black Widow going through many of the same motions — as Nyong'o flung herself into the scene with steely commitment on her face and a vivid green shroud wrapped around her body, the footage carried with it an undeniable X factor. That's exactly the sweet spot the studio hopes to hit with Black Panther: The film has to be familiar enough to fit into Marvel's ever-expanding cinematic universe while also offering enough spark to jump-start its own singular franchise. A tricky task, but to judge from some of the stunning things that D'Esposito and his colleagues showed off last night, it looks like Marvel is on the right track.
Directed by Ryan Coogler (Creed, Fruitvale Station), Black Panther picks up the story of T'Challa (Chadwick Boseman) after his well-received introduction in Captain America: Civil War. As he comes to grips with the death of his father, the former king of their African nation Wakanda, T'Challa must return home and succeed him. Despite the presence of several strong allies in T'Challa's corner — including Angela Bassett as his mother, Queen Ramonda, and an all-female group of elite bodyguards known as the Dora Milaje — he soon finds that it's not easy to be a head of state and a superhero at the same time, especially when the nation is threatened by several villains including the dangerous Erik Killmonger (Michael B. Jordan).
Coogler was wooed for months by Marvel Studios president Kevin Feige before he accepted the Black Panther directing gig; in part, I've heard, because Coogler wanted to be sure he could put his own personal stamp on the film. Many of the Marvel movies are shot, composed, and edited by the same in-house people, but Coogler wanted to bring over several of his own trusted collaborators, including co-writer Joe Robert Cole, composer Ludwig Göransson, and cinematographer Rachel Morrison. (Indeed, with Black Panther, Morrison becomes the first woman to shoot a film in the Marvel Cinematic Universe.)
That unique sensibility appears to have paid off. Black Panther doesn't look like any of the other Marvel movies, and it shouldn't if it wants to pay proper tribute to the impact of the first black superhero in mainstream American comics. Let's start with the costumes by Oscar nominee Ruth E. Carter, making her Marvel Studios debut. Whether T'Challa is spending his downtime in a dashiki or the Dora Milaje are marching in warrior suits of rich brown and gold, Carter has found a remarkable way to merge centuries of African culture with the particulars of superhero pop. I died and came back to life when I saw the first footage of Angela Bassett as Ramonda, the actress resplendent in a shimmering honey robe with an enormous headpiece that would send every Sunday church lady home to start over. Let's be honest: If Angela Bassett is your mother, you're beginning the superhero sweepstakes on third base, but T'Challa will still have his work cut out for him to earn any attention next to Bassett's queen at her most fierce.
Then there's the fictional setting of Wakanda, which trades the prosaic metropolitan cities of most Marvel movies for something exciting and new. T'Challa's wealthy nation strikes a balance between high-tech futurism and verdant nature, suggesting an African grassland where technology can enhance what the earth gives us instead of plundering it. We saw dailies and concept art of an African tech castle with a driveway filled by sleek airships, a glowing Vibranium waterfall, a futuristic Wakanda Design Center where T'Challa goes to visit his sister Shuri, and a shot so striking — T'Challa, deep in the forest, regarding an old tree draped with a dozen panthers — that it's been painted as a mural in one of the studio's most highly trafficked hallways.
Still, the most exciting thing about the way Black Panther looks is who it presents as powerful. At a time where too many superhero movies are led by blandly handsome white men named Chris, Black Panther celebrates a cast made up almost exclusively of dark-skinned black actors, most of whom rarely get to headline a live-action movie of this size despite their more-than-evident talent. If the movie succeeds on the worldwide scale of most Marvel entries, it will refute the notion espoused by many Hollywood executives that black films "don't travel"; more importantly, if it's a creative breakthrough that launches a new mythology and coaxes underrepresented audiences to dream bigger, it could become a black Star Wars.
Also, the characters fight giant rhino-mechs, Lupita battles with killer discs, and I'm pretty sure I caught Danai Gurira's character flirting with another member of the Dora Milaje. If this is what the future of superhero movies looks like, deal me in.