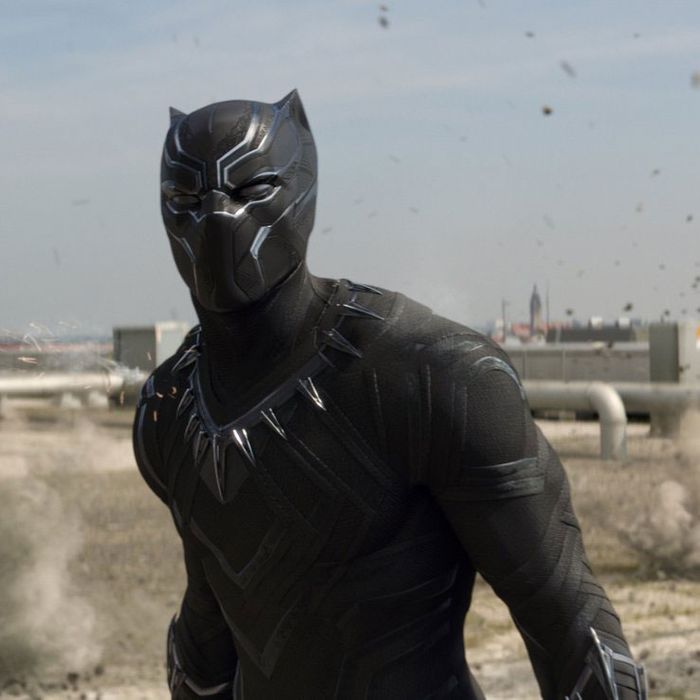 T'Challa in Captain America: Civil War.
Photo: Marvel Studios
So, you're excited for Black Panther, and why wouldn't you be? Marvel's unusual new superhero movie comes out early next year and follows Captain America: Civil War scene-stealer T'Challa (played by Chadwick Boseman) as he returns to rule his home country of Wakanda. It helps that he has some formidable allies in his corner (including several fierce women played by Lupita Nyong'o, Danai Gurira, and Angela Bassett) as well as a super-suit to don when things get too dire, but he'll need all that and more when going up against the villainous Killmonger (Michael B. Jordan) and a host of eye-popping adversaries, one of which is a giant rhino-mech.
There's clearly a lot to look forward to here, and Marvel executives know it: When they opened the doors of their studio to press last week to tease Marvel's upcoming slate of movies, the Ryan Coogler–directed Black Panther got by far the biggest push even though it only wrapped filming a few days ago and won't be out until February 18, 2018.
"I'm not sure we've ever shown raw dailies before," Marvel Studios head Kevin Feige told me a few days later. So what is it about this movie that has Marvel willing to jump the gun?
"I think it's two things," said Feige. "Black Panther is a huge part of the Marvel Comics mythology, and has been for 50-plus years. Other than his awesome, relatively brief appearance in Civil War, his history has been relatively untapped." And with a cast comprised of Oscar winners like Nyong'o and Forest Whitaker, big TV stars including Gurira and Sterling K. Brown, and even Get Out breakout Daniel Kaluuya, Marvel has assembled a stacked group of performers ready to bring that world to life. "Every day, seeing that cast come together … it's just amazing," said Feige. "Across the board, it's the highest-class cast we've had on a first movie."
It's also a validation of the investment Marvel made in Boseman almost three years ago, when the studio announced that a Black Panther movie was on its way and that the Get on Up actor would be starring in it. "You always like your instincts being validated, and Chadwick was the first choice for us," said Feige. "He was the only person we ever talked to about the role, and one of the highlights of my career was calling him out of the blue on a speakerphone with [Civil War directors] Joe and Anthony Russo and our executive producer Nate Moore, who's now executive producer of Panther. I said, 'Have you ever heard of Panther? Would you want to play him?'"
All that said, the thing had Feige most excited about Black Panther was the opportunity to mix things up with Marvel's 18th movie. "It's really exciting that this part of the universe is so unbelievably diverse and looks unlike any of the other films that we've made," he said. "The cast looks different than any of the other casts that we've had. Both in front of and behind the camera, it's almost entirely people of color, which I think is a special, important thing, and one of the reasons the film will be unique and as great as I think it's going to be."
It also features Angela Bassett in a stunning gold headpiece that could give Cate Blanchett's Hela antlers a run for their money. For some moviegoers, that may be reason enough to buy a ticket. "She's awesome," laughed Feige. "There's no doubt about that."