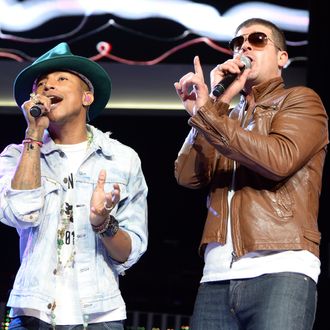 Pharrell Williams, Robin Thicke.
Photo: Jamie McCarthy/2014 Getty Images
The song "Blurred Lines" has long since faded into memory as one of those ubiquitous songs of summers past, but Robin Thicke and Pharrell Williams are still caught up in a copyright legal battle with Marvin Gaye's estate. After losing a 2015 court case that found in favor of Marvin Gaye's heirs, which argued that "Blurred Lines" was too similar to Gaye's "Got to Give It Up," Thicke and Pharrell appealed. The two pop stars even got over 200 other musicians to sign an amicus brief in their favor. According to The Hollywood Reporter, the latest filing from the duo's legal team is arguing against the legal merits of "a groove" to the Ninth Circuit.
"[T]he two songs in this case are not the same, and the district court should have granted summary judgment," the brief states. The lawyers argue that since the music Gaye copyrighted was the sheet music, and not the sound recording, the two songs should be compared only on the basis of what is expressed in the written form, devoid of any musical expressions that occurred in the recording. "A 'groove' or 'feeling' cannot be copyrighted, and inspiration is not copying," the legal team wrote.
Thicke and Williams are hoping to have the lower-court verdict overturned, or to receive a new trial.