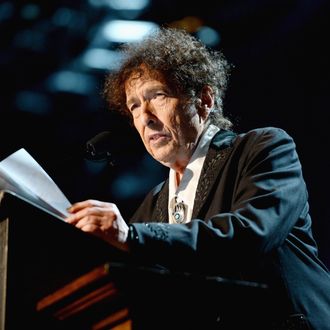 Photo: Michael Kovac/WireImage/Getty Images
Everyone's favorite Nobel Prize saga has really, finally ended. Months after Bob Dylan was awarded the Nobel Prize for Literature for "having created new poetic expressions within the great American song tradition," the singer-songwriter officially accepted the prestigious honor while in Stockholm, Sweden this weekend for a concert. Per the Associated Press, Dylan's "small and intimate" hotel ceremony was only attended by a few members of the Swedish Academy and one member of Dylan's personal staff. "It went very well indeed," a member of the Academy said, adding that Dylan was "a very nice, kind man" who "seemed pleased" by the award. Fittingly, Dylan did not comment on receiving the Nobel at his concert a few hours later, and all media was banned from attending the ceremony. As of now, the Nobel Prize committee has only chimed in with this (rather dull) video montage, and that's likely not going to change unless they defy Dylan's wishes:

You're a keeper, Bob.