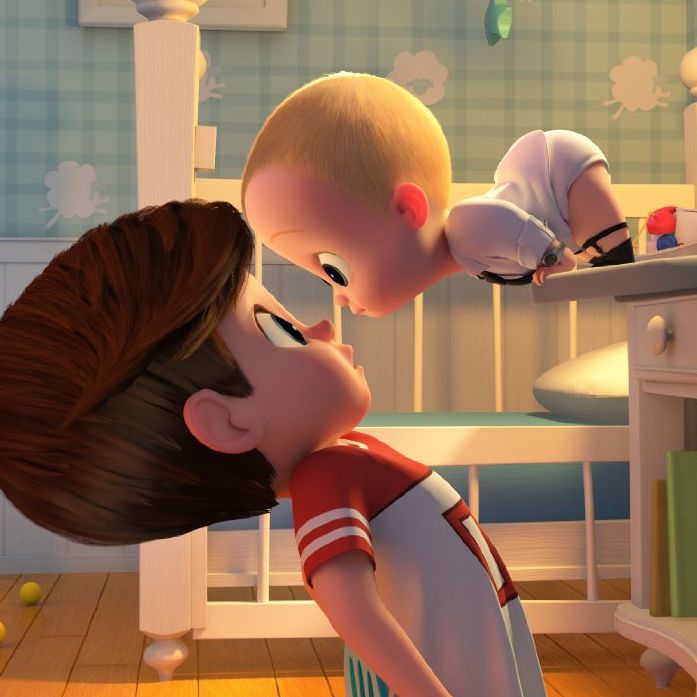 The Boss Baby.
Photo: DreamWorks
The Main Story
Is the new animated movie The Boss Baby about Donald Trump? You'll have to decide for yourself — but after the amount of money it made at the box-office this week, Trump will almost certainly take credit for its success.
Based on a children's book and starring current Trump impersonator Alec Baldwin as, well, a boss baby, The Boss Baby grossed $49 million in its debut, unseating Beauty and the Beast, which still took in $47.5 million in its third weekend. Fueled, according to the New York Times, by "theaters far from the coasts" — like something else that happened recently—its opening is the 37th-highest of all time for an animated film, a genre that continues to be potent after producing two billion-dollar earners (Finding Dory, Zootopia) and another that made $875 million worldwide (The Secret Life of Pets) last year. The Boss Baby's audience was far more diverse than Trump's voting bloc, though, with 48 percent of tickets going to non-white viewers, per Box Office Mojo.
And don't cry for Beauty and the Beast: Its total take now stands just shy of $400 million domestically, and it's well on its way to becoming the first movie of 2017 to make a billion globally.
What Else Happened?
Whether it's because of the outrage, unfamiliarity with the source material, or just because it isn't all that good, Ghost in the Shell sputtered in its first weekend, managing less than $20 million. With the film budgeted at north of $100 million, that's bad news for Paramount, which has struggled through the first quarter of the year: xXx: Return of Xander Cage, Monster Trucks, Rings, and now Ghost have all been varying levels of disappointing. Box Office Mojo made the astute observation that a major difference between Ghost and Scarlett Johansson's 2014 surprise hit Lucy, which opened to $44 million, was a shortage of female viewers: Ghost's opening audience came in at only 39 percent female versus Lucy's even split between men and women. Of course, even if you doubled the number of men and women who showed up, Ghost still wouldn't catch Lucy's opening, meaning the lack of demand goes deeper than demographics. On the bright side, Ghost still has Japan and China to look forward to.

Elsewhere, Power Rangers plummeted by 64 percent after its overachieving opening, taking away a bit of its shine. That's the worst hold of the year so far for a movie opening above $20 million, and with a budget of $100 million, Power Rangers still has some ground to cover. Right behind it were a trio of 2017's best performers so far, Kong: Skull Island, Logan, and Get Out; Kong is closing in on its cousin Godzilla, needing just over $50 million to top that film, and Logan will soon cross the $600 million mark.
A pair of other holdovers from last weekend, Life and CHiPs, didn't do much to make up for their disappointing debuts, adding $5.6 million and $4 million, respectively; Life, at least, has shown a little energy overseas, with $28.6 million total from international markets. And rounding out the top 10 is The Zookeeper's Wife, which brought in $3 million-plus from just 541 theaters.