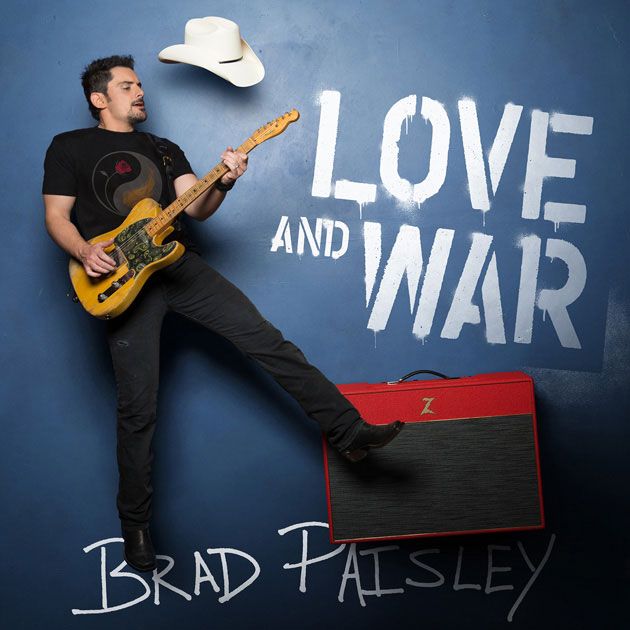 For many years, Brad Paisley built his reputation as a performer on pure country, wholesome humor, and musicianship, hitting pay dirt with a mix of upbeat, sincere songwriting and blistering guitar work that would shoot most of his 2000s albums to platinum certifications. 2013's Wheelhouse worked admirably at reinventing the West Virginia star, challenging country conventions in both sound and lyrics. Ultimately, though, mainstream audiences are more likely to remember it for the all-consuming corniness of the nightmare LL Cool J duet "Accidental Racist" than moments of thoughtful iconoclasm like "Southern Comfort Zone" and "Those Crazy Christians." 2014's Moonshine in the Trunk quickly pulled Paisley back to basics, perhaps in response to the "Accidental Racist" uproar. Country, meanwhile, grew closer to hip-hop, pop, and R&B on hits like Florida Georgia Line's "This Is How We Roll" and Sam Hunt's "Take Your Time."
Paisley's new album, Love and War, restores a bit of Wheelhouse's wanderlust on a song cycle packed with big-time famous guests. Hip-hop, rock-and-roll, and country greats converge on a third of its tracks, but the blend of influences is always natural and never forced. Timbaland pops up twice but plays the outfield instead of nudging the singer into another bad-idea foray into hip-hop. Blink and you might miss the rap icon's appearance on "Solar Powered Girl," but the banjo bop on "Grey Goose Chase" hints that he knows more about bluegrass than he lets on. Creedence Clearwater Revival front man John Fogerty lends a hand on the title track — his first-ever co-write, somehow — as Paisley salutes military families for their sacrifices and calls out government neglect of veteran services. ("They ship you out to die for us and forget about you when you don't.") The Rolling Stones' Mick Jagger contributes a guest verse and backing vocals to the country-rock hangover anthem "Drive of Shame," stealing the show because it's easier to imagine him zooming out of town after an ill-advised hookup than family man Brad.
Love of family is the backbone of Love and War, from the disappointed father who catches wind of his son's secret house party in "One Beer Can" to the husband excited to spend the night in with his wife on "Go to Bed Early." On record, Brad Paisley makes a quiet life sound deeply rewarding. He's in it for simple joys like the "beer-battered chicken and sweet iced tea" of "Heaven South." In "Today," he bides time in traffic with his eyes closed, thinking about his wife. Love and War is about appreciating beauty while you still can, a message driven home early in the heartbreaking "Last Time for Everything" — where Paisley goes from marking off coming-of-age milestones like high-school prom to recalling moments shared with family members and favorite musicians that he'd later come to realize would be his last. The same sentiment suffuses the gutting late-album one-two punch of "Gold All Over the Ground," a tender ballad adapted from a poem Johnny Cash wrote for June Carter Cash in 1967, and "Dying to See Her," a duet with country legend Bill Anderson about a widower fulfilling his dream of meeting his wife again in death.
Love and War is warm and good-natured, full of aw-shucks charm and down home bona fides without ever using them to flash backwoods cred. The only real miss is the goofy "Selfie #TheInternetIsForever," a snarky rebuke of social-media oversharing that rolls off like a bad dad-rant on an album that otherwise uses Paisley's station as a 44-year-old father of two for positive inspiration. (His 2007 single "Online" is a much more deft and sympathetic net-junkie character study, anyway.) Aging gracefully is tricky business. It turns some people cranky. Others become stilted or reserved. But 11 albums in, Paisley is still trying out new tricks, settling into country elder statesmanship while keeping his music unpredictably flexible.