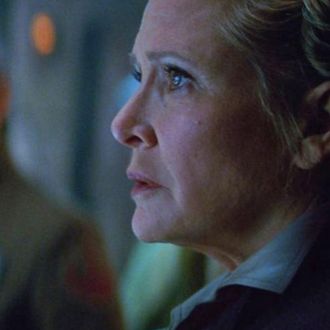 General Leia Organa.
Photo: Disney
When Carrie Fisher died suddenly last year, she had already completed work on Star Wars: The Last Jedi. What remained unclear, however, was how Lucasfilm would conclude her story for Episode IX, in which she had been slated to appear. Promising not to re-create General Leia Organa via CGI work, it seems the studio may have found a solution in footage previously shot for other Star Wars films. Todd Fisher, brother to Carrie, told the New York Daily News that he and Billie Lourd have given permission for the use of "recent footage" of Fisher in the final film. "Both of us were like, 'Yes, how do you take her out of it?' And the answer is you don't," he explained.
She's as much a part of it as anything and I think her presence now is even more powerful than it was, like Obi Wan — when the saber cuts him down he becomes more powerful. I feel like that's what's happened with Carrie. I think the legacy should continue.
It's unclear exactly how the footage will allow for the resolution of Leia's story line, which Disney CEO Bob Iger has previously confirmed to be unchanged in The Last Jedi in the wake of her death. Todd Fisher has no intel on the creative direction, though he professed confidence in Lucasfilm's ability to "do great things." "I'm not the only part in that equation, but I think the people deserve to have her … She's owned by them," he said.