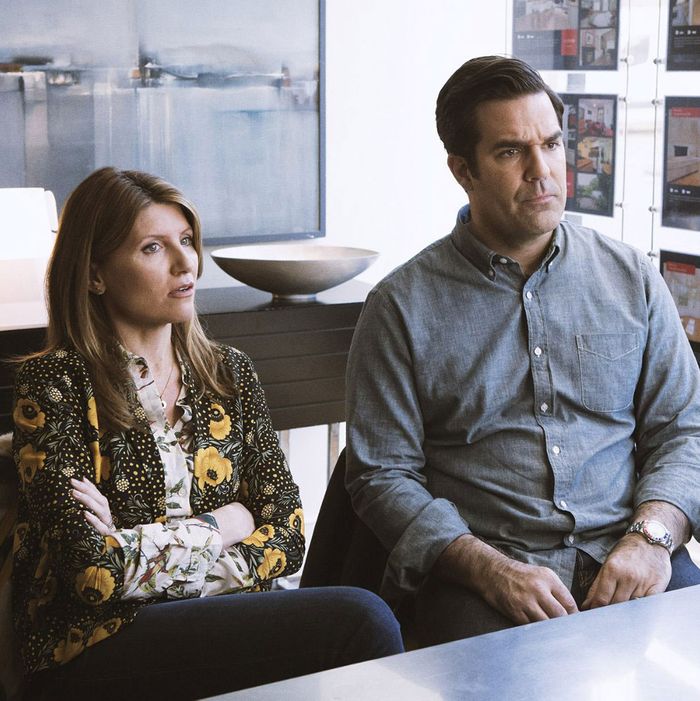 Sharon Horgan and Rob Delaney.
Photo: Amazon
Halfway through this season, it's a bit hard to get a bead on what Catastrophe is trying to do. This isn't terribly worrisome — the previous two seasons had a way of sharply bringing things into focus for their final two episodes — but the rhythm is a bit weird, its attention scattershot. In a way, that messiness reflects the show's portrait of marriage itself: With so many balls in the air, so many questions to answer and problems to consider, deciding which you'll address first will ultimately shape the tenor of your relationship.
This is how Catastrophe can initially fixate on Sharon's infidelity and the precarious position in which it puts her marriage with Rob, and then just fade them into being okay, without much in the way of a big, dramatic resolution. There are just too many other things to focus on: making ends meet, taking care of the kids, finding Rob a job, and now, moving into a smaller, more affordable house. Rob and Sharon still need each other — they still want each other — and so slipping back into the rhythms of their relationship feels not just natural, but necessary. It's a bit corny to say, but they're a team. A very profane, hilariously mean team.
Rob's continued unemployment, however, has made staying in their current home impossible. He and Sharon are committed to selling their current place — even though the market value is quite bad, thanks to Brexit — and buying a smaller house owned by an old man named Wallace. They talk about downsizing their lives: "I'm Irish," Sharon says. "We're simple people."
"You're a cosmopolitan clothes fiend that consciously left Ireland to come here and shop," Rob retorts.
When she decides to get another look at Wallace's house with Fran (who, in a small storyline of her own, decides she needs plastic surgery, then gives the doctor her number when he says she doesn't), Sharon winds up complicating things by leading the old man to believe that they were definitely going to take the place. This is a problem, considering how they've struggled to sell their place and land a smaller mortgage for the purchase. (The time for them to get a mortgage was 2007, Rob tells Sharon. "We didn't know each other then," Sharon frowns.)
What's more, the always-insightful Fran has a very solid point to make: Can't Rob just get his old job back? Isn't he putting them in a financial bind just out of pride? Sharon defends her husband, saying that he really hated it there. Plus, she concedes that because of her "snake-handling," she's ceded any moral high ground for the foreseeable future.
It's a small moment, but an important one that's mirrored in a similar scene with Rob and Chris at the gym. As Rob tells Chris that he wants to try his hand at being a Big and Tall model, the episode's message comes into focus: In a long-term relationship, it's easy to slide into a mentality wherein offenses are bargaining chips to be cashed in. Right now, Rob is the offended party, so he has all the bargaining power in the relationship. Catastrophe is being really coy in how it plays its cards, but I'd love to see it explore this dynamic more. Will this all blow up in Rob's face as he continues to drink?
It's hard to say, but it's a bit telling that when Rob finally swallows his pride and calls Harita to ask for his old job back, he makes the call from the pub.