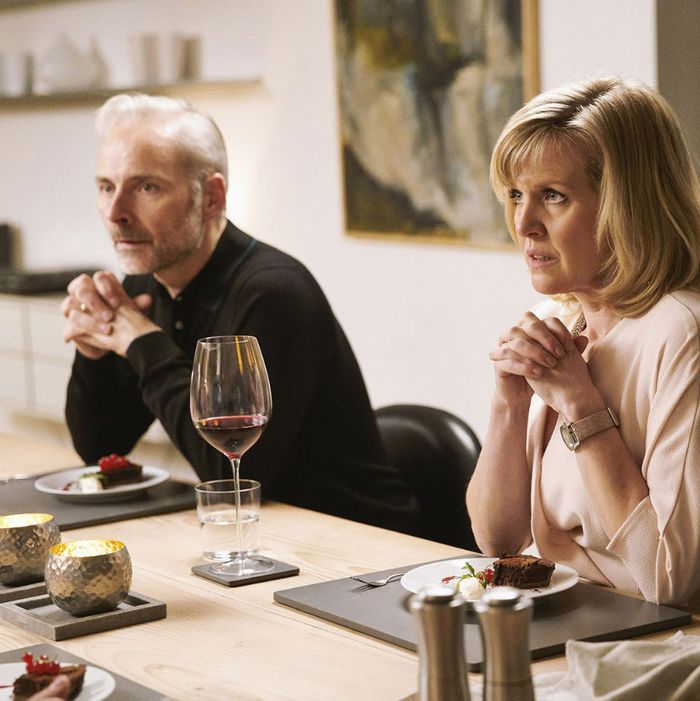 Catastrophe.
Photo: Amazon
The characters in Catastrophe are starting to feel their age. Chris and Fran, working through their divorce, need to name a guardian for their son in case something ever happens to them. Sharon, after talking to Rob about needing some sort of permanent birth-control plan, is stressing over her egg count after a visit to the gynecologist. Dave, out of rehab and back with Catherine, realizes he doesn't ever want children. Sharon's parents are back in town, but mostly to attend funerals. Even Fergal, somehow, continues to be Fergal.
This episode considers an anxiety about aging that is different from the kind experienced by young people approaching adulthood. That anxiety is best described as fretting over potential, over time wasted, over promises unfulfilled. The anxiety expressed here is far less frantic, a deeper realization for the need to cope with pending inevitabilities. It's a constant state of negotiating with the future.
After several episodes spent trying to find a new job, Rob can't play chicken with that future any longer: He's swallowed his pride (and some beer) and called up Harita to ask for his job back. His choice gives us what may be Catastrophe's funniest cold open yet, which shows Rob and Harita sitting at a conference room table together, silently regarding each other with something between suspicion and distaste. No one says anything for a full ten seconds, and even then it's just one word from Harita: "Okay."
Smash cut to Rob and Sharon's celebratory, no-longer-worried-about-poverty sex, which leads to a conversation about birth control and an awkward visit to the gynecologist, where Sharon learns she has fewer eggs than she thought. Rob tries to put her at ease by saying he would love her more if she had no eggs: "I want to be with you, our current children, and that's it."
This, of course, makes it pretty weird when the outside world starts to encroach on their lives. First, Fran and Chris ask them to be their son's guardian — Rob and Sharon naturally assume they wanted a foursome — and then Fergal asks to stay with them because he hates Spain. As if that isn't enough to handle, Sharon's parents announce they might move back from Ireland already.
Sometimes it can feel like Catastrophe has too many balls in the air for its own good, but it often turns this into a strength. The show has so many plot threads running in the background, that one of its best tricks is knowing exactly when to pick one we aren't expecting for an incredibly poignant moment. This time, that moment comes from Dave and his decision to not have kids with Catherine. "My ingredients are bad," he tells her after learning she wants a baby with him. He'd absolutely love a kid, but he's so heartbreakingly disappointed in the life he's lived that he doesn't think he can put anything good into a child, or the world. "I'm not a good person," he says, "and I've met a lot of people along the way who would agree with me."
The one problem? Catherine's already pregnant.
Finally, Rob's secret drinking catches up to him. Catherine saw him drunk after he took Dave to the emergency room last season, and she calls him out for his lapse in sobriety. She also tells him to come over if he needs help, and to bring Sharon. When Rob later finds a bottle while home alone doing laundry, he decides to down it instead of getting rid of it — but at that exact moment, Chris stops by the house to talk more about being his son's guardian. Smelling the alcohol on him, Chris, who is kind of the best, tells Rob that he needs to tell Sharon.
"Someone will, though," he warns. "I think it'd be a good idea if it was you."
Might Catherine be the one to tell Sharon? Might Rob — who ends the episode with his ass on the curb, after chasing a disappointed Chris — slip up further, in a more drastic way? Catastrophe's third season is reaching the home stretch. Will Rob and Sharon survive whatever inevitability is headed their way?