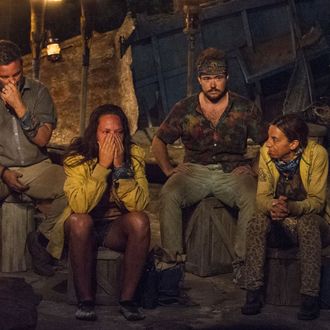 Survivor.
Photo: Jeffrey Neira/CBS
A day after CBS aired a controversial episode of the reality series Survivor: Game Changers in which one contestant, Jeff Varner, outed a fellow tribe member, Zeke Smith, as transgender, the network has released a statement that stands by their decision to broadcast the episode. "After the tribal council scene in last night's Survivor was filmed, we consulted with Zeke Smith and with GLAAD in advance of the broadcast, including the issue of how Zeke would tell his story after the episode aired," CBS said in a statement, noting that this was Smith's second season appearing on the series. "From his first season through the current edition, we have always been guided by the principle that this is his story to tell, and it remains so. We support how Jeff Probst and the producers handled a very sensitive situation and marvel at the grace Zeke exhibited under extraordinary circumstances."
Varner, who was indeed eliminated at the end of the episode after contestants rallied around Smith in support, has already written a lengthy apology on social media, which CBS's statement acknowledges. "We also have respect for how Jeff Varner has expressed remorse for his mistake, both in the episode and in his subsequent dialogue with the media," the statement continued. "In the end, we believe this episode, accompanied by Zeke's own remarkable writing and speaking on the subject, has provided an unexpected but important dialogue about acceptance and treating transgender people with respect."
Read Zeke's full account of his Survivor experience at The Hollywood Reporter.