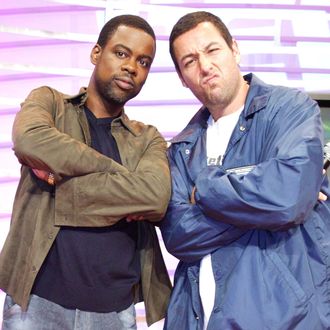 Chris Rock, Adam Sandler in 2005.
Photo: Johnny Nunez/WireImage
In what must be a Netflix executive's dream come true, Deadline reports that Chris Rock is set to co-star in Adam Sandler's next exclusive for the streaming service The Week Of. In the script, co-written by Sandler, The Longest Yard actors play fathers and soon-to-be-in-laws preparing for the wedding of Sandler's daughter to Rock's son. And, this is just a guess, but misunderstandings, over-the-top hijinks, and some angry high-pitched voices are also likely in the works.
Sandler recently signed a second contract with Netflix to create an additional four comedies for the service (bringing the total of past and future Sandler-Netflix movies to a whopping eight) and seems to be continuing his trend of gathering funny friends for a funny hangout flick. Rock played a part in Sandler's most recent movie, April's Sandy Wexler, and has his own lucrative relationship with the media giant, receiving a reported $40 million for his next two stand-up specials.