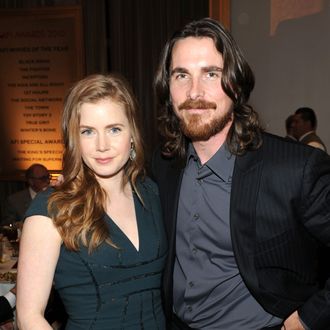 Amy Adams and Christian Bale.
Photo: Frazer Harrison/Getty Images for AFI
Somebody break out the prosthetics! Adam McKay's biopic on the rise-and-get-shot-in-the-face of Dick Cheney is coming together, and there are some extremely on-brand names in talks for the film's big parts. Variety reports that Christian Bale, who starred in McKay's The Big Short, will likely inhabit the role of the former vice-president. Meanwhile, his American Hustle and The Fighter co-star Amy Adams would play Lynne Cheney, with fellow Big Short–er Steve Carell potentially taking on Donald Rumsfeld. It's unclear if the film needs a George W. Bush, but if so, we're pretty sure McKay knows a guy. McKay will direct the biopic from a script he wrote. We know he's in his prestige drama phase these days, but if you think that's going to stop us from hoping that McKay ultimately takes inspiration from another film about a political Richard, 1999's Dick, well, clearly you have not rewatched that movie recently enough.