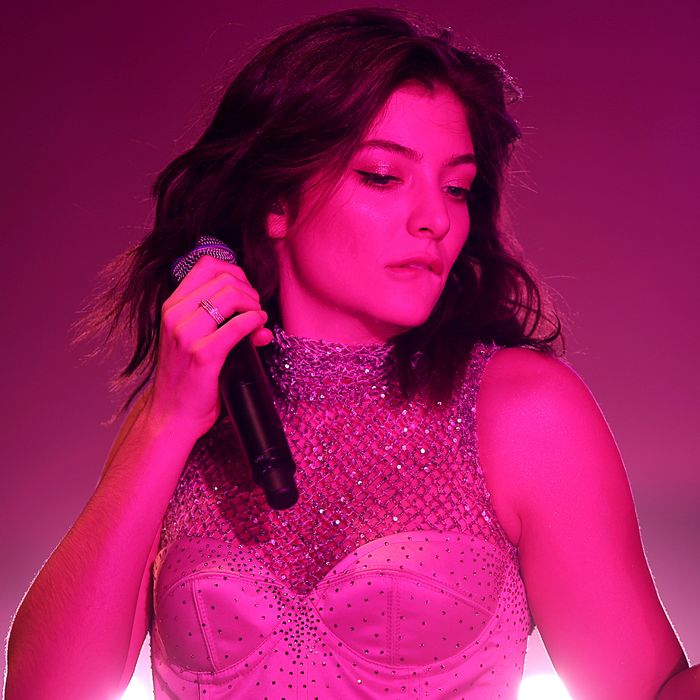 That pink light. I want it.
Photo: Christopher Polk/Getty Images for Coachella
Coachella kindly provided a livestream of this weekend's musical acts, but in case you had to step away to drink four glasses of wine or hide dozens of eggs around your yard or just to eat or sleep or shower, we've rounded up the festival's most talked-about moments for you, which include a surprise appearance by Drake, new songs from Lorde and Lady Gaga, and the entirety of Kendrick Lamar's Sunday night set. All this, and you didn't need to leave the food coma you slipped into on your aunt's couch. Let's take you through the weekend in the desert that you missed.

Radiohead Had Sound Issues
Kicking things off wrong on Friday night, Radiohead repeatedly walked out during their performance as Coachella's tech team (frantically, you'd assume) tried to fix the recurring sound problems plaguing their set. Then Thom Yorke joked to the crowd, "I'd like to tell a joke to lighten the mood. But we're Radiohead, so fuck it." Eventually the band was able to return, playing "Idioteque," "Paranoid Android," and "Nude."
Lauryn Hill, Migos, Drake, and More Made Guest Appearances
Lauryn Hill sang your whole life with her words during a surprise appearance during DJ Snake's Saturday night set, performing three songs that included "Ready or Not," "Lost Ones," and, of course, "Killing Me Softly."
During his Saturday evening set, Future brought out surprise guests Ty Dolla Sign, Migos, who joined him for "Bad and Boujee," and Drake, who rapped parts of "Jumpman," "Gyalchester" and "Fake Love," among others.
Lady Gaga Dropped a New Song
Lady Gaga capped Coachella's Saturday night lineup, which was the perfect slot to unveil a brand-new bop, specifically her extremely '90s-sounding "The Cure." Gaga also played a healthy mix of her old and new music, including "Bad Romance," "Poker Face," and "Telephone" with Beyoncé's original vocal track, an homage perhaps to the original Coachella headliner.
Hans Zimmer Blew Minds With an
Inception

Medley and Pharrell

After playing an assortment of his songs from hit movies like The Lion King, Pirates of the Caribbean and Inception, Academy Award-winning composer Hans Zimmer welcomed Pharrell Williams to the Coachella stage and accompanied him on guitar for "Freedom." What can't Hans Zimmer do?

Kendrick Lamar Played Most of His New Album
Just days after dropping DAMN., Sunday night headliner Kendrick Lamar treated the Coachella audience to a set that contained almost all of his new album's songs. Festivalgoers also got to see his short martial-arts film The Damn Legend of Kung Fu Kenny, appearances from guests Travis Scott, Schoolboy Q, and Future, with whom he performed "Mask Off," and, as Billboard puts it, Lamar assuming a "trippy, martial arts-esque stance"after being hoisted in the the air for the song "PRIDE."
Lorde Teased Her Album by Debuting Another New Song
On Sunday night Lorde debuted her new song "Homemade Dynamite," the latest off her upcoming sophomore album Melodrama. The "Green Light" singer had previously revealed the song "Sober" on Friday night at a surprise pre-Coachella gig in Pioneertown, California.
Rihanna Looked Incredible
More importantly, and one might argue most importantly, Rihanna apparently wore a full-body crystal Gucci bodysuit complete with matching mask to the festival. If you go on to miss literally every other second of Coachella, at least you know this.