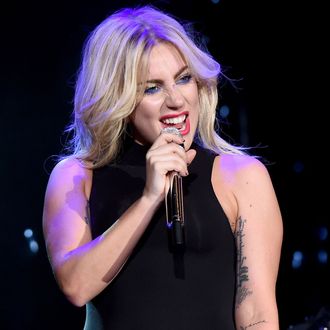 Lady Gaga.
Photo: Kevin Winter/Getty Images for Coachella
In between releasing her new single "The Cure" and her Coachella set, Lady Gaga has one more surprise up her sleeve: filming scenes from her upcoming movie A Star Is Born at Coachella. Bradley Cooper is directing and co-starring in the remake of a remake of a remake, which charts the ascension of a talented songstress and simultaneous descent of the hitmaker who helped build her career. Gaga and Cooper will be filming concert scenes for the movie Tuesday, April 18 and Wednesday, April 19, according to Deadline. The Coachella app instructed attendees to dress up in their best country garb and cheer on Gaga's fictional set: "All you Monsters that can attend should get decked out in your most comfortable denim & boots, throw on a Stetson (leave those pink Joanne hats at home) and come out to show your support!" Coachella's country-music advisory confirms once and for all that Gaga will be a country crooner in the remake and Cooper will be her rocker mentor turned lover. "A star is born, so a star must die," and somewhere in between those stars have to stop by Coachella.
Update: A first look at the movie comes courtesy of BuzzFeed:
The plot of Cooper's Star is Born will follow the same rise-decline plot of the former adaptations. Gaga has written and will record new music for the movie. Per the press release:
Cooper plays Jackson Maine, a country music star who is on the brink of decline when he discovers a talented unknown named Ally (Germanotta). As the two begin a passionate love affair, Jack coaxes Ally into the spotlight, catapulting her to stardom. But as Ally's career quickly eclipses his own, Jack finds it increasingly hard to handle his fading glory. In addition to playing Ally, Germanotta… has composed and will perform original songs in the film.
A Star Is Born's cinematographer Matthew Libatique shared a behind-the-scenes shot of preparation for the Coachella footage on Instagram: