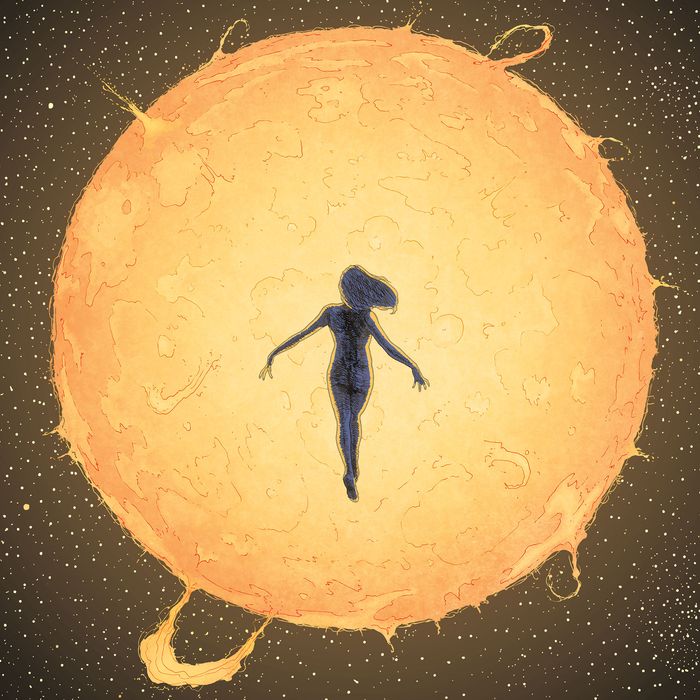 Excerpt from Generation Gone. Aleš Kot & André Lima Araújo (storytellers), Chris O'Halloran (coloring), Clayton Cowles (lettering), Tom Muller (design).
Photo: Aleš Kot
Just a few years ago, Aleš Kot was everywhere. Then, suddenly, he was hardly anywhere to be found. The comics writer burst onto the scene in the early part of the decade with acclaimed runs on series like Zero, Bucky Barnes: The Winter Soldier, and Secret Avengers. Then, in 2015, not long after an interview with Vulture where he decried "bigotry" in the comics world and received criticism on Twitter for what some saw as an effort to exploit social justice for fame, he stopped speaking to the press and his work output ramped down.
Luckily for all the Kot-heads out there, the Czech-born scribe is coming back. He's publishing two new comics series with Image Comics this year: Generation Gone and The New World, and we caught up with him to talk about them, his disappearance, and the fallout from his comments on diversity. Check out the conversation and exclusive artwork from both of the new series below.
You more or less disappeared from the press in 2015. Why, and where did you run off to?
I felt sad. I was badly sick with Lyme disease and my recovery was uncertain. I turned down offers from various big media companies to focus on building an uncertain long-term dream. I didn't know where I'd create a home outside of the self, and if I even wanted to. My writing began suffering from the overload I got hit with — the sickness moved fast and caught me by surprise just as I was taking big risks that depended on my continued ability to execute on my usual high level.
That combined with emerging and intensifying flashbacks to something very old and unprocessed, and ended up creating a Molotov cocktail. I was, you could say, ready to be lit. But I don't buy into the tortured-artist myth, so upon some serious assessment, I felt that what I really needed was to scale back my commitments, heal myself, figure out how to act better as a person and a writer, and start the next phase strong. Here I am.
What's the pitch for The New World?
It's Romeo and Juliet by the way of Mad Max, Larry Clark's Kids, 2000AD comics, Hunger Games — which is all nice and flashy but means nothing without a beating heart, right? So imagine waking up in Los Angeles — except now it's called the New Los Angeles — and you're about 30 years in the future. The big earthquake happened. The Second Civil War happened. North America is split along new lines.
Enter Juliet: a boy, let's call him Kirby, a straightedge OCD hacker with a penchant for building the new. Enter Romeo: a girl, let's call her Stella, a messy TV star cop with a license to kill. Watch them crash into each other on the dance floor. What happens when you meet and know? The world is on fire and mad weird and media oversaturated and you. Are. Here. Hello. Just because it takes from the Shakespearean doesn't mean it's got to be a Shakespearean tragedy, you know what I mean? I mean a beating heart.
What's the pitch for Generation Gone?
Three millennials walk into a bank … Nah, who am I kidding, they just hack it because they want to steal cash. But they get superpowers instead, sort of by accident, and two of them are in a romantic relationship that is, as things accelerate, clearly unveiled as not what it may seem. If The New World is about what happens when things go right, Generation Gone is about what happens when they go wrong. Think Unbreakable and Akira meet the first season of Skins, add multiple trips to the sun, weird black goo, a breakup fight inside a nuclear factory, love, hate, anger, loss — and survival.
Plus André Lima Araújo doing career-igniting work on art. The way he finds subtlety and power in characters and landscapes, regardless of scale, the clarity and elegance with which he tells the story, are astounding. And Chris O'Halloran's colors — I think he's going to become sort of a big deal after this project, you know? We talked about Caspar Friedrich's paintings a bit recently, about bringing in a bit of that dusk/dawn energy, the eerie dreaminess, and Chris went and executed so beautifully. I'm excited. I'm grateful for my collaborators, and for the synergy we give to the story.
You got a bit of a drubbing from critics for your comments on diversity in comics a few years back. What did you learn from the critiques you received, and do you think the industry has moved forward meaningfully since then?
The critiques I got were coming from people assuming I was using supporting diversity as a marketing ploy. I don't really need to convince anyone that's not the case. I grew up in a place where structural inequality also ruled and still rules the day. I saw it destroy people since way before I went to school. I won't stop doing my best to offer help and support (and to learn how to best do that) just because a few people assume I'm doing it to benefit myself, and I won't waste my time and energy trying to convince them who I am or what I stand for. That would be a waste of energy that can go towards making an actual difference.
Most of what I got was a very positive response — an outpouring of messages, emails, stories, questions, handshakes, hugs, and pitches. I got to hire many new, authentic creators and pay them despite not having any corporate money behind me. Some of them I'm collaborating with on new projects, others are getting calls from editors who read their work and connected with it. We got to effect — and continue to effect — an actual change. Doing what I did and continue to do should not be considered anything but the bare minimum for a creator in my position.
To answer your question further, I try not to think about the industry too much these days, as I prefer thinking about people and writing, in that order. Would be nice if we finally unionized, though!