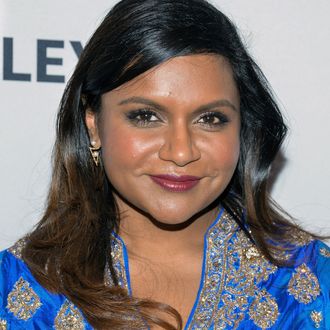 Mindy Kaling.
Photo: Grant Lamos IV/2015 Getty Images
Last month, something truly wonderful (a real rarity these days) occurred on social media. After receiving a diss along with the city of Newark on an episode of The Mindy Project, former Newark mayor and current New Jersey senator Cory Booker, playfully tweeted at the show's star, Mindy Kaling, to defend his stomping grounds. Their handful of Twitter exchanges eventually culminated in setting up a real-life dinner date in the city, delighting fans of Kaling's rom-com exploits.

However, we only come bearing bad news a month after the online shenanigans began. Despite the cuteness of Booker's #PleaseSayYes hashtag and his use of various emoji — even the PATH train got involved — the dinner date still hasn't taken place, nor has it even been scheduled. Gasp! "Well first of all, don't read too into it about 'asking out.' I want to sort of take the romantic aspect out of it and talk more about how she's amazing," Booker explained to Vanity Fair when asked if their Essex County rendezvous had taken place. "She hasn't yet. I mean, she's a busy person … so we'll see what happens in the future."

His praise about the lady of the hour continued: "A lot of people read more into it then there's there, but this is just somebody I really revere, and have just a reverence for in terms of her impact that she is making in so many ways. Just not only with women, people of color — so much visibility. She's just an extraordinary force, and someone I have a lot of respect for. So, to have her come to my city to see it and to bring her spotlight there is a wonderful thing." Mindy, girl, if you're reading this — send Cory a tweet. Slip into his DMs. Anything, really. He wants to hear from you.