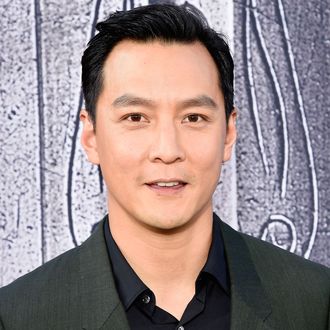 Daniel Wu.
Photo: Frazer Harrison/Getty Images
Amid the whitewashing critiques surrounding Finn Jones in Iron Fist and Scarlett Johansson in Ghost in the Shell, the two narratives have an unlikely defender: Daniel Wu, star of AMC's Into the Badlands. Speaking to Screen Anarchy, Wu said that he's not convinced either the Netflix show nor the feature-length manga adaptation qualify as whitewashing or as cultural appropriation. Instead, he suggested, Asian-American consumers ought to reconsider their outrage:
"I think that's people going a little too precious on that, because originally the character was written white," Wu said. "It wasn't like it was a whitewashing thing. It's not like you are talking about a 'Ghost in the Shell' issue, right? And I still don't actually buy the 'Ghost in the Shell' whitewashing issue either, and I certainly don't buy into the cultural appropriation bullshit because that's saying that only Asians are allowed to do martial arts. Then that means only black people can play basketball and rap? That means Jeremy Lin shouldn't be playing basketball? And Eminem shouldn't be rapping? That's bullshit, you know. So I know Asian Americans are angry, but they should calm down and choose the correct fight in that case – I agree that Marvel missed the chance of doing something interesting and casting against the race – they could have done that – and that would have given them some credit, but they didn't, so what are you going to do about it?"

When asked about the criticism of his casting, Iron Fist star Finn Jones told Vulture in March that people should get focus on the "real fucking injustices in the world." Last week, a Paramount executive acknowledged that criticism of Johansson's casting hampered the movie's box-office returns.