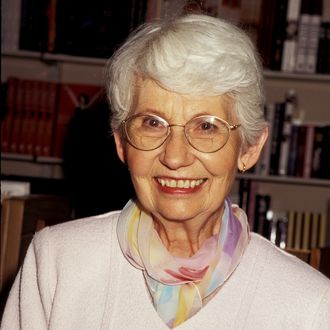 "Dave's Mom" Dorothy Mengering
Photo: Ron Galella, Ltd./WireImage
Dorothy Mengering, David Letterman's mother and Late Show's three-time Winter Olympics "correspondent," died on Tuesday confirms The Hollywood Reporter. She was 95. Mengering, who was often referred to on television as "Dave's Mom" or "Dave's Mom Dorothy" appeared on the CBS talk show regularly for Mother's Day and Thanksgiving via satellite from her kitchen in Carmel, Indiana, where she'd be showing off one of her beloved homemade pies.
Mengering's first time on camera for The Late Show was in Lillehammer, Norway, for the 1994 Winter Olympics. There, her charming, affable personality made her a favorite among the fans and earned her a spot as a returning Winter Games correspondent in Nagano, Japan, and Salt Lake City.
The segment Guess Mom's Pies made her baking so famous she wrote a cookbook in 1996, Home Cookin' With Dave's Mom. The recipes included dishes named after her children, Dave and his two sisters Jane and Gretchen, as well as plenty of pies.