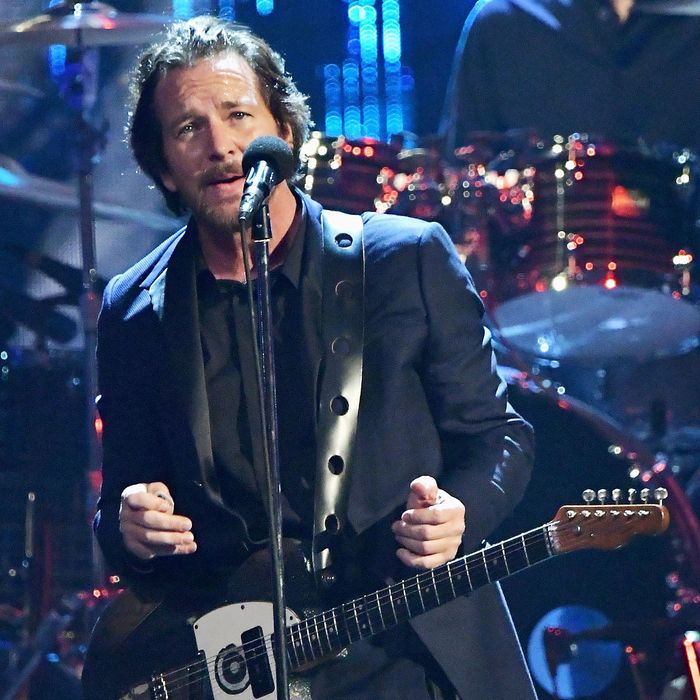 Pearl Jam's Eddie Vedder.
Photo: Mike Coppola/Getty Images
Pearl Jam was inducted into the Rock and Roll Hall of Fame at Brooklyn's Barclays Center last week in a class that includes Yes, Joan Baez, and Tupac. This isn't the first year a pillar of the '90s Northwest punk and metal explosion received the honor — Nirvana got in back in 2014 — but it does feel like a testament to this band's specific mettle that it has persevered since 1990 without any of the intramural squabbling over money and personality quirks that took Seattle-scene peers like Soundgarden and Alice in Chains out of contention by decade's end. Pearl Jam never splintered or dramatically broke (unless you were a drummer). The central drama of the band has always been how to carry the magnitude of its platform responsibly, and what to do with the world of criticism engendered by a string of business decisions that sometimes scanned as counterintuitive. This balance made for one of the quintessential American rock bands of the '90s, an era whose despondent sociopolitical awareness was nearly its defining trait, and a mirror on the decade's signature so-called Generation X as a whole: Pearl Jam cared too much to ever be cool, but the struggle to create on its own terms and to do right by its fans, country, and environment instead of just playing ball with the finicky music mainstream gave it a life beyond the expiration date of the scene that birthed it.
When we speak of the "grunge" revolution we generally recite a fairy tale about the toppling of the '80s hair-metal power structure by a network of Washington lumberjacks expressing their pain with guitars. But for years, the scene was defined by disaffected disorganization. The best bands arose from the boredom of latchkey kids in a struggling city. "People made records entirely to please themselves because there was nobody else to please, there was no one paying attention to Seattle," Sub Pop Records house producer Jack Endino told author and journalist Mark Yarm in Everybody Loves Our Town: An Oral History of Grunge. Bands, deals, and recordings came into existence on a lark. Tours were unsure treks to far-flung dream gigs that often disintegrated before the artists got into town. Pearl Jam stuck out sorely. It was a unit formed out of players leftover from Green River and Mother Love Bone, two very promising local acts that blew up before takeoff — the former because lead singer Mark Arm, later of Mudhoney, wasn't ready for the big leagues; the latter after lead singer Andy Wood's untimely passing after a heroin overdose. The palpable tastes of loss and failure rendered Pearl Jam austere and professional, and years of experience made its players sharp. This mix of chemistry and determination would pay off quickly, and dearly.
Ten hit America like a bomb in the early '90s, when, contrary to the Who's classic, the kids weren't all right. Singer and chief songwriter Eddie Vedder's heavy-handed stories about lying parents, overly medicated, institutionalized children, and grisly suicide resonated with a youth culture increasingly being fed prescription drugs like Prozac and Ritalin to cool its wily temper. The chilling, prescient "Jeremy" saw a quiet, bullied school kid exacting mortifying revenge on his classmates. "Why Go" issued a clarion call for teen revolt: "Why go home?" Ten's sales shot up into the millions and eventually, tens of millions, but not everyone was pleased with its payday. Hometown critics accused the band of nefarious intent. "They're obviously just corporate puppets that are just trying to jump on the alternative bandwagon," Kurt Cobain told the Cali fanzine Flipside in 1992 when asked about Pearl Jam's success. The music wasn't really of a piece with its scene, in his eyes, because it leaned too closely on old blues-rock conventions like lightning-fast guitar solos and rousing codas, and that made it vapid and commercial. (Kurt's needling was compounded by gags like an impression of the growling, leonine Vedder by Saturday Night Live's Adam Sandler, which recast the front man's mercurial intensity as an act of comedy rather than inner turmoil. Eddie was too serious even for the '90s, it seemed.)
Cobain was correct on the first charge but not the second. Pearl Jam's embrace of punk music and values did come with an odd reverence for classic rock — by 1995 they'd landed a gig as Neil Young's backing band on the Mirror Ball album and tour — and that touch of conservatism probably helped break the band into audiences the Seattle scene punk rockers were too principled to approach. But the notion that this band's express intent was making money would be debunked over a decade of deliberate challenges to its own commercial viability. Pearl Jam stopped making music videos entirely after Ten's run of singles, eventually tapping comic artist Todd McFarlane for the animated clip for 1998's "Do the Evolution" but otherwise dodging MTV rotation for most of its best years. (If the gesture baffled the music-television generation, it must seem flatly absurd in 2017. Our resident disruptor Frank Ocean still uses video to advertise new music … even if it's a livestream of a carpentry project.) Pearl Jam's music-video drought accompanied an uphill battle with Ticketmaster over surcharges that led fans on a hunt for hard-to-find second-string tour stops and a commitment to activism that began as simple pro-choice advocacy and later ballooned into full-blown protest music and voter-registration drives.
Kurt Cobain's shocking suicide seemed to set the entire alternative-rock landscape adrift in 1994; power jostled between bands leftover from major labels' guitar rock signing rush, Kurt clones tracking down Nirvana's mixers and producers, and established bands getting abruptly progressive. Nirvana's implosion left Vedder and company as the de facto biggest rock band in the country, and they wore it as solemnly as chain-gang shackles. "It's not the world that's heavy," the B-side "Drifting" said, "it's just the friends that you save." (Though the two were cast as enemies, Eddie Vedder saw a kindred spirit in Kurt Cobain. Both rose from troubled homes to become Gen X's accidental mouthpieces, and, as Eddie told Melody Maker weeks after Cobain's death, "Any generation that would pick Kurt or me as its spokesman — that must be a pretty fucked up generation.") Pearl Jam made itself scarce on television and onstage, somehow at negligible cost to still-steep record sales, but soon even the music grew challenging. 1994's Vitalogy peppered scathing rockers with unsettling tape experiments and funk interludes, and 1996's No Code torched all sense of boundaries on a shiftless expanse of hardcore, country, spoken word, and drum jams.
The obvious hits of the batch, Vitalogy's darkly anthemic "Better Man" and "Corduroy," never got released as formal singles but dominated rock radio nevertheless, alongside the randomly popular Ten-era B-side "Yellow Ledbetter," a bout of earnest word-mush from Eddie, abetted by guitarist Mike McCready's purest Jimi Hendrix homage. Pearl Jam's singles never did what they were supposed to: Ten classics "Alive" and "Even Flow" never hit the Hot 100, even when the album moved millions, but Vitalogy's silly "Spin the Black Circle," a record about buying records, went Top 40. (Please revisit the video of a confused, incredulous Ed accepting a Grammy for this in 1996 and calling the award meaningless.) The biggest hit of Pearl Jam's career arrived when radio discovered 1998's edition of the band's annual fan-club Christmas single, a cover of blue-eyed soul singer Wayne Cochran's murder ballad "Last Kiss" recorded at a sound check. By the summer of 1999, a song that hadn't been intended for public sale battled Ricky Martin and Jennifer Lopez for the top spot on the Hot 100, with proceeds raising millions in aid for Kosovo War refugees. If Pearl Jam couldn't shake its presence on the charts, the consolation was to have it do good.
By the 2000s, Pearl Jam had become Seattle's answer to the Grateful Dead, born in a West Coast rock boom and molded in a fiery stage show for which everything else — personal trials, world strife — was kindling. Pearl Jam abdicated the seat of rock superstardom at its peak, but not through the drift, death, or disintegration that picked off its peers throughout the '90s. This band earned its freedom by slipping out of sight step-by-step, first waving off television, then worming its way off radio, and eventually rewriting the rules of its dealings with major labels through the creation of Monkeywrench Records, the imprint that has housed its work since 2009's Backspacer. The relationship that remains unchanged is that of the dedicated live act and its constituency.
Onstage, Eddie Vedder opens himself up as a medium for the characters that speak through his lyrics, while his band — whose bassist Jeff Ament and rhythm guitarist Stone Gossard call on over 30 years of creative chemistry each night — hurtles back whatever restless mix of hits, deep cuts, and offbeat covers he and the audience can handle. No two nights are similar, except in the commitment to honoring the die-hard fan love that's kept this enterprise afloat for over a quarter of a century. Pearl Jam's hour at the Rock Hall ceremony re-created the band's signature mix of stately grace, pleading activism, hero worship, and airtight musicianship as Ament, McCready, and longstanding drummer Matt Cameron thanked family and celebrated musicians that inspired them, and Eddie devoted a portion of his speech to speaking out on climate change before the whole lot performed timeworn classics "Alive," "Better Man," and "Given to Fly." Years have passed, but absolutely nothing's changed.